Every Thursday we send out a curated newsletter on "all things femtech and women's health innovation". This is the latest edition. If you're interested in subscribing, you can do so at the bottom of this page.
Highlights
Vira Health acquires fellow UK-based menopause startup Alva.
WellTheory launches with $7.2M in seed funding and a goal to reverse the autoimmune epidemic.
VCs For Repro:100+ VC firms take a stand on reproductive rights ahead of the midterm elections in the U.S.
Sextech founder Glenise Kinard-Moore is awarded Second Place at this year's Black Ambition Prize.
Mirvie's first 'Future of Pregancy Health' report reveals what new or expecting moms want from pregnancy care.
Intimate wellness brand Nessa Organics rebrands as Naydaya to go beyond being a postpartum care specialist.
Inception Fertility partners with Gameto, Oura, OTO & Alife Health on new research to advance reprodutive medicine.
Bayer receives a grant from the Bill & Melinda Gates Foundation to advance research in non-hormonal contraception.
---
This week's newsletter is powered by Capable Health: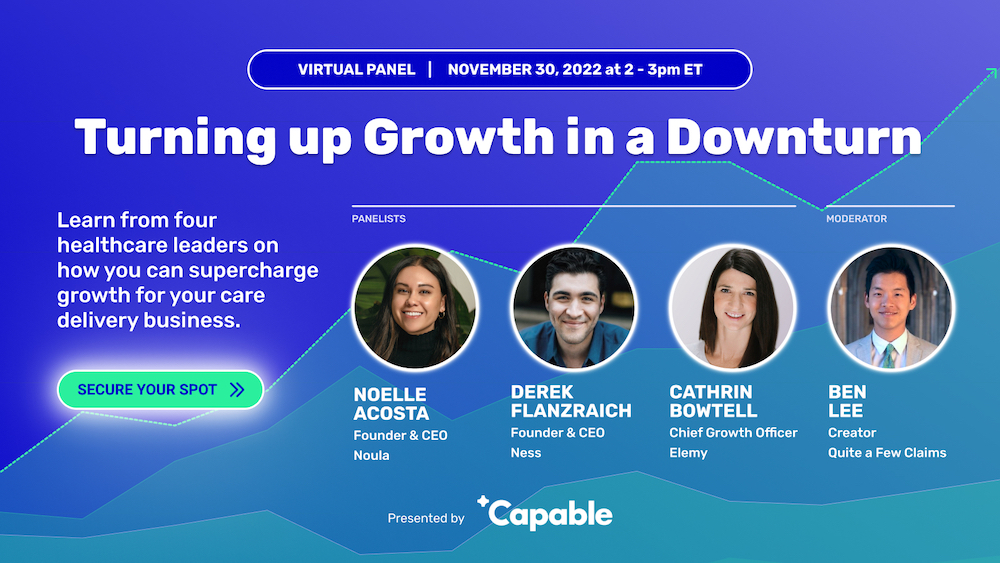 Webinar on Wed, Nov 30 at 2:00 PM ET: Turning up Growth in a Downturn
It's hard to be in the business of care delivery right now. Founders and operators responsible for member growth are struggling with high CAC, intense competition, and a bear market. Yet these businesses are the ones on the ground improving healthcare access, quality and outcomes for populations who truly need it.
Come learn from healthcare leaders at Noula, Elemy and Ness who've been responsible for supercharging the growth of billion dollar care delivery companies on their hard-won lessons and advice to weather downturns and turn up growth. 
---
In the Know
Let's Talk Menopause! (Femtech Insider)
Women's health dominates midterm talk (Axios)
Women in venture capital are writing the rules of maternity leave and bending the male-centric culture to their will (Business Insider)
Bloomi's Rebecca Alvarez: It's Hard to Be the First (The Cut)
Is cycle syncing wellness' next frontier? (Glossy)
Our needs for healthcare while traveling (Medium / Nina Capital)
Does the peer review process need blockchain? (Neo.Life)
I write about Post-Roe America Every Day. It's Worse Thank You Think. (The New York Times)
Beauty industry must avoid 'menowashing', warn experts (Cosmetic Design Europe)
The Unintended Consequences of Apple's Fertility Tech (Wired)
Who's Hiring?
Maven is looking for a Vice President, Clinical Innovation.
AIVF is hiring a Marketing Communications Manager.
Tiny Health is looking for a Full-Stack Software Engineer.
Vira Health is hiring a User Researcher.
wmnHealth is looking for a Senior Director of Application Development.
Visit the Femtech Insider Job Board to see more roles or to add your own!