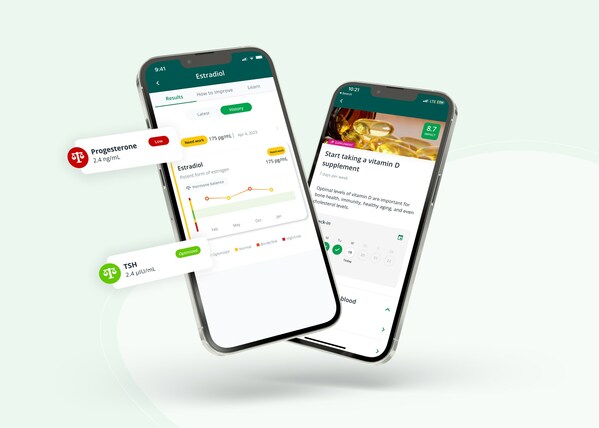 InsideTracker, a personal health analysis and data-driven wellness guide that helps people increase their healthspan and live healthier longer, announced that the company's popular Ultimate Plan will now provide female users with analysis and optimization guidance for three new biomarkers pivotal to increasing women's healthspan and navigating menopause.
Founded in 2009 and created by experts in the fields of aging, genetics, and biometric data, InsideTracker provides a personal health analysis and data-driven wellness guide, designed to help you live healthier longer. By analyzing your body's biomarkers, InsideTracker provides an objective assessment of the current state of your well-being. Then, our A.I.-powered platform uses findings from thousands of scientific peer-reviewed publications and over ten billion biomarker data points to generate a custom set of actionable recommendations and insights.
Women have been historically underrepresented in scientific research—and, consequently, wellness products—due many factors, including a reluctance to account for natural hormonal cycles when designing clinical studies. Consequently, the healthspan industry has prominently featured men at the forefront of the conversation, and provided women with little to no nuanced guidance unique to their female biology. As the healthspan, longevity, and health and wellness industry continues to grow, the personalized approach demands more, and InsideTracker is leading the way.
The most cutting-edge consumer offering for personalized biomarker analysis and healthspan optimization, InsideTracker's data-driven, AI-powered Ultimate Plan will now offer female users insight into three additional biomarkers—estradiol, progesterone, and thyroid-stimulating hormone (TSH)—along with education and personalized insights about the relevance of these biomarkers to their health through all stages of life, including before and after menopause.
By giving women access to testing and personalized analysis of critical hormone levels and the science behind their results, InsideTracker is equipping and empowering women to actively participate in conversations and evidence-based solutions regarding their health.
"Women and people with ovaries are five to eight times as likely than men to have thyroid problems, and an estimated 80% of this population will experience an issue with estrogen or progesterone imbalance during their lifetime. We are pleased to provide our consumers with a higher resolution picture of their biology through the addition of estradiol, progesterone, and TSH, as well as personalized insights based on their unique signature of these hormone levels against the backdrop of other markers of health" said Renee Deehan, Ph.D., VP of Science at InsideTracker.