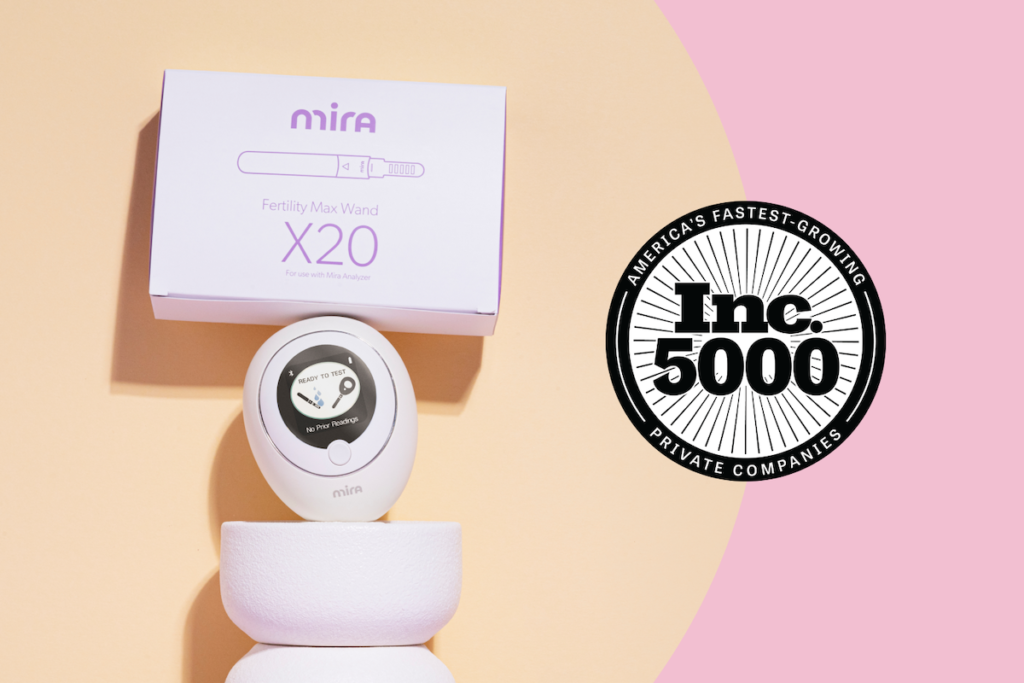 Mira is a San Francisco-based company that provides healthcare products for more personal, accurate, and reliable home healthcare. Quanovate was founded in late 2015 by a group of scientists, engineers, OBGYN doctors, and business execs to solve the problem of the unavailability of advanced home health testing. The company's mission is to make home healthcare more personalized and reliable, while empowering people to become more actively involved in managing their health.
Mira's first healthcare product for at-home testing — Mira Monitor — was released in 2018. Mira is an AI-powered device that aims to help women who are struggling to conceive.
Inc. revealed today that Mira ranks No. 437 on the 2023 Inc. 5000, its annual list of the fastest-growing private companies in America. The prestigious ranking provides a data-driven look at the most successful companies within the economy's most dynamic segment — its independent, entrepreneurial businesses. Facebook, Chobani, Under Armour, Microsoft, Patagonia, and many other household name brands gained their first national exposure as honorees on the Inc. 5000.
"I'm incredibly proud that our company has secured the prestigious spot on the esteemed 2023 Inc. 5000 list and became America's fastest-growing Femtech company, demonstrating a three-year revenue growth of 1,323%. With over 75,000 women worldwide reaching their fertility aspirations with the help of Mira, this achievement underscores the impact we are making in women's and people's lives by redefining healthcare through innovation in fertility care and empowerment of women with the data on their reproductive health. With Mira, we are not only revolutionizing how women approach their health, but we are also shaping the future of healthcare itself. And Inc.5000 recognition fuels our passion to continue breaking barriers and fostering positive change for women everywhere", says Sylvia Kang, CEO and co-founder of Mira.
Mira is the first and only company to integrate lab technology into a palm-sized fertility monitor. By utilizing a precise fluorescent detector, Mira goes beyond traditional methods, revolutionizing fertility monitoring. This shift transforms the game from basic ovulation kits to having a mini hormone lab at your fingertips for everyday health checks.
With a user base exceeding 76,000, Mira has harnessed over 8.5 million hormone data points and analyzed 670,000+ menstrual cycles. Mira's AI possesses unprecedented insights into hormone fluctuations, which enables it to make even more personalized and accurate predictions.
Mira's growth trajectory is equally remarkable. Amid the challenges of the pandemic in 2020, the company's revenue skyrocketed by 1065%. This upward trend continued in 2021 with a remarkable 100% revenue growth. Moreover, the company shows no signs of slowing down, as projections suggest a continued growth of 60% in 2023.
The Inc. 5000 class of 2023 represents companies that have driven rapid revenue growth while navigating inflationary pressure, the rising costs of capital, and seemingly intractable hiring challenges. Among this year's top 500 companies, the average median three-year revenue growth rate ticked up to an astonishing 2,238 percent. In all, this year's Inc. 5000 companies have added 1,187,266 jobs to the economy over the past three years.
"Running a business has only gotten harder since the end of the pandemic," says Inc. editor-in-chief Scott Omelianuk. "To make the Inc. 5000 — with the fast growth that it requires — is truly an accomplishment. Inc. is thrilled to honor the companies that are building our future."
"Earning a coveted place on the Inc. 5000 validates Mira's steadfast dedication to innovation, women's health, and transformative progress. With over 8.5 million hormone data points, Mira is an absolutely unique fertility AI. And this recognition amplifies our motivation to continue reshaping healthcare, making a positive impact on women worldwide. Just like the trailblazing entrepreneurs before us, Mira's journey showcases resilience and determination. This achievement both humbles and empowers us as we forge ahead on this empowering path", shares Sylvia Kang.