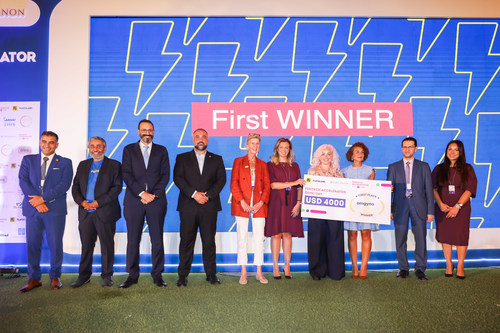 In October 2021 Organon and Flat6Labs set out to address unmet women's healthcare needs in the MENA region and launched their joint femtech accelerator program. About a year later the first cohort has now graduated and the program concluded with a demo day held at GrEEK Campus in Cairo.
At Demo Day the 10 startups who participated in the program pitched their solutions in front of a panel of judges that consisted of Dina El Shenoufy, Chief Investment Officer at Flat6Labs; Ramy Koussa, Associate Vice President of MENAT at Organon; Dr. Amr Alashkar, Chief Information Officer at Cleopatra Hospital Group; Jailan El Messeiry, Group Digital Marketing & Communications Manager at UN Women; and Frederika Meijer, Country Representative at UNFPA.
Meet the Winners!
Three startups stood out to the judges and were announced as winners at Demo Day.
Omgyno, the start-up that won first place, is a femtech platform redesigning the gynecological experience. After identifying the causes behind gaps in testing for the potentially cancer-causing HPV virus, including fear of judgement and accessibility, the two entrepreneurs worked on a user-centered platform offering home testing and telehealth, tailored to promote self-care and privacy.
Siira, the start-up that sat in second place, developed a mental health platform designed to accompany women in their daily struggles related to parenting, relationships and work. Conscious that only 30-35% of people with mental health problems seek professional support, Sandra Salame's start-up is focused on addressing this gap.
Globally, one in five women experience mental health issues during pregnancy, and/or following birth. Seeking to plug this gap, Maternally, which was adjudged third runner-up, is an online platform being developed to cater to women's specific mental health needs during their motherhood journey.
Other finalists include Rubi Health, Women's Wellness, Lacti, Afea, Femapp, Keef Sihtek, and Nafsy.
It's a Wrap!
Reflecting on the experience running this first femtech accelerator program in the MENA region, Ramy Koussa, AVP MENAT at Organon shared: "At Organon, we understand that prioritizing women's health is tied to long-term productivity and resilient societies. That's why, as part of our ESG Economic, Social and Governance-driven purpose to achieve her promise, we are committed to investing in programs, partnerships, initiatives, and ideas that work to fill that gap. The best ideas for addressing these gaps truly come from the women who experience these challenges first-hand. With vast unmet medical needs, today, women across the MENA region cannot fully participate in the economy on account of a lack of adequate healthcare. Shockingly, the region loses $575 billion yearly due to the lack of female economic participation."
Inspired by Organon's purpose to help women and girls achieve their promise through better health, the program was designed to support female entrepreneurship and digital health start-ups that advance women's health by providing support to build products, test market fit and improve business models, as well as access to investors.