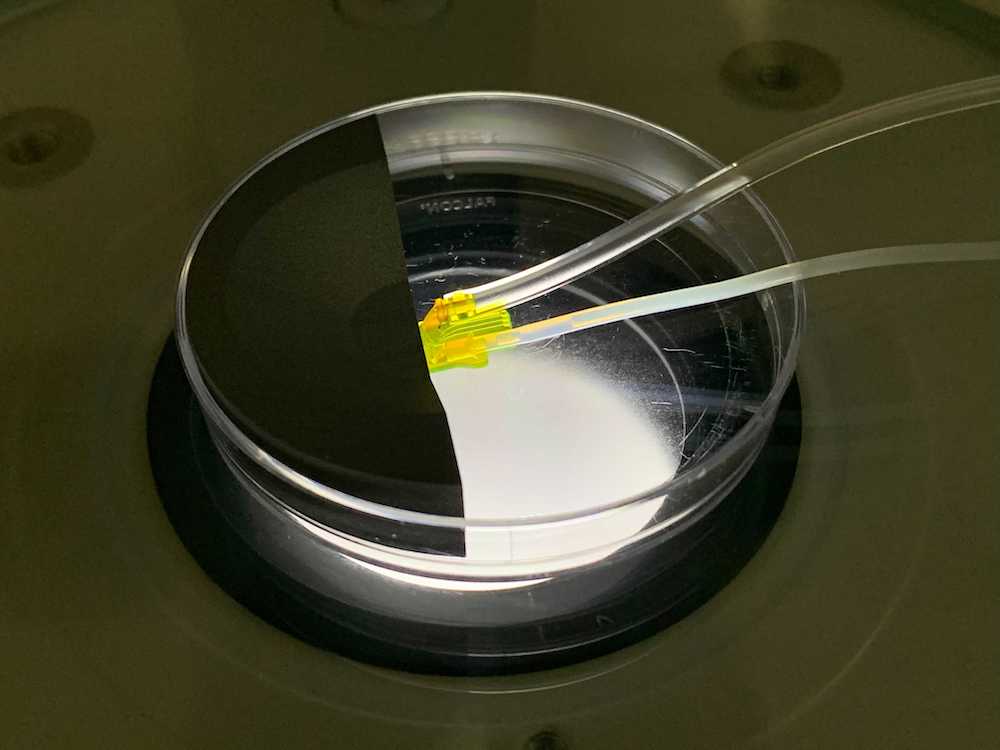 Australian medtech startup Fertilis has raised $2M (AUS $2.75M) in seed funding led by Horizons Ventures for its new micro medical devices that automate cell culture and allow for precise control of the environment in which cells are grown. Fertilis' technology has big implications for the treatment of chronic conditions such as cancer, spinal cord injury and even Cystic Fibrosis. When used in IVF, the technology reduces the average number of cycles required to get pregnant by one. 
How it works
The company's technology consists of a new class of 3D printed micro-medical device (0.01 to 1.0 mm across – similar to the width of a human hair) which can hold a single cell through to a small group of cells. This allows for the culturing of cells, for example an embryo, in micro environments that more closely resemble the conditions in the human body. Through monitoring and automation, the medium or environment in which the cells are immersed can be changed in a very controlled way, removing the need for "human intervenion" aka specialists to moving the cells several times throughout the process.
IVF is a complicated process, conducted by highly skilled professionals, making it subject to human error and multiple external variables. Errors can have significant consequences for patients, both emotionally and financially. By automating the IVF process in the lab, Fertilis' technology removes some of these variables, improving consistency and increasing pregnancy rates.
On the record
Fertilis Founder, CSO and Lead Researcher Professor Jeremy Thompson explains: "IVF can be an incredibly difficult and stressful experience, fraught with anxiety and uncertainty. Every failed attempt is devastating for aspiring parents and it's heartbreaking for them to know that an IVF cycle is still more likely to fail than succeed. IVF is a fragile and complicated process with many variables; things like handling and transferring embryos from dish to dish, even the air quality in a lab can affect the result. Our technology allows for much greater precision and consistency, meaning we can offer women and couples with fertility issues a better chance of getting pregnant and having a healthy baby."
Fertilis Co-Founder and CEO Marty Gauvin adds: "We believe our technology represents the most significant development in cell culture precision and consistency in over 30 years. Starting with IVF, we will work with clinics and labs to build solutions that occupy the same space as their incubators do today."
Why it matters
Infertility affects around 1 in 7 couples in the U.S., where according to stats shared by Penn Medicine, around 1 million babies between 1987 and 2015 were born through the use of IVF or other assisted reproductive technologies. According to the CDC around 1-2% of U.S. birth annually are via IVF today, a number that is on the rise.
The chance of having a full term, normal weight and singleton live birth is somewhere around 1 in 4 per ART cycle (11% – 30% according to Fertilis), which is very low considering the immense monetary (ca. $10K per cycle) and emotional investment. Understandably any innovation that "increases the odds" of a successful "IVF pregnancy", like Fertilis' technology does, is exciting news.
What's Next?
Fertilits plans to use the new funds to grow the team and kick off IVF clinical trials in 2022 in its first to market application of cell culture automation. The company expects to enter the IVF market in 2023 before expanding into other sectors like regenerative medicine and gene therapy.