In our "Starter Story" series we invite femtech founders to share their stories of how it all began. How did they come up with the idea? Where did they meet their cofounders and what was the hardest part of going from 0 to 1?
In today's Starter Story we get to share Brilliantly's founding story as told by founder Kristen Carbone. Brilliantly's mission is to celebrate women's resilience as they navigate life after being impacted by breast cancer.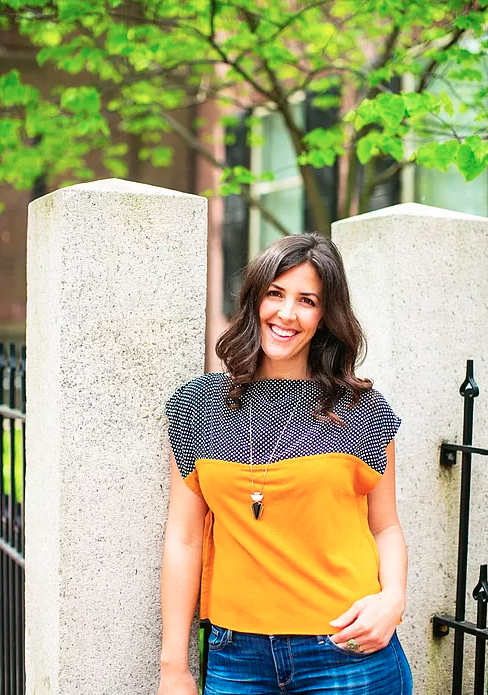 When did the idea for your startup first come up?
Brilliantly started with trying to solve a problem for myself. My mother Lisa died from metastatic breast cancer at age 49, and after years of expensive and emotionally taxing screenings, finding a lump, and learning more about my potential hereditary risks, I had a preventative mastectomy and reconstruction in 2013. In the years following, I faced a profound shift in my identity and connection with my body. One of the things that really bothered me was feeling constantly cold. Turned out, I wasn't the only one dealing with this discomfort—a relatively common result of implant reconstruction. After countless failed attempts to jerry-rig a quick fix, I set my mind on designing a sustainable solution to help women like myself feel physically better. We're now three years into R&D with our flagship product, Brilliantly Warm, that's launching in January 2021! It's an app-controlled warming wearable that fits into any bra.
When and how did you take the decision to take the plunge and turn your idea into a business?
After making a proof of concept design with my friend that worked but was hooked up to a drill battery, I realized that I couldn't make a discreet solution without help. But before I started looking for a team, I knew that I needed to find out if other women were having the same problem. Over the summer of 2017, I talked to hundreds of breast cancer survivors and previvors. Through those conversations, I confirmed the need but also recognized that the opportunity to help women feel better was much bigger. I didn't want to simply create a single product, but hope to  broaden the scope of what's out there for women navigating life after an experience with breast cancer through a vetted, curated resource of products, services and content.
What were the biggest challenges for you personally and your company going from 0 to 1?
The biggest challenge I faced (and continue facing) is that this is my first business, so I'm learning as I go. The most difficult part is certainly financial. I poured my savings into the business while courting investors early on and making the tough decision to leave a stable day job for an unknown future.
Do you have any advice for others, who are just getting started?
Ask for help! Join communities of founders, create an advisory board, and involve the community you're trying to serve in the process of building your business.