Remember our office hours with Marshall, Gerstein & Borun's Giordana Mahn where we asked you to ask every questions you've ever had about Intellectual Property? Yes? Well you're in luck! Today is the day of the big reveal as we share Giordana's answers to all the questions we received!
As a reminder: Giordana is a US patent attorney and collaborates closely with clients to gain a deep understanding of their business objectives in order to deliver patent strategies with an eye toward the future.
If you're new to IP law and intellectual property, read on for an overview or check out Giordana's answers to your questions below: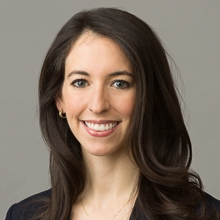 An Introduction to Intellectual Property
Reader Question: I hear a lot about IP, but am unsure what it actually means for a digital health startup (women's health service). What can I even protect? And what is the difference between IP, patents & trademarks and what should I be thinking about in the beginning and what can I postpone?
Intellectual property (IP) is the umbrella term for rights of intangible property. Intellectual property includes patents, trademarks, copyrights, trade secrets, and rights of publicity. A copyright attaches automatically to a creative work, and gives the owner the exclusive right to copy their own creative work. And rights of publicity are rights in someone's image or likeness, and usually only applies to people with public recognition or fame. For a tech start up, trademarks and patents are likely the most important forms of IP you need to actively protect from the start.
Trademarks cover your brand or logo. Generally, if you are using your brand and logo in commerce and no one else in the field is also using that brand or logo (or has rights to it), and it serves as a unique identifier of your company as the source of associated goods or services, without being confusingly similar to other trademarks, then there is a good chance you will be able to obtain a registration for that trademark.
However, there is a limited time in which you can file a patent. In the US, you have one year from a public disclosure to file a patent application with the US patent office. Also, patents are awarded to the first to file a patent application on a particular invention. In other words, the first one in the door may receive the patent, not necessarily the first one who invents the technology. So depending on when you publicly disclosed your technology, and whether there are others in the field who may be working on similar competing solutions, filing a patent application might have to be done sooner than later.
Determining what to invest in depends on your personal goals, like where in the world you would like protection, what companies are you looking to attract for licensing agreements, or what type of protection is most important to you. While IP costs cannot be deferred indefinitely, there are strategies to maximize the available time in which to file foreign patent applications until you have a sense of whether you have a patentable, and potentially even marketable, invention. All of these are important considerations that an IP attorney can help you with.
DISCLAIMER: These comments do not necessarily reflect the views of Giordana Mahn's firm of Marshall, Gerstein & Borun or its clients, and should not be relied upon as legal advice for any particular situations. Providing these responses is not intended to and should not be considered as reflecting an attorney-client relationship.