YourBio Health and Turtle Health are teaming up to introduce a new kind of AMH testing. According to a trial published in 'Reproductive Biology and Endocrinology' the TAP II device, when utilized as part of Turtle Health's lab-developed home test, can reliably produce similar results to in-clinic venipuncture. The study, conducted in 41 women of reproductive age and sponsored by Turtle Health, compared three modes of blood collection: the TAP II device self-administered by the patient with Turtle Health instructions and packaging, the ADx card, self-administered by the patient with ADx manufacturer instructions, and venipuncture as conducted by a qualified phlebotomist.
Patients significantly preferred the TAP II device with statistically superior patient experience, as measured by Net Promoter Score (NPS) versus both the ADx card and venipuncture. Importantly, correlation with venipuncture was high, indicating that measurement at home can provide similar information. False positives were significantly reduced vs. the ADx card.
This novel approach to evaluating the ability to measure AMH levels in women in combination with other testing enables women and families who are delaying family building to "feel more empowered, excited, prepared and less anxious, or confused, regarding their fertility status."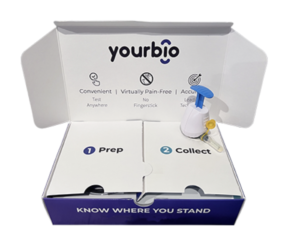 "We are incredibly pleased with the head-to-head results and thrilled to have been a part of empowering family building. Our technology eliminates barriers to blood collection by removing the need to schedule a blood draw and commute to a collection center, and by avoiding the pain and fear from fingersticks and phlebotomy. In addition to producing superior results to the ADx card, we can deliver better health data across more patients." said Harry Wilcox, Executive Chairman and CEO of YourBio Health.
"We are particularly pleased to see the lack of false positives" commented Amy Zwanziger, the CEO of Turtle Health. "No woman should have to deal with the anxiety that comes with a false positive that may be associated with other on-market devices.
The TAP II is available as part of Turtle Health's home fertility consult, available at turtlehealth.com in select states."