Wildflower Health today announced a partnership with The ObG Project, propelling efforts by both companies to re-imagine maternal health by powering virtual and value-based OB care. Wildflower connects women and families to better care by breaking down silos among providers, payers and best-in-class partners. The ObG Project is a digital media company that was created to deliver guideline-based medical information to physicians and other healthcare professionals. It was designed to address how today's clinicians want to receive information. The digital platforms are easy to access, quick to read, mobile-friendly, and focused on how this information can benefit their patients.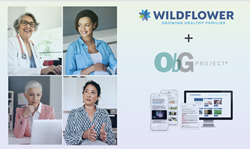 Over the past decade, Wildflower has worked with hundreds of hospitals and health systems to align payers and clinical care teams around women and their families. The company uses a combination of software, hardware and humanware to improve patient outcomes and lower medical costs. The ObG Project is the leading professional information resource for women's health and primary care clinicians. Established for healthcare professionals by healthcare professionals, it offers clinicians a single, efficient and unbiased educational hub.
Wildflower is working with The ObG Project to strengthen its platform's capabilities for risk identification and patient stratification, as well as helping its virtual advocates expertly identify and connect high-risk patients with appropriate clinical resources. Wildflower will also make The ObG Project's premium services available to its clinical partners, enabling robust professional education and clinical guideline alerts to help busy clinicians keep current.
"One of the reasons we are so excited about Wildflower is that they have solved for the missing piece, which is turning data into actionable information to support the clinician," said Sue Gross, MD, CEO of The ObG Project. "It's important to make sure clinicians are a central part of the story, however most of the solutions in the market today have not done a very good job of addressing the provider's needs. With Wildflower, there is now a venue for clinicians to quickly and easily access vital information to help them care for their patients."
Wildflower's platform integrates social, demographic and clinical factors for a holistic view of each patient. Based on risk assessment surveys and data collected from app usage and connected devices, Wildflower establishes an initial risk stratification for each individual. From that point onward, patients undergo longitudinal monitoring and risk assessment.
Advocates are supported with a playbook that details relevant medical information and protocols for escalation. Leveraging risk assessment data from the Wildflower platform and a portal powered by The ObG Project content and resources, Wildflower's advocates synthesize information and connect to partner OB professionals with appropriate patient referrals and escalations. OB professionals can leverage The ObG Project literature to inform and support evidence-based provider decisions.
Leah Sparks, CEO & Founder of Wildflower Health commented: "To fully reach the potential of the value-based care models we are enabling, we have to accurately assess risk, empower patients for self-management, support evidence-based care decisions by our partner providers, and escalate individuals to proper care in a timely fashion. By teaming up with The ObG Project, we have bolstered our ability to deliver on all of these key requirements, which are all equally important to transform healthcare for women while shrinking the cost of care."
"When health for women improves, the health of society improves," added Dr Gross. "Wildflower and The ObG Project are aligned on this goal and incredibly excited to be partnering to support both providers and patients on the journey to value-based care."