Every Thursday we send out a curated newsletter on "all things femtech and women's health innovation". This is the latest edition. If you're interested in subscribing, you can do so at the bottom of this page.
Highlights
SimpleHealthacquiresEmme, the company known for its smart birth control case.
Virtual eating disorder clinic Equip raises $58M in Series B funding to invest in growth, access and R&D.
Ro adds $150M in funding to double down on direct-to-consumer health.
Oath Care raises $6M for its virtual community support model for parents.
Fertility Focus, the company behind Ovusense, rebrands to viO HealthTech and expands its focus beyond reproductive health.
HelloBetter's Vaginismus DTx is now reimbursed as a prescription digital health product (DiGA) in Germany.
Ohhcean launch: When sextech meets sustainability.
These two women's health projects received Spark Grant Innovation Awards from Ariadne Labs.
Y Combinator Healthcare Partner Surbhi Sarna joins cancer diagnostics company AoA Dx as an Independent Board Member.
Amazonrolls out its telehealth service nationwide.
Honor Black History Month by supporting lifesaving women's health research.
Upcoming Events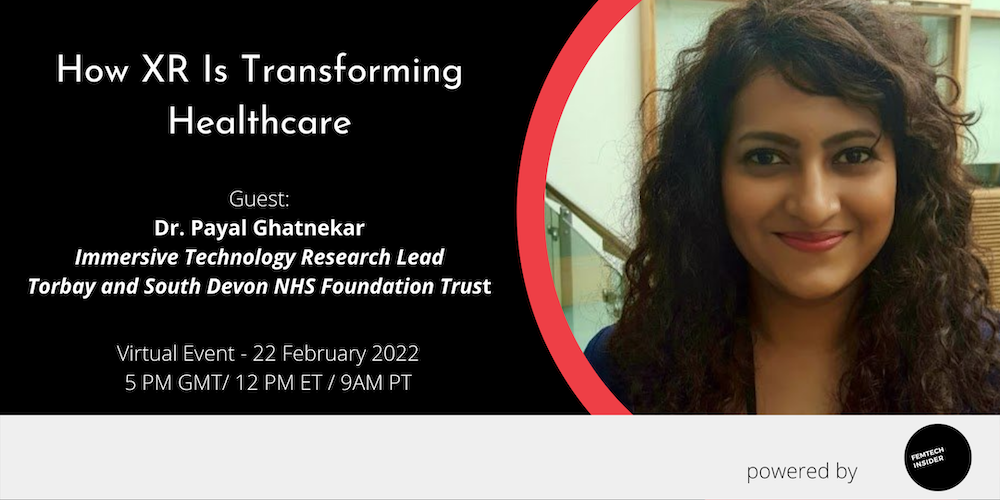 WEBINAR: February 22, 2022, 5pm GMT – How XR Is Transforming Healthcare
AR and VR have been revolutionizing the global healthcare market and demonstrating impact, value and efficiencies for quite some time. The COVID-19 pandemic, however, has created additional momentum in the use of XR in healthcare as providers accelerate their digital transformation journeys and adopt novel and innovative solutions.

There is a nascent but world-class XR innovation emerging in the UK's healthcare market, as cutting-edge research is undertaken in UK universities and ground-breaking innovation is happening in start-ups and SMEs. And one of those leading the charge is Dr. Payal Gharnekar, Immersive Technology Research Lead at the Torbay and South Devon NHS Foundation Trust, who will share insights and learnings from her research and work at the intersection of XR and healthcare.
In the Know
Femtech Trendwatch: Femtech meets DiGA, the Shopify of Digital Health & Consolidation: Yay or Nay? (Femtech Insider)
Unlocking opportunities in women's healthcare (McKinsey)
Womaness Co-Founder and Former Target Exec Sally Mueller Shares Five Winning Brand Launch Strategies (Beauty Independent)
Outpatient telehealth use declines, but is still elevated from pre-pandemic era (MobiHealthNews)
In pursuit of personalised digital care (HealthTechWorld)
The sleep-tech industry is waking up. (The Economist)
How medicine erased Black women from a 'white man's disease' (STAT)
Egg freezing, destigmatising sex, COVID-19: What women will be talking about in 2022 (Channel News Asia)
Meet the 16 influential women shaping the future of psychedelics (Business Insider)
Increased funding for research in women's health issues could unleash staggering returns (Fortune)
Who's Hiring?
Seven Starling is looking for a Head of Clinical Operations.
Athena Club is looking for a Team & Customer Experience Associate.
Aavia is looking for a Data Analyst.
Aunt Flow is hiring a Sales Development Representative.
Visit the Femtech Insider Job Board to see more roles or to add your own!