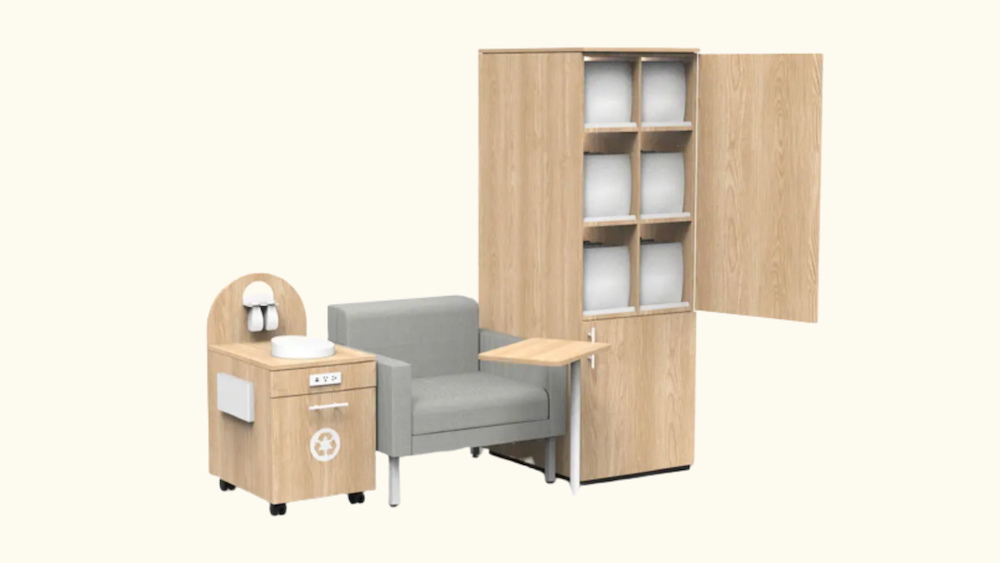 MilkMate, a New York-based company dedicated to supporting and empowering working mothers and the employers who support them, has announced that its breast pump and parts for its new turnkey breast pumping solution have been cleared for market by the U.S. Food and Drug Administration (FDA). The MilkMate solution is entering a soft launch phase with a select group of early adopters before its formal launch in the greater Manhattan market this summer.
MilkMate was founded with the belief that working mothers should not have to choose between family and career due to the difficulties associated with breast pumping in the workplace. The MilkMate breast pumping solution consists of modular furniture components that include a built-in multi-user breast pump and single-use parts that are pre-assembled and pre-sterilized, ready for immediate use. The solution is easily adaptable to any existing office space or wellness room and helps employers meet regulatory requirements such as those most recently brought forth by the PUMP Act in December 2022. With MilkMate, working moms need not bring anything to work, saving them time from having to clean, pack up, and transport pump gear to and from work.
In addition to receiving FDA clearance on its breast pump and parts, MilkMate has successfully completed a $5 million Series Seed fundraising round. Investors in the round were not disclosed.
"MilkMate is designed to support both working moms and their employers by offering a more streamlined way for employees to breast pump at work following maternity leave," said Patrice Meagher, Founder and CEO of MilkMate. "As a parent of 4, breast pumping at the office was by far the most inefficient thing I did as a working mom. I knew there had to be a better way, and that's why I created the MilkMate solution. We are thrilled to receive FDA market clearance and announce the close of our $5M Series Seed round. Both are significant milestones that will allow us to officially launch this much-needed solution for employers and working moms everywhere."