As a proud community partner of Femtech Forum, we're beyond excited, that the conference is around the corner! The event, which takes place for the first time on June 25 features some of the most inspiring founders innovators, investors and influencers in femtech. Organized by Women of Wearables (Wow), the program covers a wide range of topics including fertility, sexual health, designing products for modern women, the gender gap in medical research and more.
Women of Wearables (WoW) is leading global organisation aiming to inspire, connect and support women and diverse founders and technologists in wearable tech, fashion tech, smart textiles, IoT, health tech and VR/AR.
In the lead up to Femtech Forum we thought it'd be a great opportunity to check in with Women of Wearables (WoW) founder Marija Butkovich to learn more about her organization, the event and to chat about the femtech trends she's most excited about right now.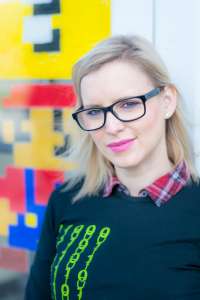 Most of our readers have probably come across Women of Wearables before, but maybe we can still start out with a little introduction! What is your mission and what does your organization do?
Marija Butkovich: Women of Wearables (or just WoW as we call it) is a global organization supporting diversity in emerging technologies – wearables, fashion tech, IoT, health tech, etc. We started our journey in 2016 as a small meetup group but very quickly our community grew by word of mouth and I'm proud to say that today we have 20k+ members in 30+ countries globally. We support our growing community through events, mentorship, educational programs and collaboration with our network of local ambassadors and partners. Our members are startup founders, designers, technologists, industry experts, researchers, bloggers, journalists, investors and many more.
Our mission and goals are to educate our community about latest innovations in the tech space and equip our members with knowledge and access to information, to create more jobs for our members, primarily women in emerging technologies and STEM, to support founders and entrepreneurs in building and scaling their businesses, and showcase female role models in tech, and to enable our members easier access to funding through mentoring, matchmaking with investors and networking at our events.
I'd love to learn a little more about the history of Women of Wearables! When and why did you start the organization in the first place?
Marija Butkovich: Some of the challenges I faced during my entrepreneurial journey – lack of women and diverse founders in general in tech, but particularly lack of trust in women as founders, and a general lack of support when it comes to women in this specific industry were also the reasons why WoW was born.
After graduating from the university and spending eight years working as a legal professional, I realised there must be something more creative, fulfilling and challenging than what I was doing at that time. And I also wanted to create more value and make more impact in my day job. My transition to tech has been gradual, so I first started mentoring startups and writing for tech and business publications, before I decided to quit my day job and pursue my career in tech. I don't know if it was serendipity or just a combination of circumstances, but in 2014 I moved to London and joined the team at Kisha Smart Umbrella, a wearable tech business with five of my friends and co-founders. I instantly fell in love with wearable tech, an industry that has great potential of beautifully merging the visual with tech, and to enhance our daily lives at the same time. And then, in 2016, Women of Wearables happened. I think once you find your focus things start happening by themselves, it's like a domino effect. Today, WoW communities are spread across five continents with official chapters in six cities internationally (San Francisco, Boston, Paris, Tel Aviv, Manila and Sydney) and we indeed have a global footprint, something that happened completely organically and without me ever planning it.
Looking back, what are some things that surprise you about how Women of Wearables has evolved over the years?
Marija Butkovich: I'm always amazed by the diversity and strength of our community. We have so many amazing businesses and founders and their stories are documented on our WoW women blog. Our biggest asset is our community.
Also, once you have such a big community supporting your cause, things happen organically on both personal and business level. For example, I don't know if it was my work in WoW or with startups, but I'm very proud to have been featured in some of the major tech and business publications such as Forbes, TechCrunch, The Next Web, Huffington Post and many more, and in 2017, 2018 and 2019 selected as one of the Most Influential Women in UK tech by Computer Weekly. This means a lot to me, because sometimes we need that recognition from outside to confirm how much impact and value we create for our network and community.
I also recently became a Forbes contributor myself, so expect to see some exciting stories and features soon about all things emerging tech!
You recently also launched a paid membership program. What can premium members expect?
Marija Butkovich: It's very important to highlight that our community is open to anyone who is affiliated with and interested in emerging technologies like wearable tech, fashion tech, IoT and health tech. WoW is not just for professional women, but for anyone with an interest in wearable technology and providing women with a platform for growth.
With that in mind, we have two types of membership plans: FREE and PREMIUM. Premium membership will allow you to tap into and be part of our curated community and content platform, advertise your events, job ads and activities to our members, be the first one to find out about the latest innovation programmes, awards, challenges and job ads within the WoW community, and attend our monthly focus groups and online events curated specifically for our paid members.
After becoming a WoW member, regardless of your membership plan, you will immediately start receiving communications about our organisation and learning about ways you can get involved.
Definitely sign up for our newsletter that goes out every Monday packed with relevant WoW community / industry events, news and updates!
Women of Wearables will be running a conference all about femtech this June and overall femtech seems to have become a big part of your programming this year. Why is it important for your community to learn more about this somewhat new field?
Marija Butkovich: Currently, we at WoW are focusing a lot on fem tech and health tech: two sectors our community is very interested in – and through that we can bring together wearable technology, IoT, AI and much more under the same umbrella, so to say.
Investors are starting to recognise the value of this industry, which is estimated to be worth $50 billion by 2025, according to Frost & Sullivan. Women in the workforce spend 29% more per capita on healthcare than their male peers and they're 75% more likely to use digital tools to track their health. A decade ago, just $23 million worth of venture capital was invested in the global FemTech industry, according to PitchBook data. That figure grew at a modest pace until 2015, when there was a spike in funding that totalled $334 million. In 2017, VC investors participated in 49 deals in the FemTech space, totalling $354 million. Notable FemTech deals in the past year include Maven Clinic's $45 million Series C, Modern Fertility's $15 million Series A, Peanut's $12 million Series A, Inne's $8.7 million Series A and Daye's $5.5 million seed round.
All this shows that femtech is here to stay!
What are some femtech trends you are most excited about?
Marija Butkovich: So many, too many actually, haha! Tech for mums, mental health and wellbeing, fertility benefits for employees, list goes on and on. And yes, femtech goes beyond just reproductive health, so any new solution that is tackling problems or challenges women or those who identify as women is very welcome! 🙂
What can attendees expect from your conference in June?
Marija Butkovich: The FemTech Forum is a celebration of innovation in femtech, spotlighting tech-powered solutions and products that are disrupting the market and changing our everyday lives for the better.
Join us on Thursday, June 25th, 2020 to hear and learn from some of the most inspiring founders, innovators, investors and influencers in femtech, on a wide range of topics, including fertility, sexual health, designing products for modern women, the gender gap in medical research and more.
We have an incredible agenda with 30+ speakers and some of the most well known femtech journalists as moderators. Even if you cannot attend that particular day, we will record everything and those who have purchased the ticket will have access to it later, so you can watch and listen to all the sessions over the weekend or in the upcoming weeks!