Every month, millions of girls around the world struggle to attend school when they have their period because they can't afford sanitary protection, such as towels or tampons. This is period poverty and is more common, than you may think. The World Health organisation estimates that 500 million women worldwide have no access to sanitary products.
In Kenya 65% of women cannot afford sanitary napkins, which prevents them from achieving economic and social equality with men as girls and women miss out on crucial opportunities, like getting an education. 10% of girls in sub-Saharan Africa miss school when menstruating, because of the culture of shame surrounding menstruation and a lack of access to products to properly deal with their period. Some women trade sex for sanitary products. (Learn more)
When Aino Försti-Smith, who works for Bayer in Finland learned about period poverty and how it affects the lives of millions of women, she teamed up with her colleague Helen Mwathi, who's based in East Africa to help. For years now, Bayer employees have been distributing free sanitary products at local schools. Together with an organization called The Cup, they also run information sessions at schools and hand out menstrual cups.
Here at Femtech Insider we believe in the power of tech and innovation, just as much as we believe in the power and importance of grass roots movements and those, who support them. In our interview today, Aino talked to us about how her and Helen met, why and how they started this project. She shares what it's like to innovate and advocate in a corporate setting and what advice she has for others trying to do the same.
You both work for Bayer, but Aino, you are based in Finland and Helen is based in Kenya. When did you decide to work on this project together and how did you meet?
Aino Försti-Smith: Helen and I are both passionate about empowering women and ensuring access to reproductive health services. We are lucky to work for a company that shares our mission and has a long-term commitment to women's health and contraception. I have been working many years in the area of contraception as Bayer's hormonal coils and implants were invented and are produced in Finland.
Helen is a believer in empowering women and championing for their rights besides her other commercial role in bayer. With funds from Bayer, Helen has also been instrumental in helping women with fistula get free surgery for the very vulnerable in society.
Our joint journey was kicked off in 2016 when I invited Helen, accompanied by a few journalists from Africa, to join a global press conference in Finland relating to innovations in contraception. The following year we met again but this time in Kenya. We organized a press trip for Finnish journalists to learn about the company's implant access program. During that trip I learned about the project Helen and the personnel of Bayer's Nairobi Office had been carrying out in menstrual health. They had been working with their local Primary School for many years to provide girls with sanitary products. The staff collected money to pay for the sanitary pads and the company had supported the school e.g. by setting up hand washing stations and improving conditions of the school toilets. The experience shows that the provision of sanitary pads at the school had a positive impact on school attendance and girls' academic performance. I was very impressed with my colleagues' commitment and the results achieved. Also, I had been following the success story of the menstrual cup for many years and was wondering, if a more sustainable method would add value. A menstrual cup can be used for up to 10 years and there is no waste management needed. This product would also benefit girls who are already leaving the school.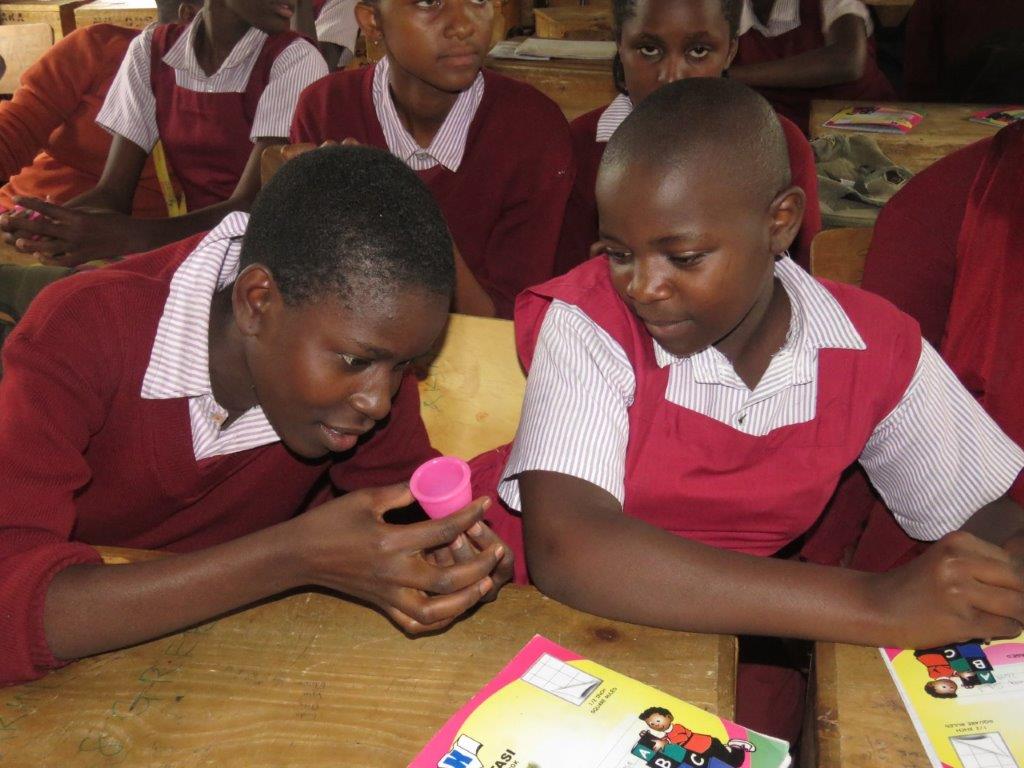 Corporate organization sometimes have a bit of a bad reputation. People talk about hierarchical structures, that are hard to overcome and think there's little opportunity for individuals to have an impact. Your project seems to prove the opposite. Was it hard to get organizational support for your idea in the beginning?
AFS: Our experience is very positive and both of us have had the opportunity to push initiatives that we feel very passionate and strongly about. Actually in my case, the true calling was established through work. The press trip to Kenya made me understand the importance of access to contraception, and how it supports not only individual women but whole communities to get out of poverty. After realising what a difference something I have always taken for granted could make in a woman's life in Africa there was no turning back. Helen's passion and achievements have been a true inspiration for me – she is like a mentor to me. Since then I have continued advancing the empowerment of girls and women both through my work and on voluntary bases.
Does Bayer have any special CSR programs to support employee-driven initiatives like yours?
AFS: Bayer has many initiatives for employees to get involved. Helen and I got a grant from the Bayer Role Model program. The Bayer Cares Foundation supports employees who volunteer all over the world. The foundation designates innovative volunteering projects "Role Models", awarding them one-off funding of up to EUR 5,000. Since the start of the volunteering program in 2007, the Bayer Cares Foundation has contributed to the success of 632 projects in more than 60 countries in this way – thus helping many people to benefit from better healthcare, education or nutrition.
Do you have any recommendation for others, who work for big organizations and are looking to affect change?
AFS: We encourage everybody to get involved and drive the change. Corporations have a big role to play when it comes to making the world a better place. As corporations consist of people we feel that everybody can have an impact. In addition, corporate social responsibility and sustainable actions is what the customers are expecting from companies and brands. Companies are expected to do more than turn a profit – they are expected to engage in societal and environmental issues. Involving employees and supporting causes they hold dear increases the job satisfaction and commitment. Besides doing good can be contagious. One of my biggest personal inspirations is Heli Kurjanen from Lunette.
Heli had a vision about the future of period care. Tired of bleeding into tampons and pads, she decided to buy a menstrual cup online, only to find that these things also didn't work for her. She decided to make her own. Lunette took Finland, Heli's and my home country, by storm and went international soon after. Just like myself, Lunette believe in bringing education, opportunities, and intelligent period care solutions to every menstruating person on the planet. In the end we all work for the same cause: A world in which no one needs to stop their normal day-to-day life just because they don't have access to safe menstrual care.