Jennis, founded by Olympic and World Heptathlon Champion Dame Jessica Ennis-Hill, has raised £1M in pre-seed funding for its movement-focused wellbeing and Cycle Mapping app. The round was led by Maki.vc with participation from existing investor Venrex and silent angel investors.
Jennis uses science-backed expertise to help users adjust their fitness program to their personal hormonal and menstrual cycle, helping them achieve maximum physical and psychological benefits. Fitness recommendations are in line with the four phases of a woman's menstrual cycle. Workouts are taught by Jess Ennis, the founder, herself. The app currently offers two plans: Training and Jennis CycleMapping. The training plan gives users access to the training library; those on the CycleMapping plan receive recommendations on how to best train according to their cycle.
While movement is at the heart of Jennis' programming today, the company plans for expand into other areas such as nutrition, sleep or breathing. Integrations with other apps and wearables are planned for 2022. The company's goal is to help women to more wellbeing and better training results results including more efficient work-outs and lean muscle gains, reduced PMS, more energy, and increased body literacy.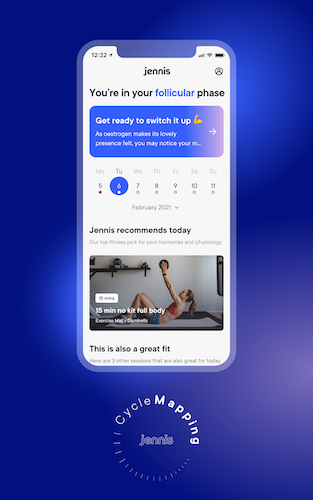 To collect evidence and evaluate its program Jennis is currently working with physiologist Dr Emma Ross, to conduct a 5-month study on a group of female, non-elite, everyday athletes, which will be finalized in February 2022. She explains: "Only 6% of sport and exercise science research is done exclusively on women, so there is a huge gender data gap when it comes to knowing about women's bodies and how to get the most out of them. This study directly closes that gap and provides game-changing evidence on real women's hormones that will be immediately usable by women pursuing wellbeing or fitness goals."
Pauliina Martikainen, Investment Director at Maki.vc has joined the Jennis board and brings her company's wealth of expertise to the table: "At Maki.vc we aim to partner with early founders who are seeking to explore scientific advances and customer understanding – and Jennis is doing just that. It is refreshing to see a former athlete like Jessica bringing her passion for understanding women and her own experiences and network to life through – and we're excited by the way the product's evolution is being driven by a marriage of customer insights and pioneering scientific studies."
The new funding will be used for research and also to strengthen the company's tech team as Jennis works towards its product vision of becoming the go-to Cycle Mapping app for women. Integration with other relevant apps and wearables as well as personalization through the use of AI and ML are on the team's roadmap for the upcoming months.
Asked about her reasons for starting Jennis, founder Dame Jessica Ennis -Hill shares: "I set up Jennis to provide women with trusted information and expertise, relating to their bodies and fitness, which I was lucky to have access to as a professional athlete. It's fantastic to have the commitment of Maki.vc, Venrex and our angels at this stage of our business. We have made great strides in building a platform for women's hormonal health and fitness over the past year. This investment will enable us to recruit more engineers, which in turn means we can help more women understand their bodies and hormones in a way we have never been taught to before."