It's been a busy couple of months for Dr. Lyndsey Harper, the founder and CEO of Rosy, a platform that helps women with low libido. First a $1M seed-round and a few weeks ago the launch of their telehealth product and platform. Last week we had the chance to sit down with Lyndsey to talk about the evolution of Rosy, what she thinks the future holds for her company and what she thinks the future holds for femtech and digital health.
Rosy was designed by doctors and built by technologists, the app offers a sexual wellness score, access to an extensive library of educational videos, erotic stories, guided classes, and a community where women can talk openly about their sex life.
Dr. Lyndsey Harper is a board-certified Ob/Gyn and founded the company after hearing many of her patients share frustrations about their decreased sex drive. She discovered that research and solutions for women are severely lacking and Ob/Gyns are not given the training in medical school to address it. In 2018 she left her private practice to champion women's sexual education and started working on Rosy. Below are insights from our conversation with her.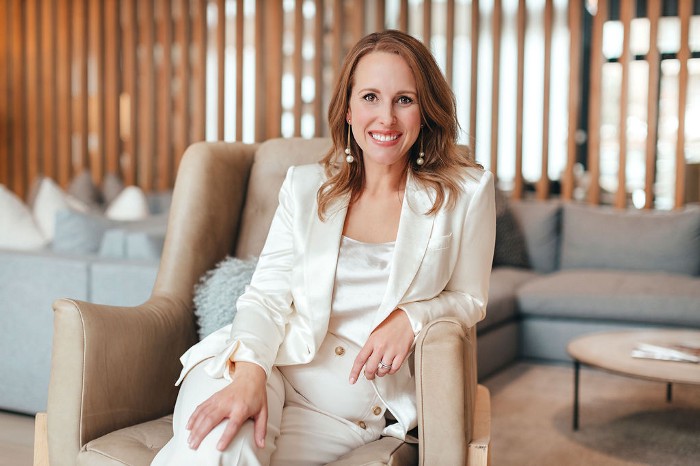 On Women's Sexual Health
Urologists spend a lot of time treating men's sexual health, but somehow there isn't really an equivalent for women. We've extensively written about the pleasure gap and the underserved market of women's sexual wellness on this blog and why a lack of research and products in this space is problematic.. Rosy was built to be part of the solution.
"My goal with Rosy is to use modern technology to make education and resources easily accessible for the millions of women who need it. As an Ob/Gyn, we don't even have the training to treat female sexual dysfunction, yet male sexual dysfunction research and treatment options have been on the market for decades. After I kept hitting a wall searching for available resources, I realized it was my responsibility to help not only my patients but women across the country."
Building Rosy
Starting a company with a so-called non-traditional background comes with its challenges. From the get-go Lindsey was intimately familiar with the problem she wanted to solve and with her customer base. Building a tech platform, fundraising, entrepreneurship – Not so much.
"My first instinct is always to think about where I can learn more and so I initially thought.. Business.. I need to do an MBA. However once you identify a problem as large as this one, you want to move fast. Luckily I have a great community of entrepreneurs around me and so the approach I took was to simply figure it out and ask for help, when I needed it. And this is how I built Rosy – one step at a time. I also feel like I owe so much to our early investors. They're always been there to support us and they wrote the first checks and have believed in us and our mission from the very beginning.
On Fundraising
"We closed our first round about a year after we launched. At the time we had a product in the market and had some first revenue. It took a couple of months to close the first round, which I believe is somewhat standard. I'm a first-time, solo founder building a women's sexual health company and looking back it is difficult to say whether I got less meetings because of the type of business I'm building, but the meetings I did get were all constructive overall. Most of the time when I was pitching a female VC was in the room, so maybe that's a sign that things are progressing."
On Being a Solo Founder
"As a solo founder it is a little lonelier, because seemingly all the things that you face, you face on your own. I have an awesome team, but while we do work on solving problems together I still have to be the leader of this team. The fellow entrepreneurs in my network are important sparring partners for me.
Yes, I did think about bringing on a co-founder at some point, but it didn't really feel authentic. I didn't want to bring on a cofounder just for the sake of bringing on a cofounder. I almost feel like finding someone to start a company with is something that just happens and it's hard to force it."
About Rosy's Telehealth Offering
As mentioned in the introduction, Rosy just recently introduced their first telehealth offering.
"Whenever I was imagining Rosy, I saw Rosy as this 'island of answers'. We're really a conglomerate of all the evidence based resources. This includes education, erotica, behavioral interventions, self-help and community. And the last piece, that's really always been missing is personalized care, so access to physicians like me and mental health professionals or sex therapists.
Offering telehealth has always been part of our plan. COVID-19 just happened to happen at the same time as our launch, so hopefully that gave us a push in adoption and maybe is helping us to make things happen faster, than they maybe would have happened otherwise. But as said, offering personalized care has always been part of our roadmap and I think it's an exciting model for the future of women's health as well.
Curious and want to learn more? Femtech Insider founder Kathrin Folkendt will be moderating a panel with Lyndsey Harper, founder & CEO of Rosy at the upcoming SxTech Summit (July 28-29). Register using the code "KF15" and get a discount of 15% when buying your ticket.