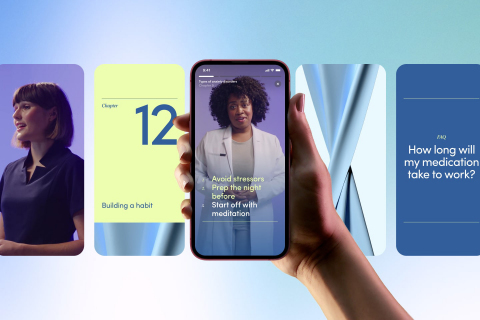 Hims & Hers, the multi-specialty telehealth platform focused on providing modern personalized health and wellness experiences to consumers, today unveiled its plans to provide more complete, holistic and personalized care experiences with the launch of the Hims & Hers mobile app. The Company intends to begin rolling out the app to its over 500,000 subscription members in the coming weeks.
"Today marks one of the most important announcements in our Company's history as we continue toward our goal of fundamentally reshaping what it means to access and experience great modern healthcare," said CEO and Co-Founder of Hims & Hers Andrew Dudum. "Imagine a world where beginning the path towards better health is as easy as pushing "Play" on a guided and integrated Program. A Program led by inspiring and passionate coaches, supported by leading medical specialists in the country, that brings together streamlined education, original content, community support, access to treatment and oversight. Imagine a world where the concept of scheduling an appointment, coordinating a visit, or asking about even the smallest health concern is as simple as texting your Concierge."
This app will accelerate the expansion of and access to the Hims & Hers health and wellness platform and supports the Company's vision for the future of healthcare. The company is kicking-off this ongoing process by using the mobile app as a hub, and layering in additional educational programs, wellness content, community support and other services over time and based on the needs and feedback of consumers. This rollout puts the company in the strongest-possible position to holistically promote long-term health and wellness, rather than just treat individual conditions as they arise.
Beginning with the new mobile app, consumers will be able to experience an even more accessible, holistic, supportive—and even proactive—approach to their health and wellness plans. The app will provide customers with access to curated content based on their Hims & Hers account, 24/7 concierge services, ongoing access to medical experts and the ability to schedule consultations, and the ability to both purchase and manage Hims & Hers non-prescription products and subscriptions.
Here's what to expect from the new Hims & Hers app as it rolls out:
Introducing Programs:
Programs provide customers with beautiful and fun original content journeys for a range of curated health challenges. Programs are led by energetic and compassionate Coaches, aiming to help each Hims & Hers Member move along their journey of improved health. In partnership with leading medical specialists, each Program has been crafted to provide curated, world-class education on health and wellness topics at the click of a button. Programs are a new world of access and community for people struggling to take the first step in addressing a health or wellness challenge. We believe Programs have the potential to help millions of people take the first step in seeking care and guidance. From reducing anxiety and resolving hormonal acne to sleeping better or navigating fertility challenges, we believe Programs are an innovative new form factor that will help make the best medical expertise available to the masses. This is a new platform for which we will be building and creating on top of for years to come.

Introducing Care:
Hims & Hers Members will have full access to Care in the app, a simple and unified hub for accessing your virtual care team. Within Care, customers will be able to access care and support in a variety of ways, from scheduling consultations with licensed medical professionals on video, phone or chat to leveraging unlimited messaging access to the medical experts that are supporting their treatment plans. Within Care, Members will also find our new 24/7 Concierge where our Members will have around the clock access to highly-trained coordinators helping Members navigate the ecosystem, coordinate with their virtual care team or getting answers to questions about their treatment.

Introducing the Member Store:
The Member Store is expected to bring together the entirety of the Hims & Hers product portfolio into one simple and personalized space. Consumers will soon have 1-click abilities to purchase at Member pricing some of our most highly rated over-the-counter health and wellness offerings. From supplements to support sleep to products tackling hair-loss, the Member Store allows for curated and personalized offerings bundled for easy access to uplevel daily routines or enhance current treatment plans.
"The Hims & Hers mobile platform is a major step in visualizing the radically different vision we have for the future of health and wellness. Our Members are exactly the group that have grown up expecting innovative, beautiful and all-inclusive experiences like Spotify, Netflix and Peloton," said Dudum. "Those Companies structurally changed the fundamental business models of their traditional industry in favor of everyday Consumers. We're confident the healthcare industry is in need of that structural change and believe Hims & Hers will be the leaders in building it."
The app will be available on both iOS and Android in the coming weeks and will ultimately be rolled out to our over 500,000 Members.