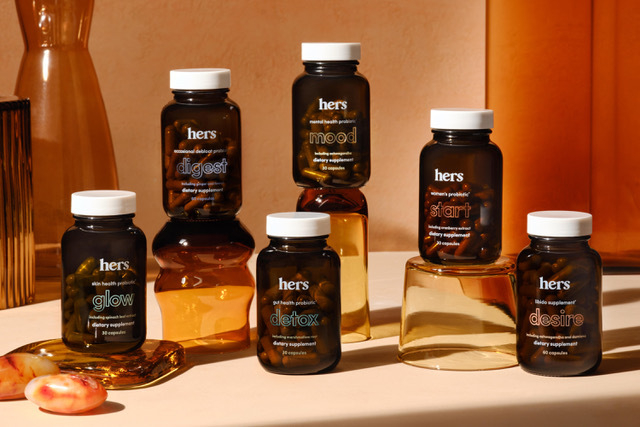 Hims & Hers, the multi-specialty telehealth platform, is introducing Hers Wellness Essentials, six new supplements formulated specifically for women. The new line includes probiotic supplements that support women's general health, mental wellness, gut health, digestive health and skin health, as well as a daily libido supplement. The new supplements are now available at select CVS Pharmacy locations nationwide, CVS.com, ForHers.com, and now the new Hers App. They all use effective formulas with naturally-occurring ingredients and trusted formulas to help address a wide range of women's wellness concerns, allowing women to build a supplements routine based on their needs.
Hilary Coles, Co-founder and SVP of Brand & Innovation at Hims & Hers shares: "From mental wellness and skincare to digestive health and libido, women's health can be complex and highly individualized. We've found that women want – and need – better and easier options than what is currently on the shelves today to take care of themselves. We know Hers customers have a desire to meet their personalized wellness goals, so we incorporated effective formulas with naturally-occurring ingredients for this expanded line of supplements to help women along their health and wellness journeys."
The new Hers Wellness Essentials supplements include:
Start Women's Probiotic: A multi-vitamin and probiotic in one
Mood Mental Health Probiotic: A probiotic that supports a healthy link between the gut and brain to promote a healthy digestive system and balance mood
Detox Gut Health Probiotic: A probiotic to support metabolism, healthy immune system function, and energy level
Digest Debloat Probiotic: A probiotic to calm discomfort after eating while supporting healthy digestion
Glow Skin Health Probiotic: A probiotic that helps the body metabolize key nutrients and supports a gorgeous, glowing complexion that's more than skin deep.
Desire Libido Supplement: A formulation designed to enhance sensation in intimate areas while reducing feelings of stress and anxiety to help you get in the mood.
The six new Hers Wellness Essentials products expand an existing line-up of Hims & Hers general, hair and skin supplements that include Biotin Builder Gummies, Sleep Tight Gummies, and Collagen Powder.