"The Future of Femtech", an event co-organized by Goddess Gaia Ventures, a women's health focused ventures fund, and Capital Enterprises, a UK-based startup ecosystem builder, brought together the local femtech community in London earlier this week. Among the highlights was a panel discussion, that featured Syrona Health Co-founder Anya Roy, Panakeia Co-founder Pahini Pandya, Consultant Physician in Sexual Health and HIV Medicine at Barts Health NHS Trust Vanessa Apea as well as Femtech Insider Founder Kathrin Folkendt, who discussed the evolution of and current trends they see in the women's health ecosystem.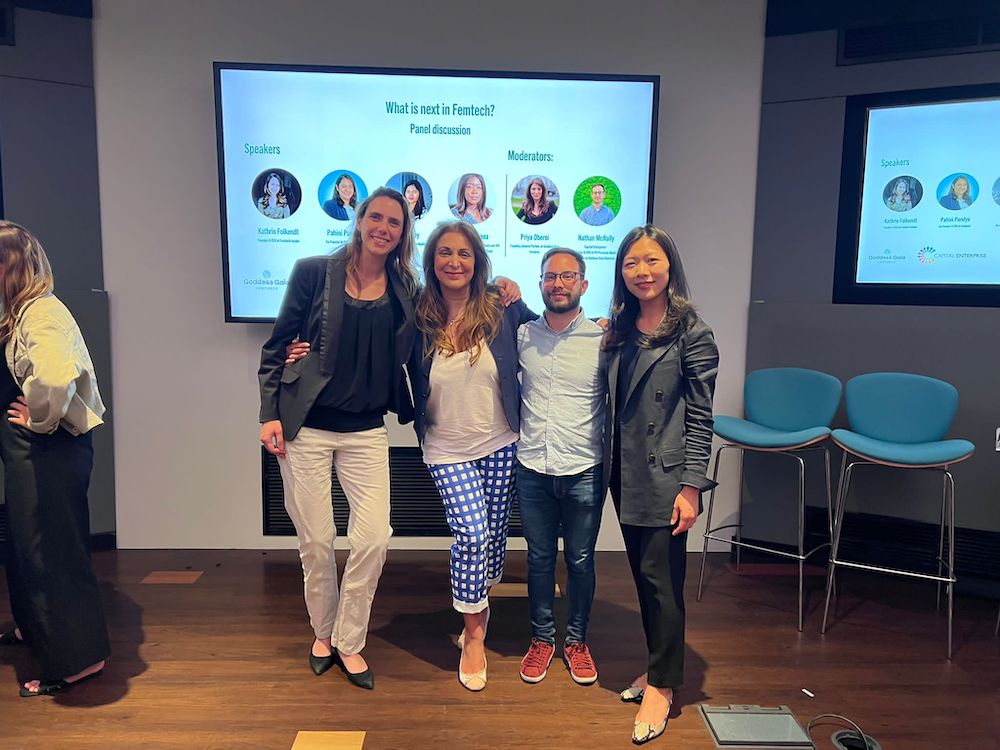 For decades innovation and research in women's health has largely focused on women's reproductive health, which has led to knowledge gaps and a lack of understanding of women's bodies. Less research means less solutions for critical health issues that women face, which has led to inequalities that impact women in nearly all aspects of life. Syrona Health's Anya Roy shared that in the UK alone around 700,000 women left the workforce last year due to unmanaged menopause symptoms, a situation that is only made worse by HRT shortages and a lack of understanding of the life stage among many physicians.
Better solutions are needed and as more women are speaking up about the issues they are experiencing managing their health and accessing care, governments, employers, public health systems, and medical professionals are starting to pay attention and recognizing the problems and inequalities in the space. At the same time research organizations and startups are looking for ways to collaborate and take existing innovation to market, but are struggling to find funding for solutions that could help millions of women.
Fundraising in the women's health space remains difficult, a situation only exacerbated by the current market conditions. In order to tackle this issue Goddess Gaia Ventures and Capital Enterprise are now teaming up to support startups throughout the early stages with acceleration services and capital needed to validate and scale their solutions. Goddess Gaia Ventures will support companies' fundraising efforts, while Capital Enterprise through its P4 Precision Medicine Programme will ensure investment readiness. As part of the agreement Nathan McNally, Health & Life Science Director at Capital Enterprise and Co-Founder of P4 Precision Medicine Accelerator, is also joining Goddess Gaia Ventures as a new Partner in the fund.
"We are delighted to bring Nathan on as a partner. We have been working closely these past 18 months, it is wonderful to formalize this and continue to lead in this space", shares Goddess Gaia Ventures Managing Partner Priya Oberoi. "At Goddess Gaia Ventures we are dedicated to support the growth and potential of female-health focused companies, who are meeting the challenges women face in the health care system today. Capital Enterprise and the P4 Precision Medicine Accelerator program share this goal and it is our joint vision to accelerate the creation and adoption of the best new women's health solutions in the UK and beyond."
P4 Precision Medicine Accelerator and Goddess Gaia Ventures Partner Nathan McNally said: "At P4 Precision Medicine Accelerator around 30% of companies are already working on innovation in women's health and I look forward to seeing this number grow. Now is the time to build and invest in women's health and together with Goddess Gaia Ventures we will work together to foster, build and catalyze the women's health innovation ecosystem to create support and scale to UK and international markets to innovate and advance the healthcare landscape creating lasting change in women's health."
Pahini Pandya, Co-founder & CEO of Panakeia, a Goddess Gaia Ventures portfolio company and graduate of P4 Precision accelerator, adds: "There is still a gap in the market around specialist end-to-end support for startups in the health and Life sciences space. I believe this partnership bridges the gap by helping new startups via comprehensive support at different stages of their journey, including access to capital, experts and the right channels to scale and grow their business."
Goddess Gaia Ventures has made 9 investments in women's health startups to date. Details about the new accelerator program will be announced soon.