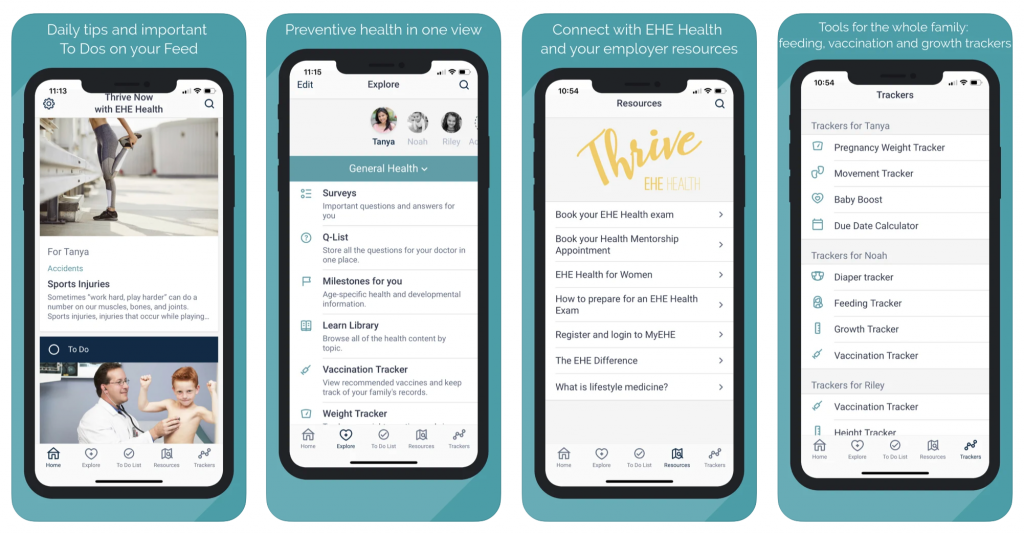 EHE Health, a preventive and primary healthcare provider organization, launched Thrive Now, its first-ever, clinically-integrated, mobile health app last week. The app is designed to help women prepare for healthy pregnancies, improve maternal and infant health and minimize the risks and costs of preventable complications before and after delivery.
Thrive Now offers a set of highly personalized tools and content, powered by femtech startup Wildflower Health and seamlessly connects with EHE Health clinical specialists and primary care network providers. Designed to drive active user engagement, the app helps women make healthy choices, identify health issues, manage immunization, vaccination and medical scheduling, and connect directly with mentors, mental health specialists and an enhanced care team during pre-conception, postpartum and the foundational stages of healthy parenting.
"Women in their reproductive years are the fastest-growing segment of the U.S. workforce, and preventive care that emphasizes maternal health is crucial not only to the advancement of women, but the health of their families and the economy," said Dr. David Levy, an epidemiologist and CEO of EHE Health. "More than ever, employers are focused on innovative maternal health strategies to better address women's needs as well as the costs of healthcare and turnover associated with motherhood."
Maternal and newborn care, combined, represent the most expensive health conditions to treat and highest healthcare claims costs for employers, particularly when there are complications. Whereas the greatest pregnancy-related risks were once related to delivery, the leading causes of pregnancy complications and maternal mortality are now pre-existing, chronic conditions such as diabetes, hypertension and heart disease. The United States has one of the highest maternal mortality rates of all developed countries, and the CDC reports that 60 percent of deaths could have been prevented had mothers better understood the importance of and been able to access more easily quality prenatal and postpartum care.
"We are honored to partner with EHE. Our technology is a perfect fit to extend the impact of their preventive and clinical resources," said Leah Sparks, Founder and CEO of Wildflower. "We believe in empowering the chief health officer of the home to educate and activate patients as a crucial component to bending the cost curve in healthcare. We believe in EHE's prevention-first model, and we're excited to integrate with their clinicians and coaches to equip families with the care they need."