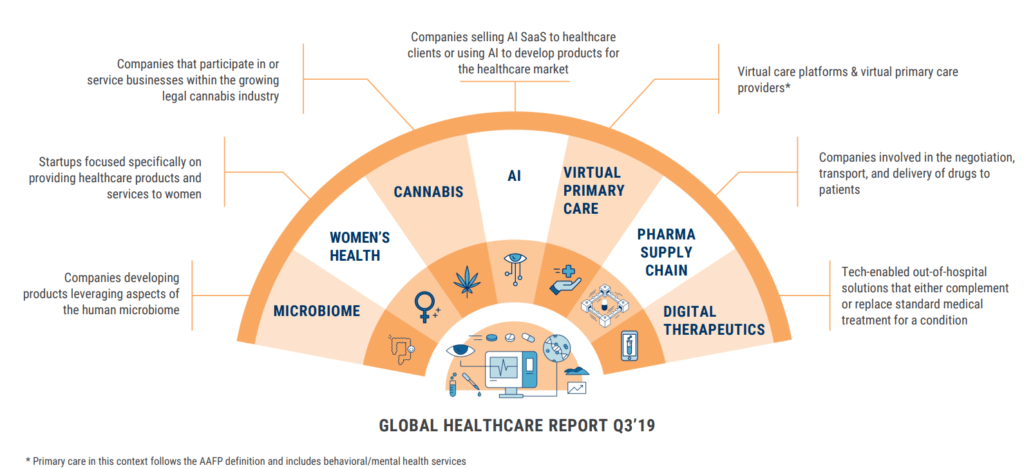 CB Insights have just released their latest healthcare report. In it they take a data-driven look at global healthcare technology investment trends, top deals, active investors, and corporate activity in Q3 2019.
Overview
2019 continues to be on pace to set a deal record. Globally, healthcare companies have raised over 3,400 rounds this year and are on target to exceed 4,500 annually for the first time.
In our Q3' 2019 report, we cover macro trends across global geographies and regions within the United States. We focus on digital health and the broader healthcare spaces, before highlighting seven healthcare sub-sectors such as women's health and the pharma supply chain.
Report Highlights
European deals increase in Q3: European healthcare companies raised $2.88B in the third quarter, a 129% increase from Q2'19.
There are 37 VC-backed digital health unicorns worth a combined $92.1B: The cohort's total valuation in 2019 continues to grow as Babylon and CMR Surgical join the herd.
Investors are less bullish on cannabis in Q3: Cannabis equities were down sharply in Q3, while corporate M&A also declined.
AI in healthcare funding skyrockets in Q3: Healthcare AI companies raised almost $1.6B across 103 deals.
Menopause and breast cancer tech coming into focus in women's health: Three companies focusing on breast cancer detection raised rounds in Q3