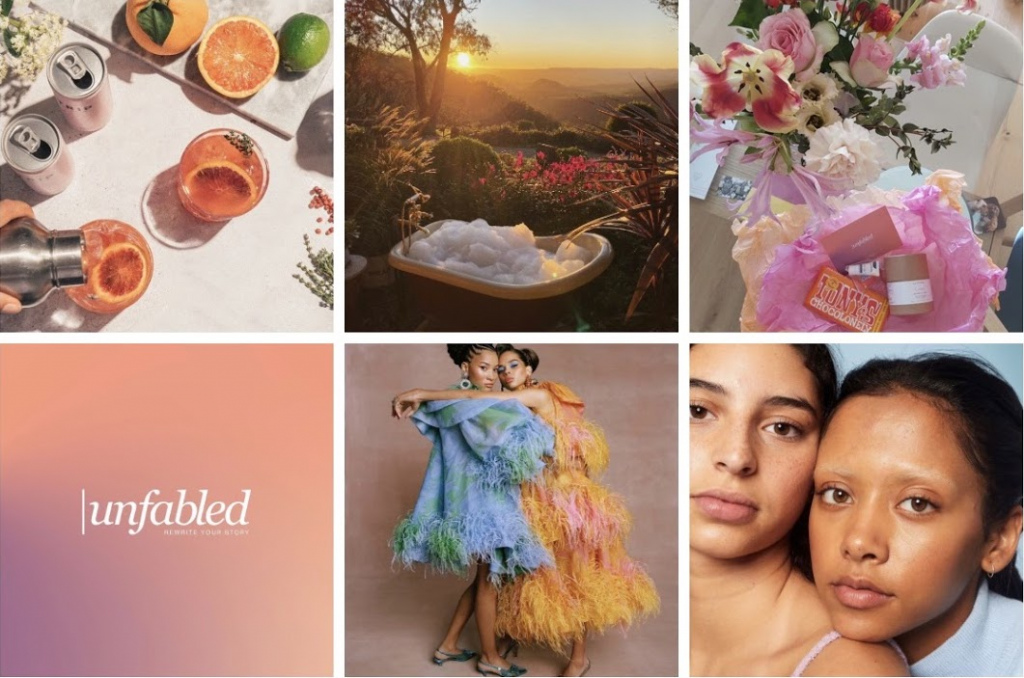 Menstrual care is self-care is the central idea behind Unfabled, a new wellness store all about menstrual health, that launched a few days ago and is looking to serve menstruators in the U.K. The new e-commerce project is the brainchild Hannah Samano, who has previously held roles at African women's health & hygiene e-commerce company Kasha and as Global E-commerce Innovation Manager at Unilever. Despite her busy post-launch schedule we managed to catch some time with Hannah to learn more about the project her plans and ask what it's been like launching the new platform!
What's the story behind Unfabled? Why did you choose to work on this particular idea?
I used to spend the least time possible thinking about my period and period products. Mainstream menstrual brands are garish and sterile supermarket aisles labelled 'feminine hygiene' are usually next to the pet food aisle. They don't make me feel good.
And it's not just me – 58% of menstruators feel embarrassed by their period. An unacceptable statistic given we spend on average 3000 days in our lifetime menstruating.
The inadequate consumer experience for menstrual care is compounding the stigma around periods. After 8 years working in tech and e-commerce for global brands, I knew I had to channel my experience into building a platform which makes it easy – and enjoyable – for menstruators to discover quality, sustainable products for their wellness. So I built Unfabled!
Unfabled's mission is to revolutionise the menstrual care consumer experience so menstruators reappraise what it means to meet both their physical and mental needs through each phase of their cycle.
How is Unfabled different from other online stores that offer personal hygiene products?
We want to overhaul sterile language like 'feminine hygiene', 'sanitary napkins' and 'personal hygiene' – all terminology which compounds period stigma. Having a menstrual cycle does not make us dirty!
At Unfabled we use Cyclecare as our all-inclusive term for menstrual wellbeing. Your period doesn't happen in a vacuum – your lifestyle has a huge influence on your period symptoms each month. That's why we've built the first wellness store with menstrual care at its core. You can discover products not just for your period, but for your symptoms and for your self-care throughout your cycle. We want to put menstruation at the heart of how our community builds their wellness rituals, banishing shame from the consumer experience through beautiful branding and a slick digital interface.
How do you choose the products you sell? Are there products you wouldn't sell?
We only work with ethical brands who are committed to sustainability. Sustainability is a huge problem in the menstrual care industry. The UK alone generates 200,000 tonnes of menstrual products each year which end up in landfill and in the ocean. Typical menstrual pads contain up to 90% plastic – they can take 1000 years to decompose!
All of the menstrual care products we sell are organic and biodegradable, so they're kind to our bodies and to the planet. We will never sell menstrual products with toxic chemicals in (most mainstream products are bleached), and unlike mainstream brands the menstrual pads on Unfabled are all plastic-free.
We think about periods as a part of our holistic wellness so we curate beautiful brands for every aspect of self-care. Relaxation, sleep, CBD and skincare are all categories we stock products for in our ever-expanding range. We love working with independent brands so that we are supporting their growth as we grow too.
What's it been like launching Unfabled?
It has been totally bonkers. I started working on this idea in January and by the end of February Unfabled was up and running. One week into trading and we're already restocking and have sold out on lots of products. I have been amazed by the response so far – we have customers from all over the UK and requests from overseas! I'm super grateful for everyone's support and this early traction is proof that menstruators have been underserved for too long and that people need and want alternatives.
You can keep up with Unfabled on Instagram, Twitter and or course on their website.