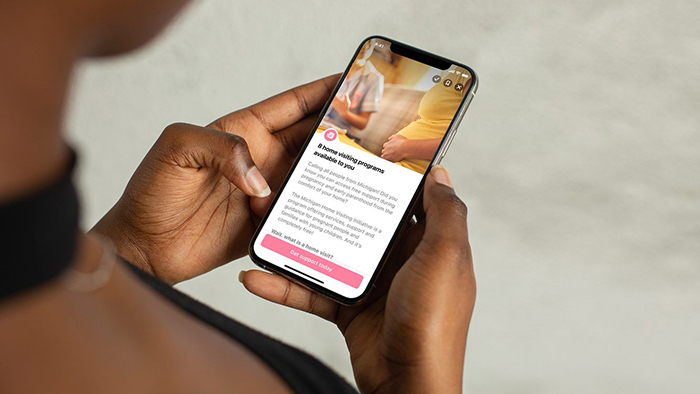 Texas A&M University Health Science Center (Texas A&M Health) and Philips (NYSE: PHG, AEX: PHIA), a global leader in health technology, are collaborating to improve health outcomes for mothers, children and families. The collaboration centers on the Pregnancy+ App, which supports parents from the moment they discover they are pregnant through childbirth by offering personalized content, expert- written information, as well as interactive 3D models to track their baby's development.
Part of Texas A&M Health, the Texas A&M University School of Nursing Program of Excellence for Mothers, Children and Families (POEMCF) delivers project outcomes that improve the well- being and health of families and communities across Texas. The POEMCF includes the Texas A&M chapters of both the Nurse-Family Partnership, a nurse home visitor program for first- time mothers, and HIPPY (Home Instruction for Parents of Preschool Youngsters), a home- visitation model for school readiness.
The POEMCF utilized the Philips Pregnancy+ App—the most downloaded pregnancy app in the world— to study the feasibility, acceptance and impact of innovative technology to improve engagement, awareness and access to health resources. Texas A&M and the POEMCF's strong track record in maternal and infant health clinical experience and research positions them as valuable collaborators with Philips.
"This expansion of the Philips partnership will empower pregnant and new mothers to better care for themselves and their families," said Robin Page, PhD, APRN, CNM, FACNM, FAAN, an associate professor and director of the POEMCF. "Finding the right resources and information can be a difficult part of navigating parenthood, but our collaboration with the Pregnancy+ team will help equip Texas families with the right information at the right time."
Since 2016, Philips and the Texas A&M University System have collaborated on projects related to emergency preparedness, engineering, agriculture and more. The Pregnancy+ project is the latest between the two organizations.
"Philips is committed to working with our unique and diverse ecosystem of partners to fulfill our purpose of improving 2.5 billion lives per year by 2030 including 400 million in underserved communities," said Jeff DiLullo, chief market leader for Philips North America. "Expanding our innovative and meaningful work with Texas A&M to expectant mothers will help empower them to get the care that they and their babies deserve and serve as an important step towards addressing maternal health."