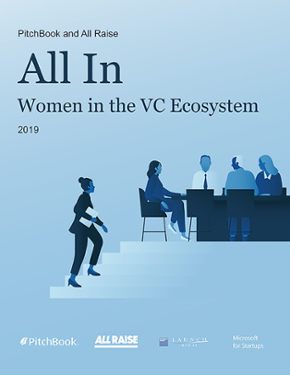 PitchBook and All Raise have teamed up and just released their new report "All In: Women in the VC Ecosystem".
The report highlights global and US-focused trends surrounding female-founded companies and female-led VC funds throughout the last decade. Progress in garnering investment for female-founded startups has been made in recent years, with 2018 notching $46.3 billion in total capital across nearly 3,500 deals. In addition, female-founded startups are taking substantially less time to exit than the overall market, an important metric for female entrepreneurs and the investors who back them. This report also illustrates areas in which gender bias still continually proliferates, and offers key advice points and a call to action from our partners and sponsors.
Key Takeaways:
Some cities are better than others for female founders.
Female-founded startups have a consistent history of exiting faster than male-led startups.
Only 12% of US VC checkwriters are women.
56% of limited partners have women in decision-making roles.