Every Thursday we send out a curated newsletter on "all things femtech and women's health innovation". This is the latest edition. If you're interested in subscribing, you can do so at the bottom of this page.
Highlights
Singapore-based healthtech startup Ordinary Folk raises $5M to scale and expand to Hong Kong.
Hormonal health brand WILE launches in Whole Foods Market with $3M in pre-seed funding.
Berlin-based fertility platform Apryl raises €4.1M to invest in growth
Ruth Health raises $2.4M in seed funding to reimagine prenatal and postpartum care.
Frame Fertility launches with $2.8M in seed funding to help couples proactivly manage infertility risks.
Natural Cycles adds new features to support women after pregnancy loss.
TwentyEight Health rebrands and launches new sexual and reproductive telehealth services.
Modern Fertility teams up with Bumble to release its Modern State of Fertility Report in 2022.
1 in 2 girls are quitting sport due to periods, according to a new global report by PUMA and Modibodi.
Women's health primary care company Alpha Medical adds diabetes treatment and care services.
Femtech Investment Round-up: April 2022
Upcoming Events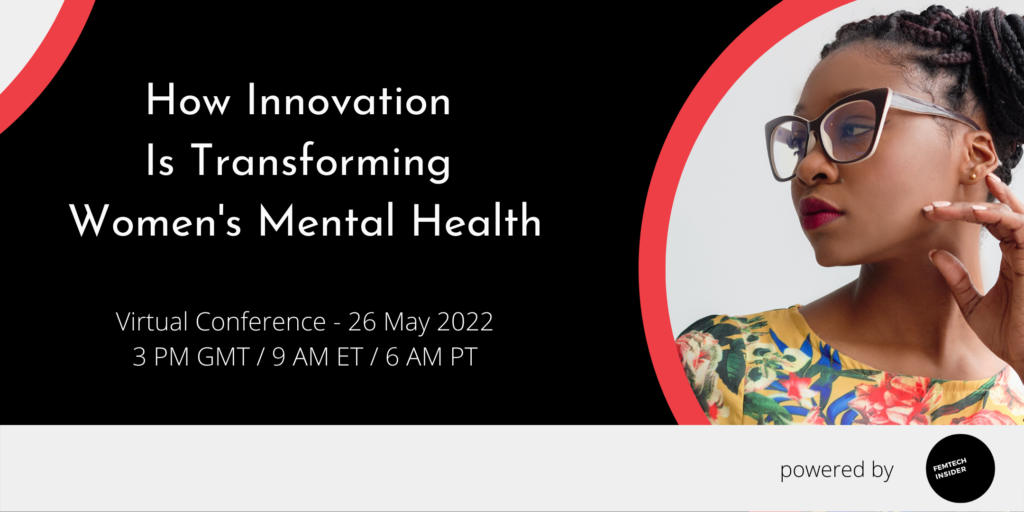 May 26, 2022, 3-7pm GMT: Virtual Conference – How Innovation Is Transforming Women's Mental Health
May is Mental Health Awareness Month and a time to raise awareness of those living with mental or behavioral health issues and to help reduce stigma so many experience. In this half-day conference we want to explore the intersection of women's mental health and innovation, invite researchers, entrepreneurs and investors to share their thoughts.
What we'll cover:
➡️ Digital Therapeutics & CBT
➡️ Vices x Mental Health: Psychedelics & CBD
➡️ Novel Mental Health Biomarkers
➡️ Precision Medicine meets Mental Health

Get your discounted ticket using the code earlybird, when signing up today! The conference is free to attend for our Inner Circle Members.
In the Know
In the Know
The Dark Side of Female Founders' Personal Brand Story (Femtech Insider)
Femtech Trendwatch: Investment Round-up, The Evolution of Cycle Care & The Value-Based Care Market (Femtech Insider)
4 in 5 Women Experience Fertility Anxiety According to a New Study by Maven Clinic (Femtech Insider)
Digital Health startups prepare for a post-Roe world. (TechCrunch)
Sex Education is a "Post Code Lottery" for Young People (Vice)
As VC money floods into fertility, some startups are feeling left out (PitchBook)
Some health apps are able not just to diagnose diseases, but also to treat them (The Economist)
Could 'menstrual leave' change the workplace? (BBC)
A barrage of assault, racism and rape jokes: my nightmare trip into the metaverse (The Guardian)
The Historical Roots of Racial Disparities in American Health Care (Smithonian Mag)
Pandia Health: This Doctor's Dedication to Reproductive Rights Led Her to Launch an Online Birth Control Startup (The Story Exchange)
America lost its way on menopause research. It's time to get back on track (Washington Post)
7 reasons why fertility care is utterly broken (Fortune)
Who's Hiring?
Tia is looking for a Director, Brand Marketing.
Premom is hiring a Content Manager.
Oula is looking for a Associate Medical Director.
Daye is looking for a Talent & Recruitment Lead.
Visit the Femtech Insider Job Board to see more roles or to add your own!