Every Thursday we send out a curated newsletter on "all things femtech". This is the latest edition. If you're interested in subscribing, you can do so at the bottom of this page.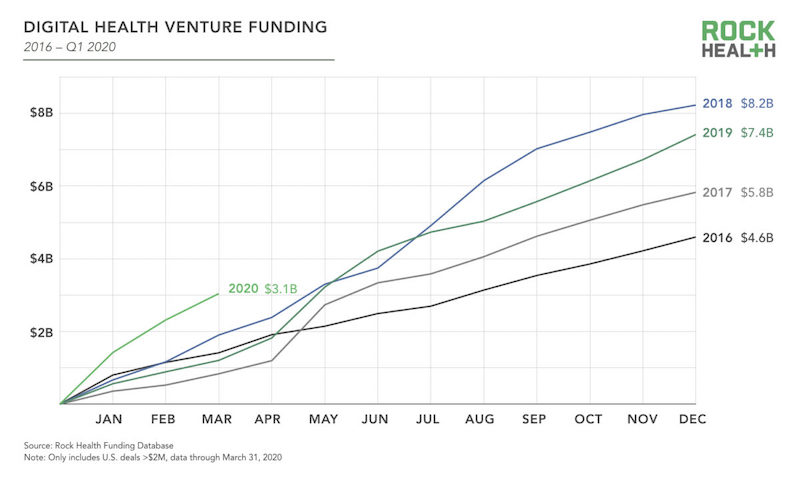 Highlights 
UCSF is enrolling pregnant women for Nationwide Study About COVID-19; FCC enacts $200M telehealth initiative to ease COVID-19 burden; Gilde Healthcare closes a new $450M fund targeting growth opportunities in a broad range of healthcare sectors; MassHealth partners with Maven Clinic to offer free access to telemedicine during COVID-19; Jack Dorsey will donate $1B to fund COVID-19 relief, girl's health, education and universal basic income; Elanza Wellness is looking for beta-testers for their new app; MedGenome, a genetic diagnostics and data company raises $55M in funding; Tyto Care raises $50M to grow its telehealth and diagnostics platform; Rock Health release their 'Q1 Digital Health Market Insights' report
Company Spotlight 
It's been a while since we've had a regional focus here in the company spotlight section, so we've decided to take a (virtual) trip to Europe today and dedicate some space today to women's health startups based in the UK.
Adia is on a mission to revolutionise women's reproductive health, by making support easily accessible, personal, and proactive.
Univfy maximizes women's chances of conceiving with IVF by offering accurate predictions and lowering the financial barriers of treatment.
Hertility Health wants to give women a visually clear image of their digital biological clock and reproductive biology with actionable advice and pathways to care.
The Femedic is an education, media, and research platform for women's health. We provide trustworthy and essential information, solidarity, analysis, and insight on areas of women's health that are not reliably covered elsewhere.
The Clarity app features specific content and mindfulness practices for situations that may arise in menopause like hot flushes, sleeplessness, night sweats and improving a low libido.
In the Know 
Opportunity: HITLAB's Women's Health Spring Tech Challenge (Femtech Insider)
Five CEOs on their Evolution in the Femtech Space (Techcrunch)
Reading List for Leaders in Uncertain Times (a16z)
Canada's Chief Medical Officers Put Women's Leadership in the Spotlight (Policy Options)
Japanese Companies Woo Mothers to Fill Vacancies (Financial Times)
Your Boobs Are About to Be Disrupted. Here's Why. (The Next Web)
UX Best Practices from 5 Femtech Experts (HTD Research)
Kelly McCreary: "This Is My First Year of Living Without Fibroid Pain" (Glamour)
From OB/GYN to Entrepreneur: Rosy Founder Brings Sexual Wellness to the Forefront (AmericanInno)
Eric Topol: Telemedicine is Essential Amid the COVID-19 Crisis and After (Economist)
Does Handing Out Sanitary Pads Really Get Girls to Stay in School? (NPR)
Women Physicians in the Midst of COVID-19 (Brave Enough)
Who's Hiring? 
Progenity is hiring a Director, Laboratory Operations.
TwentyEight is looking for a Physican Partner.
Hertility Health is hiring a Lead Developer.
Elvie is looking to hire a Product Manager.
The Pill Club is hiring a Creative Director.
Want more jobs? Click here.