It's been a few months since the Consumer Technology Association (CTA) announced, that it will allow sex tech startups to participate and compete for awards on a one-year trial basis at CES, one of the world's largest consumer technology trade shows. The announcement followed the events of 2019, when the CTA revoked an innovation award from sextech startup Lora DiCarlo and eventually re-awarded the company and apologized in May.
Liz Klinger is founder of Lioness, one of the sextech companies getting ready to (officially) showcase at CES for the first time this year. We caught up with her to learn more about Lioness, her 2020 plans and her expectations from CES.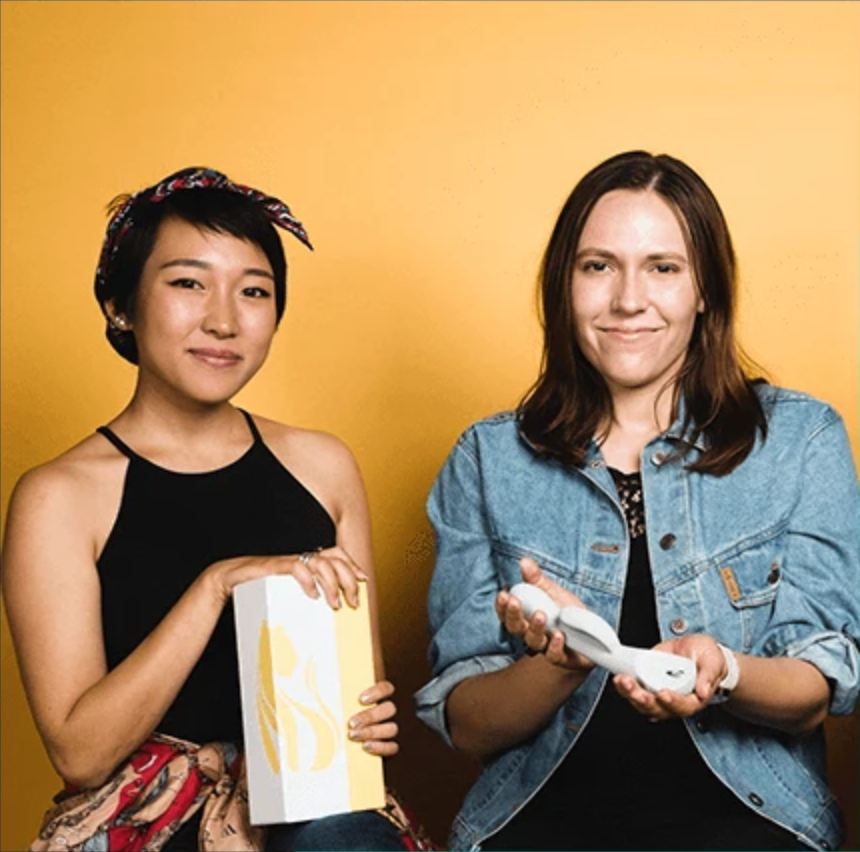 Hi Liz! As a start, can you tell us a little more about yourself and Lioness? How did you come up with the idea and why did you decide to start a sextech company?
Liz Klinger: Lioness was founded by ex-GoogleX and Amazon technologists and developed from more than four years of research and development with sex researchers and doctors. We bring patented technology previously only ever seen in research labs into a sleek, easy-to-use vibrator with an intuitive mobile app. Although Lioness may look like a basic sex toy, it's the first and only vibrator to improve orgasms through data.
It sounds like a funny gimmick, but it's incredibly serious—and empowering—for millions of women who experience life changes like pregnancy, menopause, or just becoming sexually-independent in early adulthood. During these life events, women often find their bodies changing and have few resources to better understand their own sexual wellness. Are they normal? Is there something they can do better? Why isn't what worked before still working?
Health care practitioners and therapists often have few tools to actually help, and research labs aren't designed to help patients.
Lioness is bridging the gap, bringing technology previously only seen in cutting-edge research labs to consumers in the form of a simple-to-use device that provides biofeedback over time. Lioness's first product looks like a vibrator and can be used just like one, but over time it provides insights that have already changed the lives of thousands.
It's your first time exhibiting at CES next week. Are you excited about this new opportunity for sextech companies like yours?
LK: We're thrilled to be officially launching our newest innovation (soon to be announced!) at CES. Sexual wellness is an underrated aspect of our overall health and wellbeing — it's a topic that has been neglected for decades, especially with the decline of federal funding for research overall, the lack of available resources and education for medical providers and the general public, and persistent taboos. It's a long time coming and well-deserved for Lioness and other sextech companies to finally get the recognition they deserve.
Though funny thing is, it's our first time officially exhibiting, but not our first time exhibiting at CES — two years ago we got onto the show floor through another company who heard what happened and was supportive of our work. Our presence there was pretty uneventful (in a good way) and we had a lot of support from people who saw us there — it goes to show that sextech really isn't as controversial as some think it could be.
For nearly a decade before the policy change, CES rejected us and a number of other women-led sextech companies. I learned through backchannels that they didn't want to add new sextech companies on the showfloor, but they were also adding new companies that produce VR porn content… which didn't make sense, especially for a show so focused on device innovation. If Lora DiCarlo didn't have a signed letter from the executives of CTA about the reason they were rejected, no one would have known or cared that this was happening. I hope this is a sign of more change to come.
What do you expect from your participation at CES this year?
LK: Exposure — more people knowing about Lioness and sextech in general. For various reasons, most topics related to sex have been withheld from both industry forums like CES and the general public. Lioness had our own experience earlier this year when Samsung tried removing our product from their women's health-focused IoT event (after they invited us).
Numerous instances like CES and Samsung overtime have paralyzed the speed of growth and innovation for sextech. It's been systemic across healthcare, technology, media, and advertising channels alike. CES is an extremely important venue to showcase new innovations to press, retailers, and investors, so it's great to see the innovations in this area get the recognition and ability to connect with the greater public that they deserve.
CES always takes place in January and somewhat sets the tone for the new year in consumer tech. Where do you see the sextech industry going in 2020? What are some trends you see?
LK: The last few years we've seen sextech companies like Dame and Unbound design more approachable brands and products, compete on price (especially for products that are easier/less expensive to produce), and be very explicit about their efforts to destigmatize women-centric sexuality and sexuality in general.
This year and in the coming decade, we'll start seeing a shift towards new technology and innovation. Lioness with biofeedback and AI and Lora DiCarlo with biomimicry and robotics with are two examples of this for women-centric sextech technologies at the dawn of the decade.
We'll probably also see more existing technology being adopted throughout the industry, particularly technology that's easier and cheaper to produce now but hasn't been before. Remote control functionality is one popular one, which has been around for a while but just started to become technologically feasible now that hardware technology has better specs to provide better reliability. Though as many existing companies have their core competency on manufacturing and scale, there will be continued questions on how well they execute on software and managing customer data and privacy.