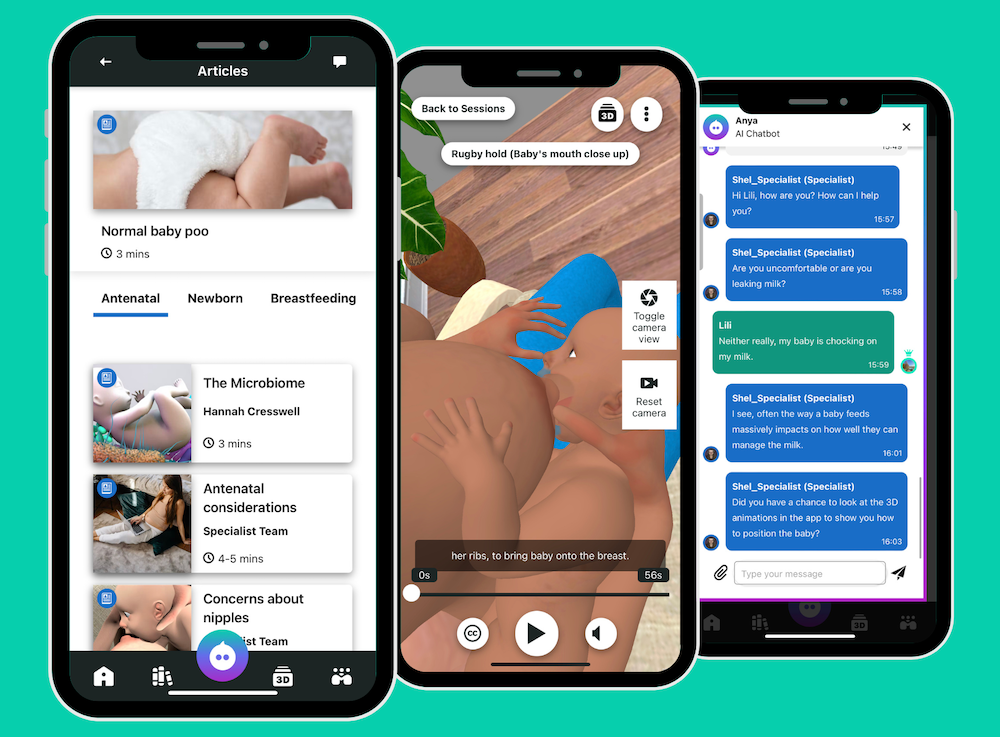 Breastfeeding and parenting support app LatchAid has relaunched as Anya. LatchAid started with a focus on breastfeeding. The rebrand now allows the company to expand its scope beyond breastfeeding to the first 1,001 days of parenthood, helping families to overcome a much broader range of challenges in line with the UK Government's A Better Start in Life initiative. The LatchAid name lives on as the unique 3D breastfeeding support tool in the app.
The new Gen2 Anya AI virtual supporter has been built with wider, deeper, and more efficient 24/7 support from AI and from specialists, with users able to access active and historic chats. In other areas, the brand-new Insights and Explore components offer tailored articles, videos, webinars, and content to parents across the whole pregnancy, parenting and infant feeding spectrum. Virtual community groups have been expanded and offer moderated peer support. All information is shared in a caring, non-judgemental, and supportive way.
LatchAid also recently announced that it had won the coveted SBRI Healthcare funding competition to develop additional features and content in the app to tackle healthcare inequalities in maternity care. This project will be co-developed with key NHS partners, along with groups of parents in target demographics.
Dr. Chen Mao Davies, Founder and CEO of LatchAid explains: "It's been so exciting to see my baby LatchAid grow up into Anya, on both iOS and Android. We know how important access to evidence-based information and support has already been to new parents via the app. We look forward to reaching many more families inclusively with our SBRI Healthcare funding."