There's been a lot of talk about the increased demand sextech startups are seeing during the current pandemic. In today're interview we're excited to explore this topic a little further together with Andrea Oliver, co-founder and CEO of Emjoy. The Spain-based company is known for their app, that helps women achieve sexual wellbeing.
Emjoy's message? There's no shame in self-love. And while the app helps women achieve sexual pleasure, it ist just as focused on self-exploration and self-love, helping women, who often feel disconnected from their own body and subsequently pleasure learn more about themselves.
In our interview Andrea Oliver shares insights into life as a sextech entrepreneur in Spain, change in usage and user behavior during the COVID-19 pandemic and fundraising plans in 2020.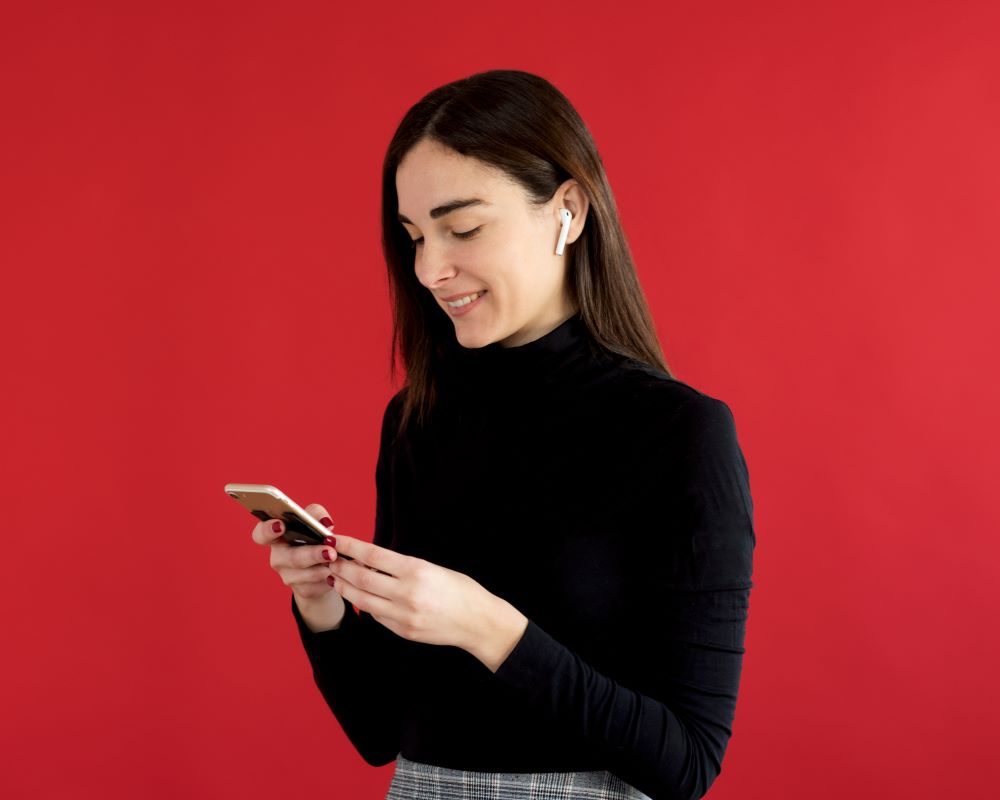 Andrea, to get started: Can you tell us a little more about Emjoy?
Emjoy is a sexual wellbeing audio app for women. We're a female-founded tech company and content studio encouraging over 50.000 users to explore their bodies and tap into their sexuality with guided practices designed by our in-house sex therapist and experts from different fields. In addition, we also offer sexy stories for our audience to get in the mood. Our mission is to raise women's confidence by bringing awareness and understanding of their needs. We have to take responsibility of our pleasure, because if not us, who will?
Emjoy was founded by CEO Andrea Oliver Garcia and CTO Dan Tamas in January 2019. Based in Barcelona, the team now includes 11 people, 8 women and 3 men. It is a free to download app, with free sessions, and two subscription options to unlock all the content: a yearly subscription for 29.99 and a monthly of 10.99. The yearly subscription offers a 7-day free trial, and it is available worldwide on both App Store and Google Play Store.
Why did you pick this particular problem to solve?
When I was first thinking about founding Emjoy, it was because I realized that during my young adult years I was quite disconnected from my own desires and needs. I didn't fully understand my body, what I liked and what I really liked. I started talking with my girlfriends and realized that I wasn't the only one – on the contrary, it was way more common than I had thought.
Most of us lived our sexualities with shame and knew very little about ourselves – some of us even doubting if we had or haven't had experienced an orgasm. I started doing research on my own and I came across several studies that analyzed the pleasure gap, as well as sexual wellbeing reports showing that women consistently experience less pleasure than their male counterparts.
To my surprise, there wasn't an app available on the market addressing sexual wellbeing in particular like there is for fitness, meditation or mental health. I realized it was an amazing opportunity, so I decided to start this journey.
Since then, Emjoy has evolved a lot: we've added a section just for erotic audio stories. These stories are not just narrations, but recreations of situations to spark the senses and fantasies in the most vivid of ways. We've had more than 50.000 diverse people using the app and it makes us proud that the goal we had to build an app that is inclusive beyond cisgender women is actually happening. We make an effort to create our content and listen to those who want to share constructive feedback to bring Emjoy closer to their needs.
What is it like to run a company in the sextech space in Spain? Have you experienced push-back? What's your experience recruiting, raising funding or talking to press about your project?
The experience has been great so far, we haven't experienced any push backs from the ecosystem. We feel extremely supported by investors, potential hires and also press. Initially, there might be a misunderstanding and people might think we do porn. However, our whole value proposition is around wellbeing and self-care, and once people understand our value proposition, we immediately feel supported. Also, many investors being male didn't really understand the problem at first.
Some investors showed initial concerns with getting the app published or being able to advertise because it's such a new vertical in the health & wellness space, or that women wouldn't use our app because we were addressing such a big taboo. However, we have proved the opposite. We have published the app in App Store and Google Play Store, we run ads and most importantly, we are already guiding over 50.000 women to explore their bodies and learn about their sexuality in less than 6 months.
Most of the push-backs we experience are from advertising networks and their adult content policies. However, we are optimistic and think they will soon catch up with the new wave of wellbeing companies coming to the market that aim to empower women and close the pleasure gap.
Pleasure inequality. Let's talk a little more about this. What does it look like and how does it affect women in their everyday lives?
When I started researching the orgasm gap, what I found was alarming. Research from the International Academy of Sex Research found that 95% of heterosexual men usually or always orgasm during sex, compared to only 65% of cisgender heterosexual women. This gendered orgasm gap is a problem, considering a multitude of studies have found that sexual satisfaction directly correlates with positive physical and mental wellbeing. Shockingly, data from several studies show that over 40% of women struggle to attain an orgasm and that 30% of women worldwide experience libido issues. There was also a lot more studies conducted on male sexuality versus female sexuality. And when you take into consideration that the full mapping of the clitoris wasn't done until 1998 (by our shero Helen O'Connell), you start to see the real consequences of pleasure inequality. Not to mention that sex education in schools is far from featuring an approach on pleasure in general and female pleasure in particular.
The truth is that intimate wellbeing and sexual happiness are key parts of our overall health. Being in touch with yourself should be the standard and not the exception for women. Pleasure inequality has real consequences in women's daily lives: many of us are not able to climax or believe that experiencing pain is part of having sex, and we accept that as normal. Some may even not be aware that the clitoris is our main source of pleasure. Sometimes we are ashamed of our own desires and we are afraid of exploring them or to communicate them to our partners. That's why it's crucial to understand and embrace one's sexuality through self discovery.
Your app has been live for a while now. What are some things you learned about your users or usage of your app that surprised you? Which collections are most popular?
We went live in UK, US and Spain in September 2019, and then globally in December of last year. At first, we offered a wide range of collections and topics to understand what our audience was most interested in. For instance, we had a big collection dedicated to couples and how to spice up a relationship that we thought was going to be one of the most populars. But then, we realized that our audience was not as interested as we thought. It came as a big surprise! The most successful collections turned out to be the ones about rediscovering and connecting with your own body and understanding your pleasure. Half of our users are single, and all of them are far more interested in getting to know themselves better through guided practices of body exploration, and bringing more awareness to their own wants and needs. Our users also love our erotic stories! We've recently expanded the team with our own in-house sound designer and audio producer, and we've been expanding our erotic stories library on a weekly basis for over a month now, delivering new content to our audience ever week!
Your slogan "There's no shame in self-love!" probably has a whole new meaning with a lot of us single women self-isolating during the COVID-19 pandemic. Do you see a change in user behavior or an increase in sign-ups?
We do, actually! We have doubled paying users in just one month and weekly app usage has increased by 160%. The world is going through a though time now and we all feel the odds of being isolated. Therefore seeing people turning to Emjoy to experience perhaps something that brings them warmth and happiness, it's bliss to be part of their day.
What are some next steps for Emjoy? Are you fundraising?
Yes, we will be raising a round in Q3/Q4 this year. We also want to release more content on a weekly basis, and for that, we want to expand our in-app collaborations and partnerships with world-renowned experts. We are already collaborating with Jessica Graham and we're happy to announce that we've signed up with sex educator and trauma specialist Jimakeia Eborn.
We also have big product improvements planned, with features such as new intimacy tests and habit builders which have had a great traction to date.
And finally, we plan to open up more marketing activities to the rest of the world, besides the UK.