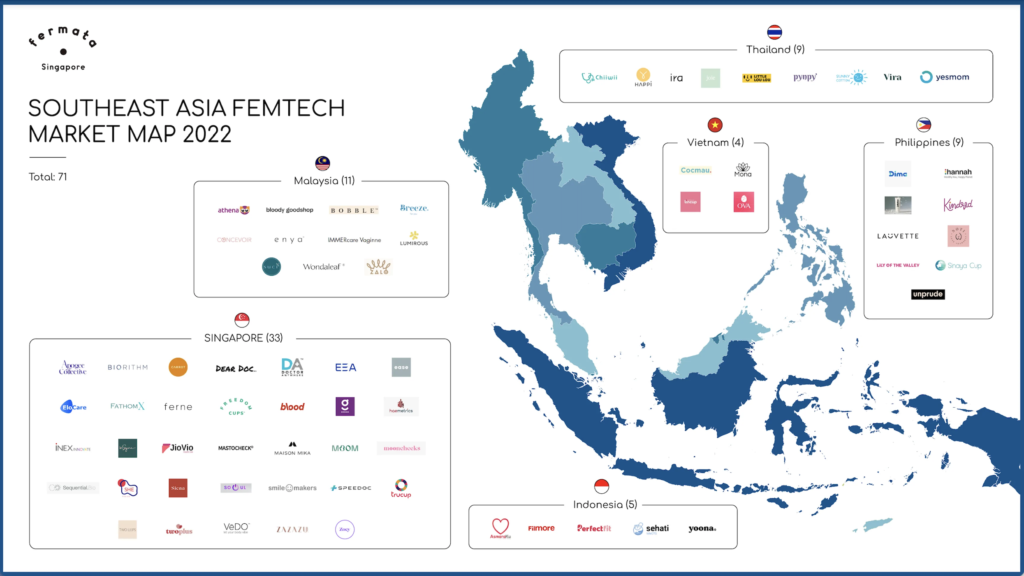 According to a new analysis and market map released by Fermata Singapore a couple of weeks ago, the femtech industry in Southeast Asia (SEA) has grown over 70% within the past year. The report explores what solutions have emerged, what's driving growth, and what can be expected in the future.
Femtech in Southeast Asia: The Status Quo
In 2022 fermata tracked 21 femtech companies in SEA. Singapore continued to be the leading market with 32 companies, followed by Malaysia with 12. Across the region, there seems to be steady growth in the Philippines with 9 companies, Thailand with 6 companies, Indonesia with 5 companies and Vietnam with 4 companies. 
There has been no change in Cambodia, Laos and Myanmar as they presumably continue to focus on essential public health initiatives and basic women's needs such as period health education for the younger generation, to encourage them to remain in school.
In Myanmar, following the military coup in 2021, and the rising prices on sanitary pads, local women have been finding it difficult to access period products. While there is some help from volunteers and NGOs who are working to crowdsource period solutions – survival is their utmost priority.
Most femtech startups in the region are focused on cycle care today:
Femtech in Southeast Asia: The Future
Fermata believes that the growing interest in femtech in 2022 will prevail, and 2023 will see further development and growth of the local ecosystem in SEA. Their prediction for 2023:
From a community and society perspective, education and awareness activities will continue to shine the light on topics which remain taboo or stigmatized within our region. From period health to menopause. These will be turned towards educating our consumers, businesses and government. 

From an academia and research perspective, we have seen funding programs for female reproductive science, grants or congresses emerge overseas to promote emerging medical solutions for women to improve diagnostics and treatment. We expect similar initiatives to appear in the region in 2023. 

From a business environment, we have noticed new B2B solutions dedicated to supporting the launch of femtech products and services. This is not surprising since a growing consumer market for femtech products goes hand in hand with a new demand for B2B solutions to support commercialisation and go-to-market efforts.
Want to learn more? Check out the full report and market map here.