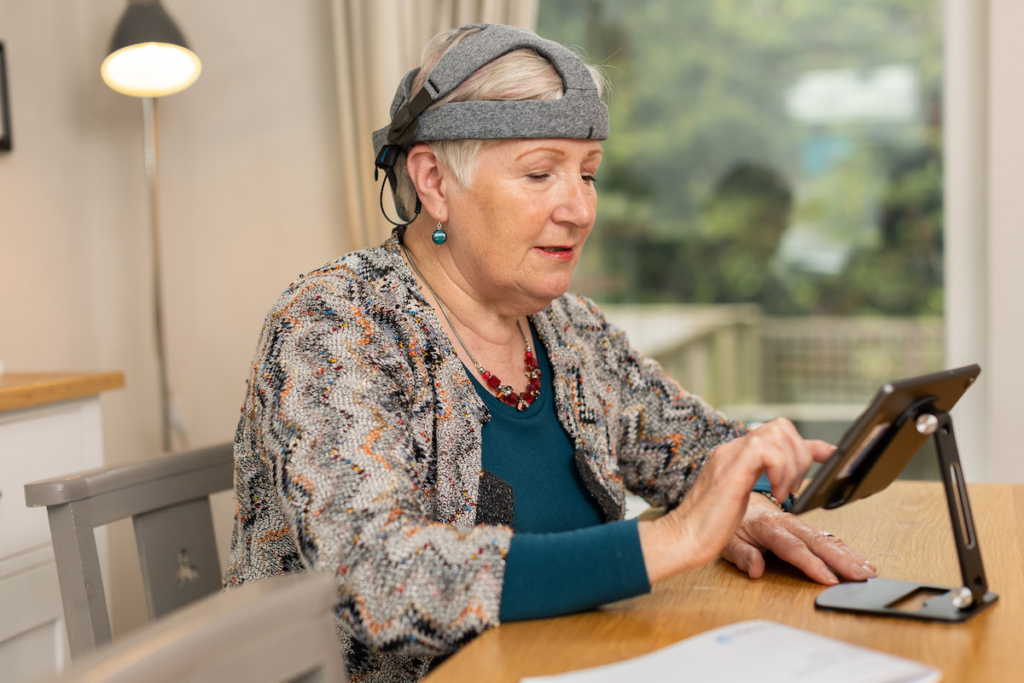 Dementia describes a set of symptoms that over time can affect memory, problem-solving, language and behaviour. Alzheimer's disease is the most common type of dementia. On a global level women with dementia outnumber men 2 to 1. Brain scans have shown that brain cells are dying faster in the women's than men's brains.
Researchers at the universities of Bath and Bristol, in collaboration with Cumulus Neuroscience, have now been awarded a £1.5M funding boost from the National Institute for Health and Care Research (NIHR) to support the development of the 'Fastball EEG' test, a technology aimed at improving early detection of dementia and Alzheimer's disease. By measuring brain waves while patients view flashing images, this non-invasive and portable test shows promise in detecting subtle changes that indicate the development of dementia. The success of the project could lead to earlier diagnoses, better patient outcomes, and improved planning for families affected by the disease.
The Fastball EEG test is a passive, non-invasive assessment that uses an EEG headset to measure brain waves. Previous research by Dr. George Stothart and Dr. Liz Coulthard has shown that Fastball is highly effective at detecting small changes in brain waves associated with memory recall, offering hope for early diagnosis. In contrast to current methods that rely on subjective questions and memory tests, Fastball is a passive test that does not require active participation from patients, and it can be conducted in various settings, including patients' homes.
Dr George Stothart, project co-lead and a cognitive neuroscientist based in the Department of Psychology at the University of Bath said: "Nearly all of us will know someone, or be caring for someone, with dementia. The costs to families, and to the NHS is enormous and is set to rise as our population ages. Yet, dementia is currently diagnosed too late – typically up to 20 years after the disease has first begun. Quicker, more accurate ways to diagnose dementia are greatly needed so that patients can get treatments earlier and families can plan better for the future, which is why we are so excited for the potential of Fastball EEG and the development of our work through this significant new funding and the collaborations it will enable."
Dr Liz Coulthard, Associate Professor in Dementia Neurology at the University of Bristol and neurologist at North Bristol NHS Trust, added: "Patients can wait a long time for diagnosis and some of our current tests can be inaccurate and sometimes stressful for them. A quick, easy-to-administer memory test, like Fastball, could transform a patient's journey to diagnosis. As we adopt new treatments into clinical practice, we will need to scale-up our ability to diagnose people at an early stage of Alzheimer's and avoid language barriers. Fastball offers the opportunity to improve Alzheimer's diagnosis equitably."
The research team plans to test Fastball on over 1,000 patients in a dementia clinic at Southmead Hospital in Bristol, making it the largest study of its kind using EEG for Alzheimer's screening. They will also collaborate with Cumulus Neuroscience to develop Fastball into a marketable product for wider use in the NHS and beyond. The partnership with Cumulus Neuroscience brings expertise in capturing clinical data and utilizes a regulatory-cleared dry electrode 16-lead EEG headset.
The Fastball EEG test is one of six projects receiving funding as part of the NIHR's £11M investment in digital approaches for early detection and diagnosis of dementia. The project has received ongoing support from the South West-based dementia charity BRACE.
Find out more about Fastball: https://www.bath.ac.uk/projects/diagnosing-dementia-using-fastball-neurocognitive-assessment/.
Watch / embed a one-minute YouTube explainer about this work from Dr George Stothart https://youtu.be/iy1LCQQstyA
ENDS
To arrange interviews with Dr George Stothart, please contact Andy Dunne in the University of Bath press office via press@bath.ac.uk or phone 07966-341431.
For interviews with Dr Liz Coulthard, please contact Joanne Fryer [Mon to Wed] in the University of Bristol press office via joanne.fryer@bristol.ac.uk, or call 07747 768805; or Caroline Clancy [Wed to Fri], email caroline.clancy@bristol.ac.uk, or call 07776 170238.
Image attached is of a Cumulus Neuroscience headset being trialled as part of Fastball-EEG (Credit: Cumulus Neuroscience). Extra photographs and case studies also available – please email ajd65@bath.ac.uk .

NOTES
The University of Bath is one of the UK's leading universities for high-impact research with a reputation for excellence in education, student experience and graduate prospects.  We are named 'University of the Year' in the The Times and The Sunday Times Good University Guide 2023, and ranked among the world's top 10% of universities, placing 148th in the QS World University Rankings 2024. We are ranked 5th in the UK in the Complete University Guide 2024 and 7th in The Guardian University Guide 2023. 
Bath is rated in the world's top 10 universities for sport in the QS World University Ranking by Subject 2023. We produce some of the world's most job-ready graduates, ranking as one of the world's top 90 universities for employer reputation according to the QS World University Rankings 2024. In the National Student Survey 2022, our overall student satisfaction was rated 10% above the national average and ranked in the UK's top 3
Research from Bath is helping to change the world for the better. Across the University's three Faculties and School of Management, our research is making an impact in society, leading to low-carbon living, positive digital futures, and improved health and wellbeing. Find out all about our Research with Impact: https://www.bath.ac.uk/campaigns/research-with-impact/ .
~~~
The University of Bristol is ranked within the top 10 universities in the UK and 55th in the world (QS World University Rankings 2024); it is also ranked among the top five institutions in the UK for its research, according to analysis of the Research Excellence Framework (REF) 2021; and is the 4th most targeted university by top UK employers.
The University was founded in 1876 and was granted its Royal Charter in 1909. It was the first university in England to admit women on the same basis as men. The University is a major force in the economic, social and cultural life of Bristol and the region, but is also a significant player on the world stage. It has over 20,000 undergraduates and over 7,000 postgraduate students from more than 150 countries, and its research links span the globe.
~~~
Cumulus Neuroscience: With a mission to generate the data and insights required to accelerate diagnosis and management of central nervous system (CNS) disorders for millions of patients and caregivers around the world, Cumulus Neuroscience is advancing an AI-based, multi-domain digital biomarker platform to enable better, faster decision making in neurology and neuropsychiatry clinical trials and patient care. Designed for and with 10 of the world's leading pharma companies, the platform enables decentralized trials, and is already making a difference in the development of therapies for Alzheimer's Disease, depression, and schizophrenia.
Designed to provide an industry-wide standard for real-world measurement of disease progression, Cumulus combines patented technology, in-house expertise and key industry partnerships to capture large amounts of real-world, clinical data repeated over time, across multiple behavioral and physiological domains in the patient's home – all with an EEG headset synced to a novel, tablet-based neuro-assessment platform. Together with machine learning (ML) analytics and the world's largest database of annotated, longitudinal, neurofunctional data, Cumulus simplifies and improves the robustness of neuroscience clinical trials to provide the best and most cost-effective assessment of CNS treatment outcomes.
The Company is supported by highly experienced specialized investors, DDF/SV Health Investors, LifeArc and Future Fund, and a world-class Scientific and Technical Advisory Board.
~~~
The mission of the National Institute for Health and Care Research (NIHR) is to improve the health and wealth of the nation through research. We do this by:
Funding high quality, timely research that benefits the NHS, public health and social care;
Investing in world-class expertise, facilities and a skilled delivery workforce to translate discoveries into improved treatments and services;
Partnering with patients, service users, carers and communities, improving the relevance, quality and impact of our research;
Attracting, training and supporting the best researchers to tackle complex health and social care challenges;
Collaborating with other public funders, charities and industry to help shape a cohesive and globally competitive research system;
Funding applied global health research and training to meet the needs of the poorest people in low- and middle-income countries.
NIHR is funded by the Department of Health and Social Care. Its work in low- and middle-income countries is principally funded through UK Aid from the UK government.