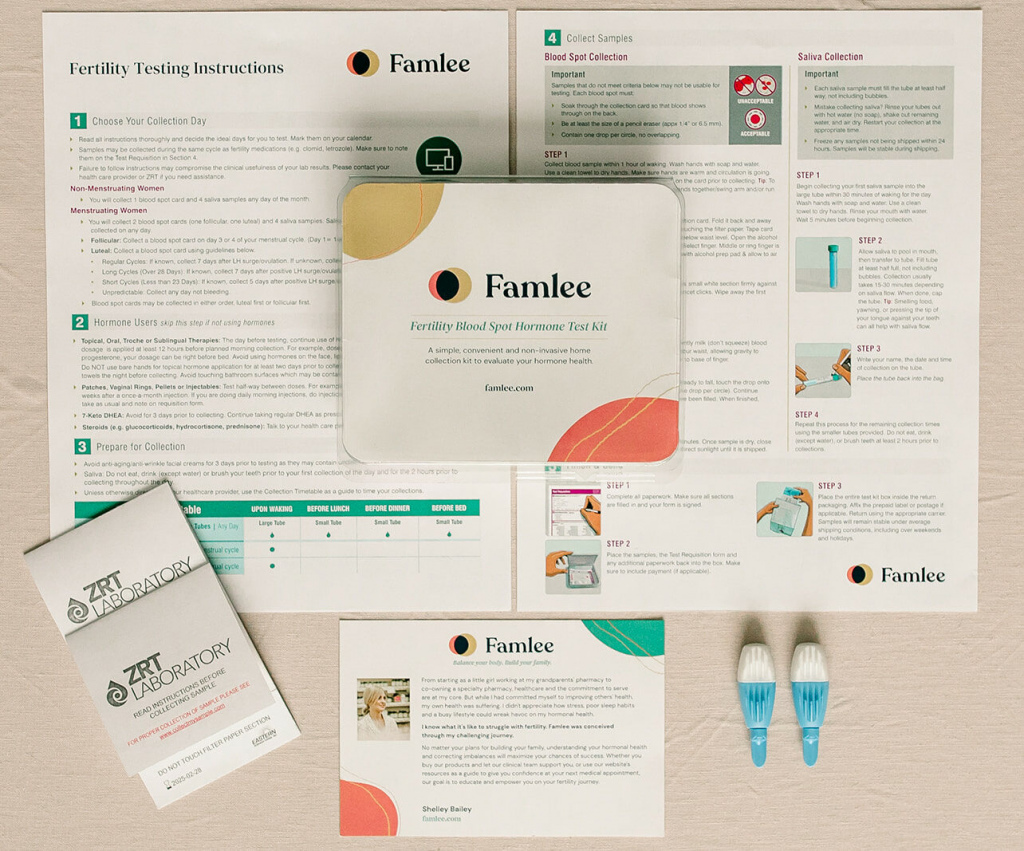 Famlee, a digital fertility solution, announced today thelaunch of its all-in-one at-home fertility protocol that prepares a woman's body for baby, including 50-state fertility telehealth, 14-hormone at-home lab testing, customized prescriptions, a fertility tracking mobile app and more.
One in eight women will experience fertility complications. 30-35% of these complications are attributed to hormone imbalances and another 30% of "unexplained infertility" is often due to undiagnosed hormone imbalances. Famlee has the onlyat-home protocol to test and treat all 14 essential hormones for whole-body health and fertility, that is so often not the standard of care at OB/GYN clinics and many IVF clinics.
"Famlee is crucial for women ready to empower their fertility. We put every woman in her own fertility driver's seat, so that she no longer needs to be told to 'wait and see' or jump straight to IVF before addressing the underlying issues," explains Founder Shelley Bailey, a 20-year specialty pharmacy veteran and healthcare advocate, who still consults for Fortune 10 companies in the healthcare space. "Famlee not only helps women learn about their hormones, but more importantly provides solutions to correct hormone imbalances. At Famlee, we help women look at their whole-body health, so that many of the factors that impact fertility, such as reproductive hormones and additional hormone imbalances, can be addressed. Famlee is a step-therapy fertility solution to IVF—and anyone considering or being recommended IVF, should use the Famlee Fertility Kit first."
IVF treatments with medications range between $15,000 and $20,000 for a single cycle. The average success rate of IVF is 45% after three cycles, meaning it can cost $45,000 to $60,000 for a successful outcome. Famlee's fertility solution, priced at $1,500, was developed to correct hormone imbalances for women to try before IVF, as a step-therapy solution.
The journey to fertility is often full of unanswered questions and unclear next steps, Famlee supports women throughout the process providing everything they need to take control of their care. This includes built-in appointments with a 50-state network of Board-Certified Fertility Providers, prescriptions sent directly to their doors, pregnancy and ovulation tests, drug discount savings cards, and a convenient app that tracks the menstrual cycle.
Famlee's fertility protocol not only helps individuals seeking alternatives to IVF, but gives employers a cost-effective way to provide employee fertility benefits. More and more employers are evolving their healthcare programs to reflect the importance of fertility benefits. In 2020, 31% of employers with over 500 employees offered some type of fertility health coverage. While the advantages of employee fertility benefits are clear for attracting and keeping talent, the reality is that the cost of fertility treatments is prohibitive for most organizations. Famlee provides employers with a cost-effective solution to remain legally compliant with state laws related to fertility, with an affordable per-member-per-month rate.