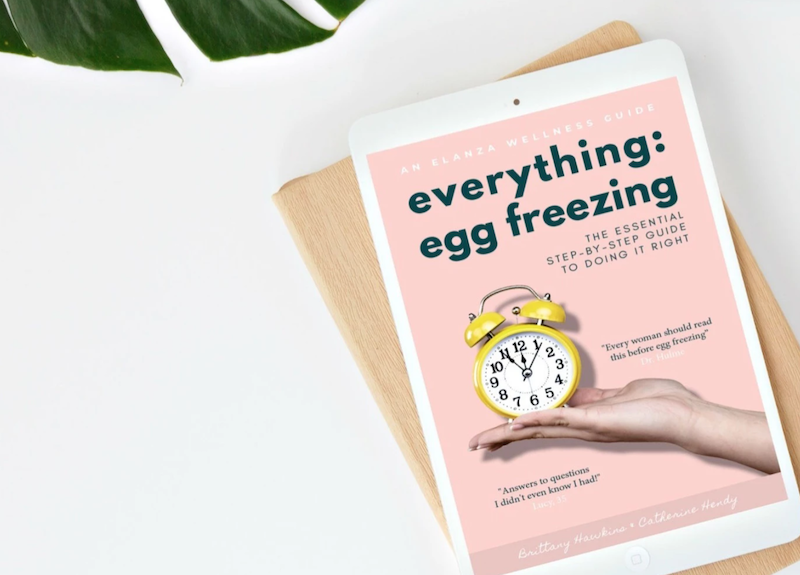 ELANZA Wellness founders Brittany Hawkins and Catherine Hendy met in South Africa after freezing their eggs. It had been quite a journey and their own experience with fertility treatments inspired them to help other women better understand their fertility and encourage them to explore ways to improve it. ELANZA Wellness originally started as a "fertility travel agency", but participation in YC's Startup School led the team to change focus.
The Fertility Fit Program
As part of their brand-new "Fertility Fit" pilot program, they now partner with fertility specialists and clinics to support patients along their egg freezing journey from consideration through treatment. The program is also available for direct enrollment and suitable for women, who have not yet started working with a fertility specialist or are working with a specialist, who doesn't participate in ELANZA' pilot.
Book: "Everthing Eggfreezing"
The first outcome of ELANZA's work is their recently published in-depth guide Everything Egg Freezing: The Essential Step-by-Step Guide to Doing it Right, which is now available on Amazon. The book is not only for those interested in egg freezing, but is a great educational resource for patients and practitioners or those interested in female fertility overall.
The guide covers:
How egg freezing works & how effective it is
What is considered the "right age" to egg freeze
Unbiased tools to determine if egg freezing is right for you
How to find the best clinic
Comprehensive evidence on what you can do to get "fertility fit"
The real power of everything from fertility supplements and fertility tea to fertility testing strips
What to expect physically and emotionally throughout treatment: the good, the bad and the side effects
The exact tools to prepare your body for the best outcome and experience
So far the book has been well received by both patients and medical professionals, who appreciate the balance between scientific background and practical advice.
What's next for ELANZA Wellness?
As mentioned earlier ELANZA Wellness is currently running a pilot of their program and working on refining their offer and product-market fit. The team is planning to raise a seed round in 2020.