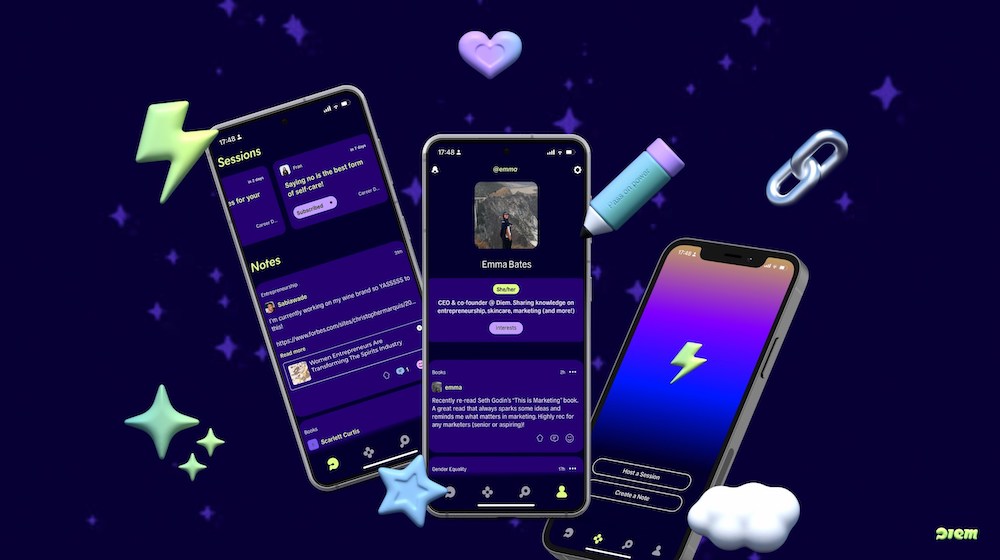 What does a new social universe for knowledge sharing look like in 2022? Diem, a new social media alternative created for women & non-binary folks, is trying to answer this question. The company came our of beta in October launching its social networking platform to a waitlist of over 20,000 people. Diem's mission? To reinvent how we meet, network, learn and collaborate online. In a recent release the company explained that its goal is "to create digital social spaces for users to connect on common interest points, addressing the negative experiences they commonly encounter on incumbent social networks." Focus is on community connections and authentic knowledge sharing instead of the orchestrated, performative content that dominates existing social networks today.
Diem was founded around 2 years ago by Emma Bates and Divia Singh and is headquartered in New York. In 2020 the company graduated from Techstars NYC and has raised $900K in pre-seed funding to date from Xfactor Ventures, Acrew and leading angels such as Create & Cultivate founder, Jaclyn Johnson and Discord Executive, Amber Atherton.
It has now been a few weeks since the company launched its platform to the public, so we figured it's about time we check in with Diem Co-founder & CEO Emma Bates to pick her brain about all things social networks, Web3 & The Metaverse and get some insights on where her team plans to take Diem in 2022!
You've created Diem as an alternative to existing social networks. What do you think are the biggest problems with the existing solutions and how is Diem different?
I think the biggest issues in current platforms are the performative nature of them. We are creating false realities which have a huge impact on our mental wellbeing, confidence and expectations as humans. This especially impacts women and girls, the media has always sexualized women and placed false beauty expectations on them but previously, this was largely confined to the "safe" distance of a magazine shelf in a newsagent, social media has brought these unachievable standards to our fingertips, accessible every minute of the day.
We are building Diem differently, we don't focus on what you look like – in fact you don't even have to upload a photo if you don't want to. We are focussing on the knowledge we all have to share. In a world where we can't find answers, we have always lent on each other for personal advice, taboo knowledge, and universal truths. Diem is a place for these candid conversations to happen – somewhere where you're not limited to the wisdom of your immediate friendship circle, instead the wisdom is infinite from folks & thought-leaders around the world – our goal is to build a network of knowledgeable conversations for everyone to benefit and gain power from.
Who is Diem for and what can users expect?
We have designed Diem for women & non-binary folks. We will always prioritize the safety and wellbeing of members in the platform above everything else. Members (userbase) can expect access to candid conversions around common interest points, cultural events & intelligent discussions. Members can discover a network of 100+ Hosts, who are thought-leaders across industries that share their wisdom with the community. Members can engage both live or asynchronously via audio or messaging functionality.
Hosts are an important part of Diem? Who are they, what qualifies a host and what's their role in the community?
Hosts are thought-leaders across industries, everything from reproductive rights activists, to well-being influencers, doctors, financial advisors, scientists, successful entrepreneurs & authors. Their role is to share their knowledge via live Sessions and build community around their expertise.
Diem has been live for a little more than a month now. Were there any surprises? Anything you've learned from your community since launch?
We were in beta for about ~9 months pre-launch so there weren't a ton of surprises, we had an inkling on what we knew would work & what we needed to optimize post launch. The launch validated a lot of our hypotheses around the preferred mediums of communication, popular topics, etc. It's been really inspiring to see people meet each other and exchange knowledge – there's so much power in conversation.
You've mentioned that you plan to "harness technology typically found in gaming and AR/VR to cultivate truly social, three-dimensional communities". Can you tell us more about this?
We can't reveal too much but we believe there's huge potential in harnessing this type of technology to create safe spaces and build places where people feel comfortable having candid conversations with each other. 42% of gamers in the US are women who largely say they game for "escapism" and "to challenge themselves" vs. men who say they game to "pass the time" – yet no 3D technology has ever really been built for the female experience (let alone marketed to us) – technology has evolved so much in the last 10+ years since Instagram & Facebook's feeds entered ourselves, so we're excited to explore the potential for social technology that looks and feels very different from what we're used to today.
Since your launch in mid-October Facebook aka Meta announced some of its plans for the Metaverse. What's your take on this? What are some opportunities and what do you think are some risks?
I think Facebook is quite late to the game in all honesty – there are so many other businesses (eg. Snap Inc., Epic Games, etc) who have been building in the "metaverse" for years, if Facebook didn't pivot into Meta now then they wouldn't be left with much opportunity to enter later on.
Currently, the biggest risk to me is that it is undeniable that dominant platforms have failed to create space for women's experiences, or rather, the experiences outside the confines of the male gaze. The current "metaverse" landscape is SO male-heavy, and includes a pretty dangerous set of men at that (incels, etc) that I worry we are at risk for 2.0 of male-dominated social spaces but this time worse, because the technology has potential to be even more immersive and harmful, if not built inclusively.
That being said, there are some incredible female leaders in the space that I hope continue to receive recognition (and funding!) There are incredible opportunities yet to be untapped in regards to the emerging NFT & blockchain industry. I'm excited that Diem can contribute to how this technology will be harnessed by a more diverse group of humans than its current dominant customer base. I believe with more diversity among leaders building the technology that increasingly shapes how we live, work, and communicate on a human level, the less harm will be inflicted on that technology's user base.
What can we expect from Diem in 2022? Product? Fundraising plans? Team?
We have some very exciting things happening in the Product next year, including a new media format that we can't wait to release. We will also be going out to raise our Seed round in the coming few months. 2022 is going to be a big year for us!