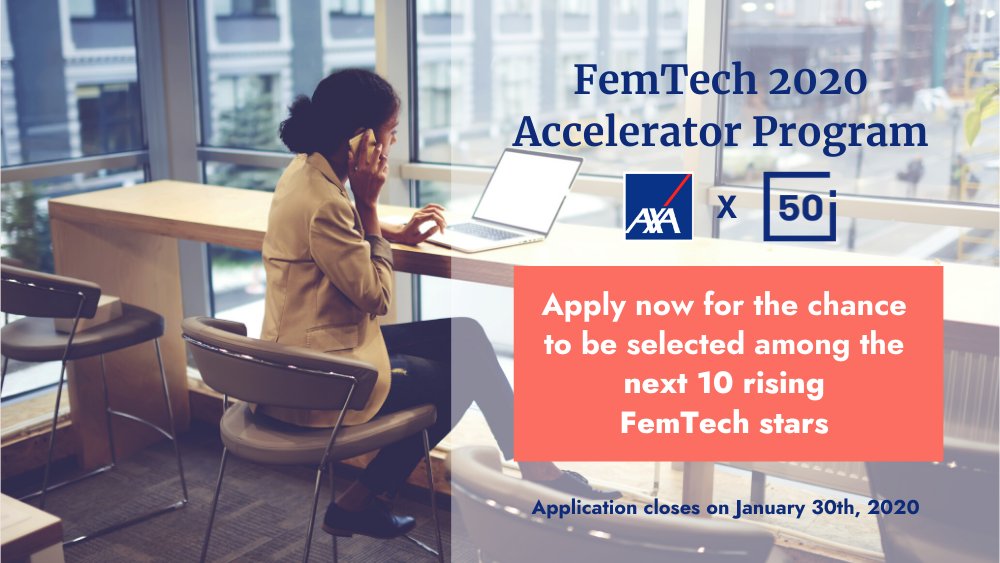 50inTech and AXA announced the launch of their "FemTech 2020 Accelerator Program" during Women's Forum last week. The 10 startups selected for this program will have access to mentoring, learning and acceleration resources that are designed to support female founders uplevel their skills, gain industry exposure and raise funds.
This accelerator is best suited for startups who
Have launched their product or service and are looking to raise a seed or series A,
Have raised money, but have not launched their product or service yet.
The program will take place in 2020. Deadline for applications is January 30, 2020. Interested candidates can apply online here.
We had the chance to catch up with Caroline Ramade from 50inTech and are happy to share more insights and details of this program with you today!
---
Congrats on the launch of your new program and this exciting next step for 50inTech. I'm curious: How did the cooperation with AXA come about?
Caroline Ramade: This summer we organized a meetup in Tel Aviv. Ariella Dreyfuss, Partner at Barnea & Co, introduced the event by presenting a keynote on the FemTech market, sharing some great advice. We were impressed by the vitality of the ecosystem and upon our return decided to develop a special focus on FemTech on our platform. This is a subject that is close to our hearts, and we need women's perspective.
The first step was to record a podcast with Ariella sharing insights and concrete advice to our community. The second step was to launch this accelerator program with Axa. The cooperation came naturally. Axa is one of our pioneering partners and is very committed. As a global health insurer, Axa is a longtime supporter of women's entrepreneurship and women's health.
Axa has stepped up its efforts to stop discrimination against women, in the area of business financing as well as access to healthcare. This acceleration program is a major step forward in its strategy to promote women's entrepreneurship and women's health.
Why did you decide to focus on FemTech companies?
CR: FemTech is a fast-growing market that is currently underfinanced, despite its huge potential. FemTech has been long overlooked by (overwhelmingly male) investors and treated as a "niche" market – even though its products and services address 50% of the world's population!
Today, only 4% of tech investment in life sciences is aimed at women's health tech solutions. But things are going to change and we want to act for that change. FemTech market is expected to reach $50 billion by 2050. In this field, women are more likely than men to identify the pain points and issues that affect them and address the problem with innovative solutions. If we want the next wave of health tech to overcome biases against women in diagnosis and treatment, we must do more to ensure that women develop them. We must ensure that they are designed by women and for women.
It is not just a question of fostering the women who work in HealthTech. It is about ensuring women's access to investment – health care requires more funding than other sectors – insurance, talent, and providing them with skills, confidence and support.
In this perspective, Axa and 50inTech have decided to act and join forces to design this Exclusive FemTech 2020 Accelerator Program.
Can you tell us a little more about the accelerator? What exactly can participants expect? Who runs the program and who are the mentors? What is your organization's role? What is AXA's role?
CR: We are committed to jointly building a customized support program with the selected FemTechs startups, which will function as a "business accelerator".
The 10 selected start-ups will participate in the program's development to best meet their specific needs. Three types of support are provided:
Mentoring: Creation of a network of mentors, including AXA top managers, strategic partners, successful FemTech entrepreneurs and investors, to help project leaders raise funds or develop their business model.
Learning: Organization of a "Learning Expedition" in the FemTech hub of Tel Aviv.
Acceleration: The AXA Group's innovation ecosystem made fully available to the selected FemTechs, to give them opportunities to grow their businesses.
50inTech's role is to source and co-select startups as well as organize and coordinate the program.
Axa's role will be to participate in the selection of startups, provide access to strategic employees and top managers who will mentor the companies as well as ensure close follow up with the open-innovation department.
Is this an online program? Are any in-person meetings or workshops planned? Do you have a regional focus? When and where will the actual program take place?
CR: The kick-off will take place in April 2020 with an incredible Learning Expedition Week in Tel Aviv, one of the world's Tech hub in the sector!
Then, throughout the year we will organize qualified online matching with experts and online meeting with dedicated mentors, according to the needs of each startup.
We believe in the power of role models and sharing of experience & best practice. This is why we are planning to schedule webinars with some of the biggest FemTechs movers and shakers.
There is no regional focus. It is a worldwide call for applications.
When will the actual program take place and how long will startups be incubated?
CR: The program will take place in April 2020 in Tel Aviv. The startups will be incubated until the end of 2020.
Is this a one-time opportunity or are you planning to run this program again in the future?
CR: It just the beginning! We are considering this first program as the beginning of a long-term collaboration with Axa.
Do you take equity in exchange for participation in the program?
CR: No. Launching this program is part of our global partnership with Axa.
And it is part of our mission. Our aim at 50inTech is to generate impact and create the largest community of women in Tech. We select only 10 FemTech startups for this program, but we aim to help all the others too, on the 50inTech platform. All the FemTech female founders will have the possibility to Match and Share with an international and inclusive community:
Learn from the best and get great expert tips & insights;
Match with inspiring members (entrepreneurs, investors, executives, etc.) and expand their network;
Share experiences, insights and best practices.
We also hope to learn from this first program and get key insights and learnings in order to develop the next ones!
Who should apply?
CR: Our Accelerator program is open to any FemTech startup that
Has launched its product or service and is looking to raise funds
Has already raised funds while product development is still in the R&D phase
Do you only accept applications from female FemTech founders or can others apply as well?
CR: We support inclusion. We are looking for FemTech start-ups in the early stages or Series A, led by women, or with at least one co-founder at their head.
What are your goals for this program?
We will:
Select the 10 promising startups from the FemTech industry and help them take their business to the next level!
Strengthen the influence of women in the HealthTech industry. Highlight female founders and help them access funding.
We will select only 10 FemTech startups for this program, but our goal is to help all others through the 50inTech platform. All FemTech founders will have the opportunity to match and share with an international and inclusive community:
Learn from the best and get expert advice.
Match with inspiring members (entrepreneurs, investors, executives, etc.) and expand your network
Share experiences, insights and best practices
We also want to learn from this first program and gather key ideas and learnings to develop the next ones!