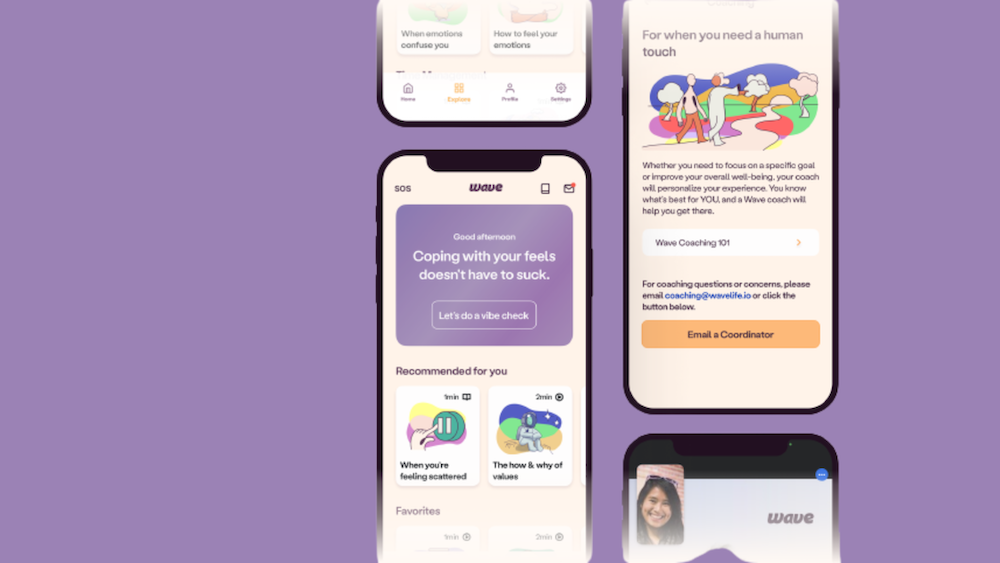 Wave Life, a mental health platform aimed at supporting Gen Z, has secured a $6M seed investment led by Santé Ventures, with participation from Hannah Grey, Joyance Capital, Gaingels, and Telocity Ventures.
Created and led by clinical psychologist Dr. Sarah Adler, Clinical Associate Professor of Psychiatry at Stanford University, the platform provides users with accessible emotional wellbeing coaching and science-backed techniques to help them survive and thrive both in and out of the workplace. The company's innovative approach to mental health prioritizes the unique needs and experiences of this younger generation, supporting them as they build a solid foundation for their sustained mental health.
Gen Z, born between 1997 and 2012, is the youngest working generation and is expected to comprise 30% of the workforce by 2030, according to the U.S. Bureau of Labor Statistics. Recent reports indicate that Gen Z adults are the most stressed generation. The COVID-19 pandemic has only exacerbated existing issues such as remote work arrangements, job insecurity, the impact of social media, and geopolitical events. This has led to staggeringly high levels of depression, anxiety, and stress, with 42% of this generation having received a mental health diagnosis. Furthermore, 91% of Gen Z have reported experiencing at least one physical or emotional symptom related to poor mental health. These factors have a profound impact on both personal and professional lives, making it vital for employers to prioritize the mental health and wellbeing of their Gen Z employees to retain talent, foster a healthy workplace culture, and provide a better work-life balance.
"We understand that the major challenges Gen Z faces when it comes to mental health are the lack of access to high-quality licensed therapists and a lack of interest in traditional therapy. Many young adults, especially those who come from underrepresented backgrounds are disengaged and disappointed with their healthcare options and are seeking alternative solutions that are more relatable and convenient. But they don't want to sacrifice science-backed care," said Sarah Adler, Founder & CEO of Wave Life and Clinical Associate Professor of Psychiatry at Stanford University. "We designed Wave Life to bridge this gap, providing a platform for personalized plans and on-demand coaching sessions accessible on the phone."
"We are thrilled to support Wave Life in providing a differentiated, science-backed platform that caters to the needs of Gen Z in the workplace. Sarah Adler and the Wave Life team are uniquely suited to address the mental health challenges faced by this demographic, who are not well-served in the market despite the tremendous demand for mental healthcare," said Eric Epstein, Principal at Santé Ventures. "Wave Life has the potential to transform the way we approach mental health by increasing access and engagement, solving the significant supply/demand issues in mental healthcare delivery, and providing a measurement-based and clinically-validated platform. We are beyond excited to be a part of that positive change."
Wave Life plans to use the new funds to refine its product offering and expand further into the employer market.