September is PCOS Awareness Month, October dedicated to breast cancer awareness and this November aka Bladder Health Awareness Month we are looking to femtech company Uqora, who have declared today, Nov 21, National UTI Awareness Day to put a spotlight on this major health issue that affects millions of women.
Uqora makes innovative products for urinary health. It all started in 2014, when Uqora's founder, Jenna Ryan, had 8 UTIs. She knew she couldn't stay stuck in this cycle, but didn't realize how many people like her were struggling with the same issue. That led Jenna and her co-founder, Spencer Gordon, to partner with physicians and urologists, and build on the best research available to develop unique urinary health solutions. Since launching in 2017, Uqora's been able to help over 50,000 women get ahead of UTIs and today on National UTI Awareness Day the company is looking to create even more awareness for urinary health.
To mark the occasion we spoke to Uqora Co-founder & CEO Jenna Ryan about her journey of taking Uqora from 0 to 1, the importance of destigmatization in the women's heatlh space and – of course – National UTI Awareness Day.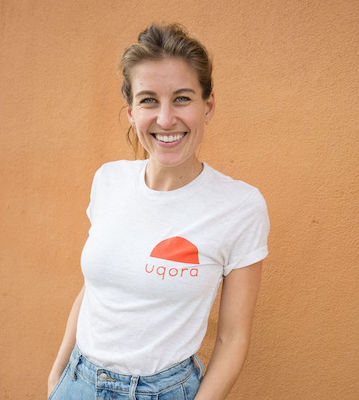 Hi Jenna! Thanks for making time for this! First up: Can you tell us a little more about yourself and your work at Uqora?
I'm CEO and co-founder of Uqora. In 2014, I had 8 urinary tract infections (UTIs). If you get UTIs, then you understand how awful the cycle can be. I felt like I'd tried everything, and was getting the same advice from my doctors to do the things I was already doing (trying cranberry, peeing after sex, etc).
I was desperate to get ahead of the problem and was inspired to start looking for ways to begin my own proactive approach to urinary tract health.
My partner (and now husband), Spencer, was inspired too. Spencer's background is in biochemistry. In collaboration with physicians and urologists, with the science-backed ingredients, we started to build Uqora. At Uqora, we make products for urinary tract health and UTI relief. We're big believers in proactive health, and have been honored to help so many people with urinary tract health—over 100,000 at this point!
You started the company with the goal to solve your own problem, just like a lot of other founders in the women's health innovation space. How did you get from 0 to 1 and what was most challenging, when you got started? And what was fundraising like for you?
We bootstrapped to launch the company, then raised a small amount of fundraising from friends and family to try and spark some growth. A little less than a year in, we ended up winning the US Small Business Administration (SBA) InnovateHER startup competition. The prize was a $40,000 grant from the Sara Blakely Foundation. With this money, we hired our first employee (who now leads Growth at Uqora :). We also took some marketing risks which really paid off. That was a big inflection point for us—and we've been growing since!
Uqora was founded in 2017. When it comes to bladder health and women's health overall. Do you think we're making progress towards destigmatization and more women's health literacy overall? Has the conversation evolved?
Yes! The femtech space is really an inspiring sector to be a part of. It has a real collaborative spirit. I think there's a 'we're in this together' mentality among founders in the femtech space, and I've loved the chance to meet and work closely with a lot of other female founders. Through these conversations, I've met so many founders that are really committed to raising the bar.
For so long, women's health didn't get the attention it deserves, and accordingly wasn't always a research priority. Aside from that, there's been a lot of misguided marketing of products geared at women throughout history. (Aka the 'shrink it and pink it' mentality — just taking products for men and reskinning them for women rather than designing them with women in mind.) Having more female founders leading the conversation is changing that, and you can really see it in the quality of educational material and research that brands are pushing forward.
There is always more progress to be made, but I feel really optimistic about the direction we're moving.
November is Bladder Health Awareness Month and you've declared Nov 21 National UTI Awareness Day. What's the idea behind the initiative and what's in store for us today? How can people participate?
National UTI Awareness Day was actually an idea presented to us by one of our customers. She had joined our Facebook group, The Uqora Collective, and said she was so happy to have found a group of people who understood what she was going through. She felt the topic deserved a national holiday, and we obviously agreed! I loved the idea of declaring a day to give UTIs the recognition they deserve. National UTI Awareness Day is an opportunity for anyone pursuing urinary health to know that they are not alone.
To celebrate, we are encouraging anyone who has a story with urinary health to post a selfie on Instagram, share that story and use the hashtag #NationalUTIAwarenessDay. We really believe the more people are open about sharing these stories, the less stigma will be attached to them. So share your stories with pride!
We encourage everyone who's interested to follow us on Instagram @uqora to check it out 🙂
In general: How important are movements and awareness campaigns for companies in the women's health space to get the word out about their solutions?
Really important. If you don't struggle with UTIs, it may not seem like that big of a deal. But UTIs are a major health issue. UTIs are the second most common infection in the US, and they affect half of all women. When you're in the trenches, dealing with recurring UTIs, it can feel really isolating. To make matters worse, a lot of the conversation around the issue is over-simplified and stigmatizing. The misconception is that people who struggle with UTIs are doing something wrong—that they aren't peeing after sex or keeping proper hygeine. But most people who struggle with UTIs are doing those things, but because of anatomical and physiological reasons, they need extra support.
I'm really passionate about shifting the conversation. As more people discuss the topic, the easier it becomes to shine a spotlight on the problem. There's power in numbers, and that's crucial to getting more funding, attention and research required to continue to drive innovation forward.