Every Thursday we send out a curated newsletter on "all things femtech and women's health innovation". This is the latest edition. If you're interested in subscribing, you can do so at the bottom of this page.
Highlights
B2B cycle care company Aunt Flow raises a $8.5M Series A to invest in growth.
Wellsterlaunches MySummer in its quest for Women's digital health market leadership in Europe.
Equilibriaacquires Gen-Z focused CBD brand Fleur Marché.
Round-up: New executive hires at Ovia, Nest Collaborative and Alloy Health.
Ovaterra launches new prenatal vitamins.
Menopause company Bonafide acquires SAM-e Nutritional Technology.
Behavioral health startup Brave Health partners with The Doula Network to improve maternal mental health in Medicaid populations.
Oura is launching a study to understand physiological changes during the menstrual cycle.
Digital Musculoskeletal Clinic Hinge Health launches a nationally accessible women's pelvic health program.
---
Highlights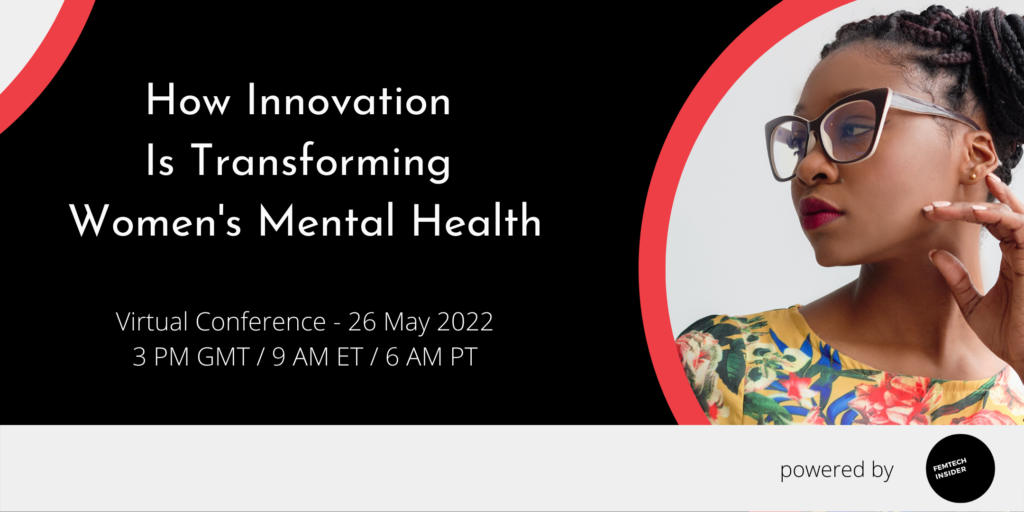 May 26, 2022, 3-7pm GMT: Virtual Conference – How Innovation Is Transforming Women's Mental Health
May is Mental Health Awareness Month and a time to raise awareness of those living with mental or behavioral health issues and to help reduce stigma so many experience. In this half-day conference we want to explore the intersection of women's mental health and innovation, invite researchers, entrepreneurs and investors to share their thoughts.
What we'll cover:
➡️ Digital Therapeutics & CBT
➡️ Vices x Mental Health: Psychedelics & CBD
➡️ Novel Mental Health Biomarkers
➡️ Precision Medicine meets Mental Health

Get your discounted ticket using the code earlybird, when signing up today! The conference is free to attend for our Inner Circle Members.
---
Join our Inner Circle of Femtech Insiders!
Inner Circle Members get VIP access to the latest and greatest Femtech Insider has to offer each week:
📨 An Additional Weekly Members-only Briefing
💡 Attend our Bi-weekly Virtual Events for free
📈 Industry Deep-Dives & New Femtech Startup Spotlights
🗂️ Access to our Full Inner Circle Archive
💰 Femtech Insider Discounts: Advertising, Recruiting, Workshops
Get your Yearly Femtech Insider Subscription today! 👇
---
In the Know
Recommendations for Investing in Menstrual Health in Africa and Asia (Femtech Insider)
The Vaginal Microbiome: A Deep-Dive with FemTec Health's Chief Science Officer Dr. Kimberly Capone (Femtech Insider)
Dr. Jane van Dis on the Future of Telehealth, the Role of Medical Advisors and the Need to Prioritize Holistic, Equitable Care (Femtech Insider)
If there is a digital health bubble, does it really matter for entrepreneurs? (STAT)
'A little bit sci-fi': How robots can make a dent in nurses' workloads (MobiHealthNews)
R&D For Women's Health: Much More Is Needed (Crunchbase)
Period Apps: Friend, For, Or Frenemy? (Nylon)
Women and Pain: A Special Report (Health Central)
After My Isolating Fertility Experience, I Started a Non-Profit for Black People (Refinery29)
3 Ways Hospitals Are Tackling Maternal Health Innovation (American Hospital Association)
---
Who's Hiring?
Maven is hiring a Director, Engineering.
Aunt Flow is looking for a Sales Development Representative.
Babyscripts is hiring a Customer Success Associate.
Allbodies is looking for a Research and Copywriting Intern.
Dotlab is hiring a Software Engineer.
Visit the Femtech Insider Job Board to see more roles or to add your own!