Every Thursday we send out a curated newsletter on "all things femtech and women's health innovation". This is the latest edition. If you're interested in subscribing, you can do so at the bottom of this page.
Highlights
Livongo founder Dr. Kimon Angelides' FemTec Health comes out of stealth with $38M in funding, 3 acquisitions and a mission to transform women's health.
Pregnancy nutrition startup Needed raises $5.8M to expand its offering and invest in clinical research.
HEALlaunches its digital support platform for survivors of sexual abuse.
Organon teams up with Flat6Labs to launch a new femtech accelerator program in the Middle East & North Africa.
Keleya adds midwife video consultations to its ammely platform to better support parents-to-be.
The Lundquist Institute receives $3M from the NIH to expand its male contraception study.
Sofinnova Partners raises $548M to form Europe's largest early-stage healthcare VC fund.
Birth control is now available on Ro Pharmacy.
Femtech Investment Round-up – October 2021

Y Combinator names Surghi Sarna its first-ever Partner for Healthcare and Biotech.
Former Elvie CRO Andrea Zitna joins Speedinvest's Health Investment Team.
---
This week's newsletter is sponsored by

Skillshare offers classes to spark your creativity. Unlock a passion, side hustle or new professional skill with thousands of classes in design business and more.
Exclusive Offer: Get 12 Months of Skillshare Premium for 40% Off.
Join 8 million creators around the world. Learn by doing. Learn with others. Learn for the future.
---
Upcoming Events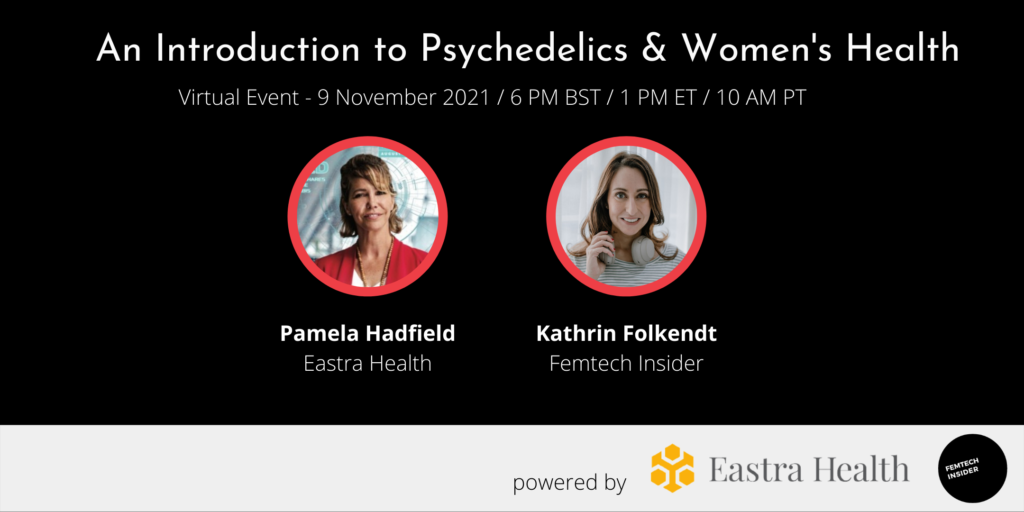 Nov 9, 2021, 6pm BST: An Introduction to Psychedelics & Women's Health
The 'Shroom Boom' is real according to STAT and we agree. And this is why in next week we talk psychedelics with a special focus on women's health and are joined by Pamela Hadfield, Co-founder of Eastra Health, the world's first female-focused biotech company dedicated to developing psychedelic-derived medicines specifically for women.
👉 Get your ticket for the event. Our Inner Circle Members attend for free.
To get an overview of all upcoming events, check out our events calendar.
---
In the Know
Femtech Trendwatch: Investment Round-up October, Male Contraceptives on the Rise & The Hims Story (Femtech Insider)
Finnfund's Johanna Raehalme: "Gender lens investors look for ambition, not perfection." (Femtech Insider)
Only 26% of Pregnant People in the U.S. Are Vaccinated Against COVID-19. Here's Why. (Femtech Insider)
The Future of Women's Health Starts with Smashing Taboos (Medium / Human Ventures)
Commentary: Two girls walk into a job fair (or why I raised a VC fund) (Fortune)
How Femtech Innovations Can Break Taboos Around Women's Health (M13 Blog)
Hounded by fertility ads on Instagram? Don't let them stress you out. (Mashable)
The changing cultural dynamics behind falling fertility rates (Axios)
Atomico's Take on Female and Reproductive Health in Europe through a Consumer Lens (Atomico Blog)
Meet 8 Female Founders Disrupting the $600B Menopause Market (Forbes)
---
🚀 Join our Femtech Insider Inner Circle!
Ready to become a femtech expert? Our Inner Circle Membership is your backstage pass to the world of women's health innovation and come with tons of benefits and perks:
Attend our Virtual Events for free
Weekly Members-only Newsletter
Industry Briefs
Access to our Inner Circle Archive
Event & Advertising Discounts
and more
---
Who's Hiring?
Elvie is looking for a Head of Sales – Europe.
Evvy is hiring a Biomedical Data Scientist.
Tuune is looking for a Copywriter (Brand & Marketing).
Tia is hiring a Business Strategy & Operations Associate.
👩‍💻 More Jobs