Every Thursday we send out a curated newsletter on "all things femtech and women's health innovation". This is the latest edition. If you're interested in subscribing, you can do so at the bottom of this page.
Highlights
EverlyWell parent company Everly Health acquires Fertility & Pregnancy Essentials Company Natalist.
AlloyHealth raises $3.3M in seed funding to bridge the gap in menopausal and post-reproductive health.
Sexual wellness brand Tabu launches on Goop with $500K in seed funding.
Contraline raises a $10.7M Series A to transition ADAM, its 'male contraceptive', into clinical trials.
Blackstone buys the majority stake in women's wear brand Spanx.
FLO Vitamins launches parent brand O Positiv to support a wider range of women's health needs.
Sextech company Vibio launches a new sexual exploration app.
Mira's Confirm Wand receives FDA clearance as an accurate tool to confirm ovulation in women.
UNICEF partners with the Australian government to scale Oky, a digital period tracker for girls in the Indo-Pacific Region.
Microbiome research company Biom Pharmaceuticals launches the Vee mobile app.
Oura Ring's latest version includes period prediction and educational content.
Diem re-launches as a social universe designed for women and non-binary folks.
---
This week's newsletter is sponsored by
Become smarter in just 5 minutes. Morning Brew is a daily newsletter that keeps you informed and entertained covering the latest news from Wall St. to Silicon Valley. Informative, witty, and everything you need to start your day.
Over 3 million people catch up on the top business news with Morning Brew each morning.
Why not join them? It's free to subscribe!
---
Upcoming Events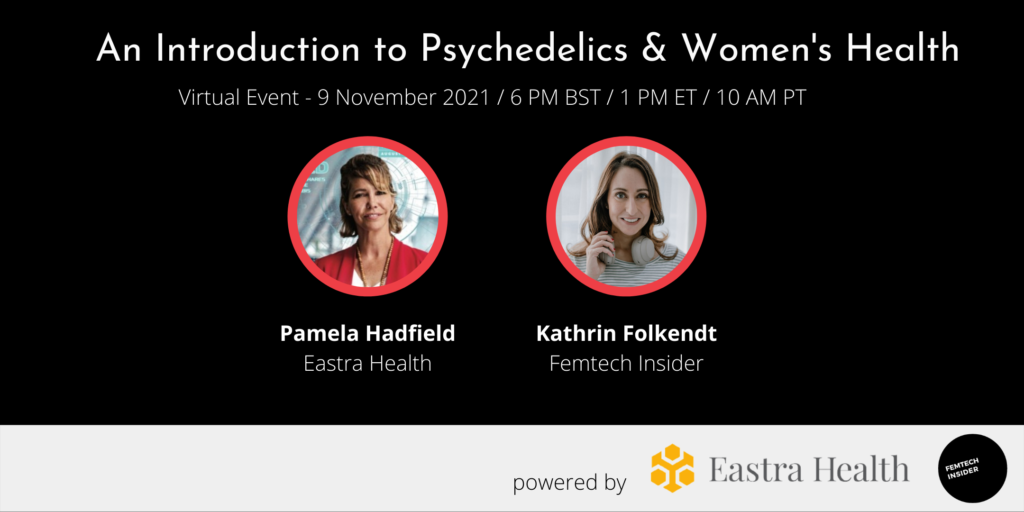 Nov 9, 2021, 6pm BST: An Introduction to Psychedelics & Women's Health
The 'Shroom Boom' is real according to STAT and we agree. And this is why in two weeks we talk psychedelics with a special focus on women's health and are joined by Pamela Hadfield, Co-founder of Eastra Health, the world's first female-focused biotech company dedicated to developing psychedelic-derived medicines specifically for women.
👉 Get your ticket for the event. Our Inner Circle Members attend for free.
To get an overview of all upcoming events, check out our events calendar.
---
In the Know
Femtech Trendwatch: Lab-Grown Breast Milk, Women's Health VC for Good & Go-To-Market Playbooks for Digital Health (Femtech Insider)
Why Nabta Health Founder Sophie Smith Wants to Connect 2,022 Female Angels in Menap and Beyond (Femtech Insider)
Planera Founder Dr. Olivia Ahn Talks Period Prodeucts and Sustainability at TedxCambridgeUniversity (Femtech Insider)
Cannabis-Powered Menopause Brand Hello Again Is Not Your Average Dispensary Find (Beauty Independent)
Employees detail rising tensions at Ro as healthcare unicorn struggles to grow beyond first win (TechCrunch)
I Thought a Wearable Breast Pump Would Solve My Problems (Slate)
The Neglected Science of Neovaginas (Neo.Life)
Traditional Healthcare Is Missing Younger Consumers. How Can Providers Win Them Back? (Fierce Healthcare)
Carrot Fertility's Tammy Sun: I cofounded a fertility company that's raised more than $114M in funding. Here's how I pushed through the 'No's' and founder resilience (Business Insider)
---
Join our Femtech Insider Inner Circle!
Ready to become a femtech expert? Our Inner Circle Membershipis your backstage pass to the world of women's health innovation and come with tons of benefits and perks:
Attend our Virtual Events for free
Weekly Members-only Newsletter
Industry Briefs
Access to our Inner Circle Archive
Event & Advertising Discounts
and more
---
Who's Hiring?
Alloy is looking for a Director of Engineering.
Clue is hiring a Senior Medical Marketing Manager.
Yinova is looking for a Community Coordinator.
Maven Clinic is looking for a Content Marketing Manager, Enrollment.
Twentyeight Health is looking for a Customer Success Associate.
Hiring? Add your role to our job board for free or choose a Featured Listing to promote it in this newsletter.