Every Thursday we send out a curated newsletter on "all things femtech". This is the latest edition. If you're interested in subscribing, you can do so at the bottom of this page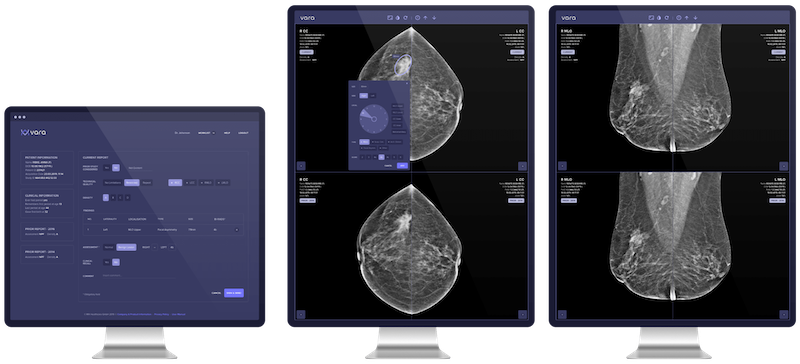 Highlights
Vara raises $7M for AI tool that spots early signs of breast cancer; Ava and Carrot enter partnership to offer Ava's fertility tracking bracelet as an employee benefit; Applications for JLABS' Maternal Health Quickfire Challenge close next week; Over $1.5Min prize funding is available for MIT Solve's 2020 Global Challenges, including Maternal & Newborn Health; Twitter saw some discussion around "femtech"; SxTech Summit announces the first speakers for their virtual conference on July 28 & 29; New Zealand just announced it will start offering free period products in schools; Telehealth company Amwell confidentially files for IPO; Kauffmann Fellows and Techstars are running Venture Deals Summer School starting end of June – sign-ups are open right now; Applications for Femtech Office Hours with Leading VCs close tomorrow
Company Spotlight
1 in 8 women in the United States will develop breast cancer in their lifetime. Early detection is keyas women diagnosed with breast cancer at a localized stage have a 5-year survival rate of 99%. It is great to see, that more and more startups are entering the breast cancer diagnostics space. Inspired by Vara's raise, we'd like to introduce you to some of them today.
Vara is building a machine learning powered platform for radiologists which reduces repetitive work and enables them to focus on cases which really matter.
iSONO has developed ATUSA, a patented 3D ultrasound scanner and AI to perform whole breast scans and localize breast lesions with consistent accuracy matching the best operators using traditional ultrasound equipment.
NIRAMAI has developed an AI powered, non-contact, non-invasive breast cancer screening solution, that is accurate, portable, automated and privacy aware. Their solution uses machine intelligence over thermography images to enable a low-cost solution.
iBreastExam's sensors accurately assess and identliy tissue elasticity differences between hard and stiff breast tumors versus normal breast tissue. The patented tactile sensor technology was invented at Drevel University and uses Piezoelectric Sensor Array.
Discovering Hands is a European initiative founded by Dr. Frank Hoffmann, a senior gynaecologist, who recognized the unique tactile abilities of visually impaired women in detecting the smallest lumps of breast cancer during physical examinations. Discovering Hands has been training blind women to become Medical Tactile Examiners for the past 10 years.
In the Know
Astarte Medical Co-founder Tammi Jantzen: "My advice to founders who are fundraising is to only focus on those investors who can lead your deal." (Femtech Insider)
Women of Wearables' Marija Butkovich: "I think once you find your focus, things start happening by themselves. It's like a domino effect." (Femtech Insider)
Amanda Menking: "The unintended consequence of 'femtech' is that it draws our attention to many issues." (Femtech Insider)
As Health Tech Brands Scramble to Respond to Protests, Critics Stress Need for Representation (MobiHealthNews)
Startup Continent: The Most Well Funded Digital Health Startups in Europe (CB Insights)
Marianne Osterlund: Diversifying Dealflow – The Secret to Outperforming Returns (Medium)
How the Rapid Shift to Telehealth Leaves Many Community Health Centers Behind During the COVID-19 Pandemic (Health Affairs)
Telehealth Wasn't Designed for Non-English Speakers (Wired)
Femtech Entrepreneurs Revolutionizing Women's Health (Marie Claire)
The Coronavirus Outbreak Could Make It Quicker and Easier to Trial Drugs (Nature)
Who's Hiring?
Awkward Essentials (come&gone) is looking for an E-commerce & Digital Marketing Manager.
Flex is hiring a Graphic Designer.
EverlyWell is looking for a Clinical Trial Manager.
Oura Ring is hiring a Director of Social.
Pill Club is looking for a Pharmacy Clerk.
Want more jobs? Click here.