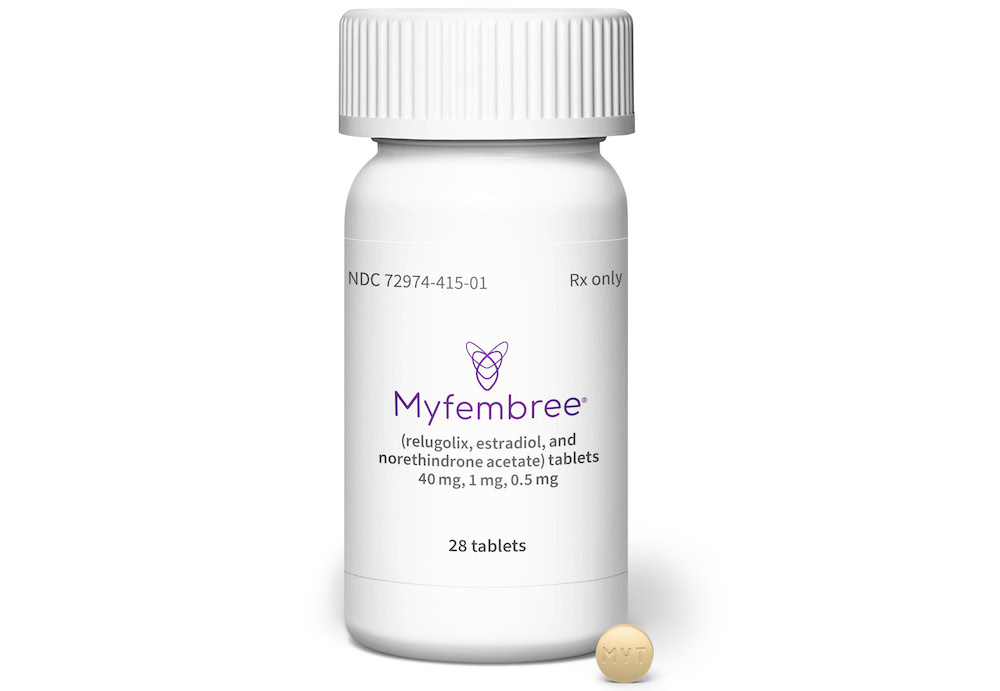 An estimated 5 million women in the U.S. suffer from symptoms of uterine fibroids, and an estimated 3 million women are inadequately treated by current medical therapy and require further treatment. Uterine fibroids are noncancerous tumors that develop in or on the muscular walls of the uterus and are among the most common reproductive tract tumors in women. In addition to an individual's genetic predisposition, estrogens are well known to play an important role in the regulation of fibroid growth.
Although uterine fibroids are benign tumors, they can cause debilitating symptoms such as heavy menstrual bleeding (frequently resulting in anemia and fatigue), pain (including painful periods, abdominal pain, painful intercourse, backache), increased abdominal girth and bloating, urinary frequency or retention, constipation, pregnancy loss, and, in some cases, infertility. These symptoms can also lead to loss of productivity at work, limitations in normal activities of daily living, and social embarrassment.
Myovant and Pfizer have now announced that the U.S. Food and Drug Administration (FDA) has approved MYFEMBREE, the first once-daily treatment for the management of heavy menstrual bleeding associated with uterine fibroids in premenopausal women, with a treatment duration of up to 24 months. The approval is supported by efficacy and safety data from the Phase 3 LIBERTY 1 and LIBERTY 2 studies, which were published in the New England Journal of Medicine. Under the terms of their previously announced collaboration, Myovant and Pfizer will jointly commercialize MYFEMBREE in the U.S. MYFEMBREE is expected to be available in June 2021.
"With MYFEMBREE, we can offer women with uterine fibroids a non-invasive treatment that provides clinically meaningful symptom relief for heavy menstrual bleeding with one pill, once-a-day," said Ayman Al-Hendy, M.D., Ph.D., Professor of Obstetrics and Gynecology, University of Chicago, and LIBERTY Program Steering Committee Member. "The FDA approval of MYFEMBREE represents a significant milestone in expanding treatment options for uterine fibroids, a chronic and debilitating disease for many women in the U.S."
"Uterine fibroids affect millions of women in the U.S. and account for over 250,000 hysterectomies each year, with heavy menstrual bleeding being one of the most bothersome symptoms," said David Marek, Chief Executive Officer of Myovant Sciences, Inc. "The approval of MYFEMBREE represents the second FDA product approval for Myovant in less than one year. This is an important step forward as we seek to redefine care for women and for men, not only through new medicines but through continued collaboration with the community."