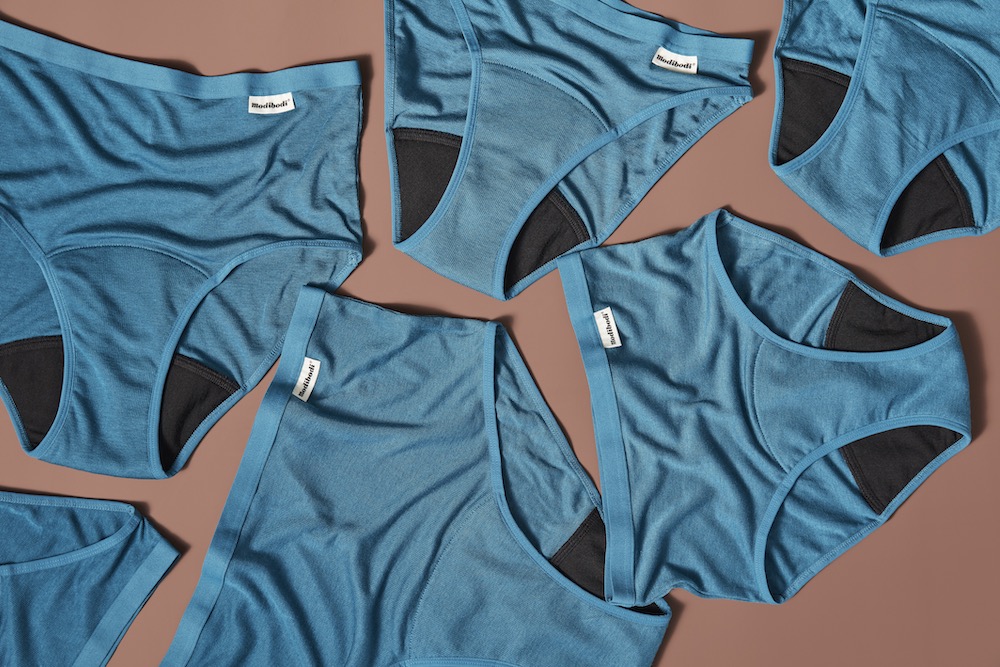 Modibodi, known for its period and leak-proof underwear, is taken sustainability in cycle care one step further today with the introduction of the "world's first biodegradable period and pee proof underwear brief", which according to the company is the first laboratory tested, verified biodegradable product of its kind on the market.
Two years of R&D work went into the new biodegradable briefs, that are created using a combination of natural and bioengineered synthetic textiles:
The main fabric of the pant combines Merino wool and TENCEL™ – made from sustainably sourced wood, the absorbent gusset uses Merino wool to wick away moisture, bamboo terry to absorb fluids and a biodegradable TPU film as the waterproof layer to seal-in fluids. Waist and leg elastic are made from a polyamide yarn with enhanced biodegradability for disposal in landfill in approximately 5 years (10 times faster than synthetic fibres in general) and a small percentage of elastane. The pant is sewn together with organic cotton thread.
The Biodegradable Briefs have been tested at Royal Melbourne Institute of Technology (RMIT) using the ISO 11721-1:2001, Biodegradable Test with results indicating degradation from microorganisms present in the soil. Degrading will begin within about 4 – 6 weeks depending on soil and temperature conditions, however with the majority of the pant being made from plant based fabrics very little will remain after 6 months. The biodegradable TPU waterproof film and enhanced biodegradable polyamide yarn elastics will be completely broken down within three to five years.
Mobibodi Founder & CEO Kristy Chong explains: "The key barrier to biodegradability for most brands is the elastane used in the fabric to provide stretch and comfort alongside that used in waist and leg elastics. Modibodi has solved this issue by using a super fine rib knit construction in the main fabric to maintain its shape and stretch without the need for elastane."
To biodegrade the menstruators need to cut off the elastics and discard them with landfill waste where microorganisms will break it down under anerobic conditions. The main body of the pant can be buried in active soil, which is full of natural microorganisms, bugs and bacteria, that will break it down into nature.
Just like the "regular" Modibodi Brief, the new Biodegradable Brief can be washed over 100 times before reaching its tested end-of-life.