As a physician specializing in female pelvic medicine at Cedars-Sinai, one of the country's leading research hospitals, Dr. Karyn Eilber often heard patients say they avoided sexual activity due to pain and vaginal dryness. Women frequently asked for a natural, non-irritating lubricant without hormones or harsh chemicals, yet there was nothing on the market she could confidently recommend. Frustrated by the lack of options she turned to Renée Garacochea, a beauty industry veteran with 25+ years of entrepreneurial and product formulation knowledge, to bring her vision of a superior lubricant to life. Today the duo are launching GLISSANT, a modern, safe and sexy line of natural lubricants.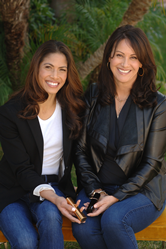 "My whole career has focused on trying to help women," says CEO & co-founder, Dr. Karyn Eilber. "Renée and I founded GLISSANT with the shared mission of helping women enjoy pleasure without pain. Few people really focus on women's sexual health, and there is a lot of stigma and embarrassment around these topics. We created healthy, safe and sexy products for women who want to be sexually active without experiencing pain or dryness."
Unlike other lubricants that can cause irritation or disrupt vaginal pH, leaving women more prone to infections and experiencing pain, GLISSANT contains rich blends of the highest quality, natural ingredients that were specifically chosen to bring "care down there" to a new level. The water-based lubricant is FDA-CLEARED, meaning it has undergone extensive safety testing, and is condom-compatible. The oil-based product contains CBD for anti-inflammatory and pain relief benefits amplified by CBG, the "mother of all cannabinoids." GLISSANT products are free from potentially harmful chemicals such as parabens, silicone, synthetic fragrance or anything else not wanted down there.
GLISSANT is available at http://www.GlissantLove.com.