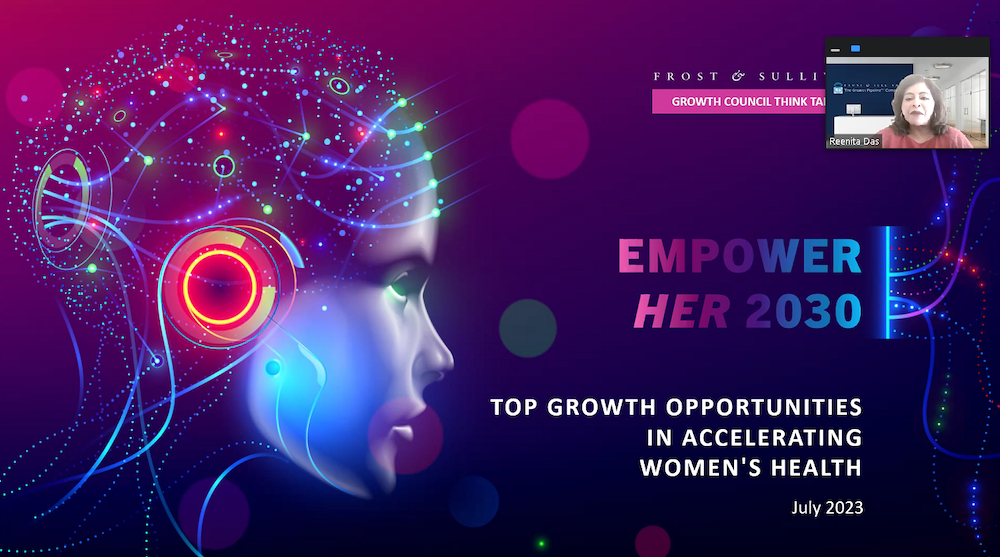 Just yesterday "EmpowerHer 2030: Top Growth Opportunities in Accelerating Women's Health," a webinar organized by Frost & Sullivan brought together the femtech community to explore the evolving landscape of women's health. The session focused on growth potential and emerging markets within women's health, and built upon extensive primary research by Frost & Sullivan conducted over three months, incorporating a vast number of interviews and secondary research.
Understanding the Woman of 2030
Current women's health solutions primarily cater to developed regions such as the United States, Europe, or Israel, where healthcare infrastructure and resources are relatively robust. The research, however, unveiled a significant shift: By 2030, 84% of women will hail from emerging and developing countries, which means that today most products and solutions are only focused on 16% of the population. This stat alone underscores the importance of reevaluating strategies and implementing tailored approaches to cater to this underrepresented majority in the developing world.
We need to bridge the gap between developed and emerging markets within women's health as the characteristics and needs of the woman of 2030 vary across different regions, age groups, and socio-cultural contexts. Recognizing and addressing these variations is mission-critical if we are to foster meaningful improvements in women's health outcomes.
Top Growth Opportunities in Women's Health
According to the experts, four key growth areas hold most potential for advancements in global women's health.
Cardiovascular Health: Cardiovascular diseases, traditionally associated with men, have a significant impact on women's health, accounting for 35% of all female deaths worldwide. Addressing this burden requires gender-specific care, increased research funding, and early prevention and diagnosis. Tailored interventions, such as promoting healthy lifestyles, improving access to screening, and developing effective treatment options, present opportunities to reduce the burden of cardiovascular diseases among women.
Obesity: Obesity poses a major health challenge, affecting women globally. The webinar emphasized the need to view obesity as a chronic, progressive, and relapsing neurobehavioral disease. With a staggering $2 trillion burden, innovative weight loss treatments, surgical options, employer involvement in raising awareness, and providing support for behavioral changes can drive progress in combating obesity among women. Additionally, addressing societal norms, promoting body positivity, and encouraging healthy lifestyle choices are crucial in tackling this issue.
Mental Health: The webinar shed light on the unique mental health challenges faced by women and the need for tailored solutions. Women are more susceptible to mental health disorders, such as depression and anxiety, which can have far-reaching impacts on their overall well-being. We need to reduce stigma, increase access to mental health services, and provide gender-specific addiction treatment. Promising growth opportunities such as neuromodulation therapies, virtual reality treatments, and the development of culturally appropriate models were also highlighted.
Senior Care and Dementia: As the global population ages, addressing the health needs of senior women, particularly those aged 65 and above, becomes increasingly important. Dementia remains largely unaddressed among women in developing countries. The webinar highlighted the need for innovative housing prototypes, monitoring solutions, and technologies to support independent living. Additionally, providing comprehensive healthcare for chronic conditions, promoting healthy aging, and ensuring access to quality care are vital growth opportunities in senior women's health.
Regional Hotspots
As mentioned earlier tailoring solutions to diverse global needs is crucial. In addition to the specific health challenges faced by women globally, the webinar highlighted regional hotspots that require tailored solutions.
Asia: China and India present significant growth opportunities in cardiovascular diseases, assisted living, and menopause care. Attention should be given to addressing the burden of heart disease, promoting healthy aging, and ensuring comprehensive menopause care.
Southeast Asia: Singapore and Australia were noted for their potential in fertility, pregnancy, and mental health solutions. Initiatives focused on supporting reproductive health, mental well-being during pregnancy, and promoting work-life balance are crucial in these regions.
Middle East: Saudi Arabia showed potential for fertility and mental health solutions. Addressing infertility, improving access to reproductive healthcare, and raising awareness about mental health are vital in these regions.
Africa: Africa presents unique challenges and growth opportunities in women's health. Providing accessible healthcare, addressing maternal health issues, combating infectious diseases, and promoting education and empowerment are key priorities in this region.
North America and Europe: These regions also exhibit unique challenges and growth opportunities in women's health. Areas such as cancer prevention and treatment, reproductive healthcare, mental health support, and improving healthcare access for marginalized communities require focused attention.
Building for the Woman of 2030
Key success factors of solutions that cater to the needs of women in 2030 will revolve around partnerships (PPP), precision health, holistic approaches to healthcare, engaging employers, leveraging digital twins, promoting research representation, recognizing the economic influence of women, and expanding focus to the developing world.
As you can see: Unsurprisingly the opportunity in women's health is vast and innovation much needed across the globe. As of today it's only 6 years, 5 months and 13 days till 2030, so it's time to build, my friends. If not now, when then? Let's do this. 🚀
This webinar was part of Frost & Sullivan's EmpowerHer Growth Council Think Tank Series dedicated to addressing the growth gap in women's health. These Think Tanks will be conducted over the next 12 months.