Every Thursday we send out a curated newsletter on "all things femtech and women's health innovation". This is the latest edition. If you're interested in subscribing, you can do so at the bottom of this page.
Highlights
Kiira Health raises $4M to transform healthcare for young, multicultural women starting on college campuses.
Sequel launches with $5M in seed funding to take its patented, leakage-preventing tampon to market.
ianacare raises a $12.1M Series A to change the family caregiver experience.
BDacquiresScanwell to expand and scale digital health at-home testing.
Women's health biotech company ObsEva is added to the NASDAQ Biotechnology Index.
Hims & Herspartners with Uber to deliver its products on-demand in the U.S.
Ovia Health collaborates with Nurx to add birth control tracking to its fertility mobile app.
A strategy for women's health in England: 6 areas of focus
Femtech Investment Round-up: December 2021
Carrot Fertility partners with imaware to launch a new at-home female fertility and wellness test.
New Femtech Insider Database: WOC in Femtech and Women's Health Innovation – Please contribute & spred the word!
---
A Message and Exclusive Offer from:
🦸‍♀️ Superhuman is not just another email client. We rebuilt the inbox from the ground up to make you brilliant at what you do. We specifically designed it for those of you who want the best.
Superhuman is gorgeous. Blazingly fast. And comes with advanced features that make you feel superhuman. A.I. Triage. Undo Send. Insights from social networks. Follow-up Reminders, Scheduled Messages, and Read Statuses. To name but a few.

Exclusive Offer: Get 6 Months of Superhuman for Free! 👇
---
Upcoming Events
Jan 11, 2022, 6pm GMT – Femtech Future: Trends and Predictions for Women's Health Innovation in 2022
What will 2022 bring for femtech and women's health innovation? Join us on Jan 11 for a presentation on trends we're watching, opportunities we see and developments that will impact the femtech community and ecosystem in 2022.
This webinar is your opportunity to get a head start in the new year! We hope to see you there!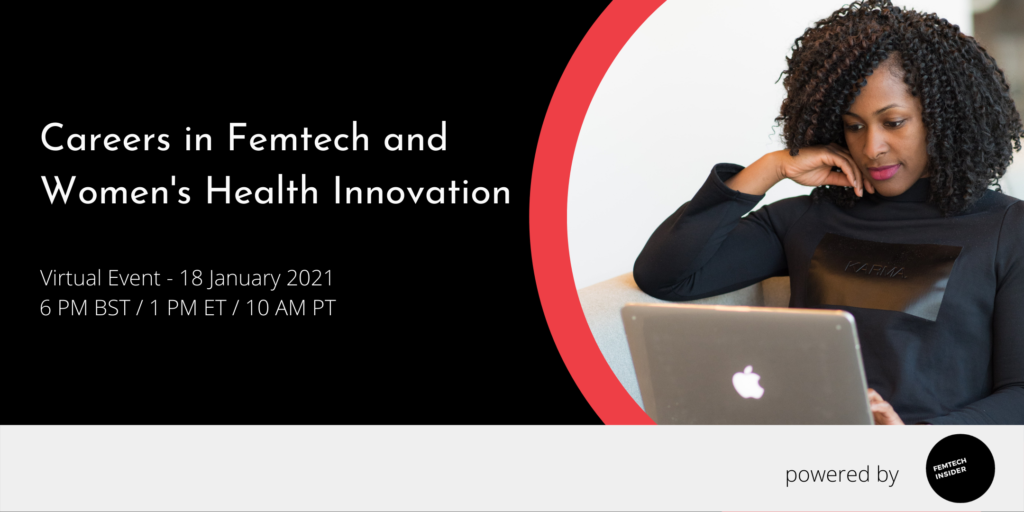 Jan 18, 2022, 6pm GMT – Breaking into Femtech: Careers in Femtech and Women's Health Innovatiion
This new quarterly career call is an opportunity to learn more about the femtech ecosystem and career opportunities in women's health innovation. We'll have valuable tips for those looking to transition to femtech, those in femtech looking to advance their careers and those looking for talent to join their organizations.
This webinar is part of our community event series and attendance is free for all. If you would like to sponsor this or other upcoming community events, please get in touch!
---
Save 20% on Your Inner Circle Membership!
Inner Circle Members get VIP access to the latest and greatest Femtech Insider has to offer each week:
📨 An Additional Weekly Members-only Briefing
💡 Attend our Bi-weekly Virtual Events for free
📈 Industry Deep-Dives & New Femtech Startup Spotlights
🗂️ Access to our Full Inner Circle Archive
💰 Femtech Insider Discounts: Advertising, Recruiting, Workshops
Join today and get your Yearly Femtech Insider Membership for 20% OFF ($120) using coupon code: happynewyear 👇
---
In the Know
👉 The Ava Bracelet May Be Covered Through Your Employee Benefits (Femtech Insider)
Femtech in 2021: The Year in Headlines (Femtech Insider)
Femtech Trendwatch: Predictions for Femtech in 2022, WOC in Women's Health Innovation & Investment Round-up December (Femtech Insider)
Empowerment, privacy and the rise of Femtech (BioNews)
Firms push to make birth-control pills available without prescriptions (New York Times)
When People Assume You're Not in Charge Because You're a Woman (Harvard Business Review)
Why it's so hard to treat pain in infants (National Geographic)
Opening markets and mindsets: What to expect from India's femtech sector in 2022 and beyond (YourStory)
Why Older Women Face Greater Financial Hardships Than Older Men (New York Times)
Stop Referring to Female Genitalia As Fruit (Miss Muslim)
Advancing Menstrual Equity at the Intersection of Self-care and Universal Health Coverage (PSI)
What if Digital Health and Fintech had a baby? (Brendan Keeler / Substack)
The Promises and Perils of Psychedelic Health Care (The New York Times)
Why the conviction of Elizabeth Holmes hinged on defrauding investors, not patients (STAT News)
---
#FemtechFam – Get involved!
🔮 We'll be sharing our predictions for femtech and women's health innovation in 2022 next week and would love to know what YOU think this year will bring for our community & ecosystem! Share your thoughts (anonymous or not) for a chance to get featured in our round-up post: I want to share my thoughts!
---
Who's Hiring?
Proov is looking for a Creative Director.
Ovia is looking for a Director, Digital Content & Marketing.
Daye is hiring a Frontend Developer.
Elvie is looking for a Commercial Product Owner, Digital.
Allbodies is hiring a Research & Copywriting Intern.
Tia is looking for a Director of Legal.
Visit the Femtech Insider Job Board to see more roles or to add your own!
---
Resources
Femtech Company Database
Femtech Funds, Investors and Business Angels
Femtech & Digital Health Accelerator Programs
Femtech Events Calendar
Femtech Communities
WOC in Femtech and Women's Health Innovation
Inner Circle Member Hub
Work with us!
Workshops by Femtech Insider
Consulting by Femtech Insider
Advertising, Sponsorships & Recruiting