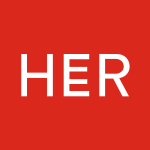 Website HerSocialApp Her
HER is here to connect women and queer people. A travel buddy, a friend in a new city, your ride or die, or love for life. Be yourself. Find HER
HER is the world's largest community of lesbian, bisexual and queer people. We empower queer folx by providing a space to meet others, explore, and express their identity. Our community is millions strong, and our company is queer-run. Founded in 2014, we're YC alum and growing fast. We build fun stuff and have fun doing it! 🌈
The Role:
We are looking for a devops engineer to help us improve our processes, site reliability, systems performance, and observability across all of our infrastructure. You would be the sole devops expert in a small, capable team. You would be inheriting a well-functioning, small-to-medium AWS deployment across two Amazon regions and would be tasked with identifying key areas for improvement, forming an implementation roadmap, and working with engineering to execute it. We are deployed on Docker and Kubernetes, use CircleCI for CI/CD, and rely on DataDog for monitoring.
Responsibilities:
Identify projects for improving site reliability, observability, and deployment workflows
Work closely with engineers to improve processes and support our rapid deployment cycles
Implement best practices for managing and tuning kubernetes
Develop and test runbooks for disaster recovery
Create an on-call rotation for engineering and participate in on-call shifts
Manage our various AWS datastores
Required Skills:
Strong knowledge of various AWS services, such as EC2, VPC, S3, RDS, Elasticache, ElasticSearch, ECR, SQS, IAM
Strong knowledge of deploying and maintaining Kubernetes clusters, as well as free-standing container deployments
Great communication skills
Passion for creating a safe, social space online for LGBTQIA+ people
Experience with native app development
Strong experience with various infrastructure monitoring and alerting tools
MySQL and scalable database design
Desired/Nice-to-have Skills:
Golang, Python experience
Experience with Terraform, Ansible
Android, Kotlin, iOS, Swift
Graylog logging stack
To apply for this job please visit angel.co.