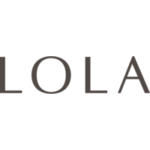 Website mylolatweet Lola
Founded by women with sky-high standards, we make period and sexual wellness products with you in mind.
LOLA is looking for an Account Executive, with a strong CPG background and key account experience, to join our Sales team! This individual will support LOLA's retail department, reporting into the VP of Retail, for LOLA's non-owned (retail, e-tail, omni) channels – including Mass, Drug, Grocery, and Amazon. They will be responsible for on-boarding new accounts, developing product presentations, facilitating broker communication, and overseeing day to day product/data needs for existing partners. The ideal candidate is exceptionally hands-on, adept at prioritization, with a can-do attitude who thrives in a fast-paced, high-growth environment. They'll be comfortable in a data-driven workspace and skilled at balancing deliverables across multiple stakeholders.
This is a full-time position based in NYC. Due to COVID, our team is working remotely until further notice.
What you'll do:
Provide daily support to the LOLA team in all aspects of account management
Assist retail team with reporting and analytics with a strong understanding of data analysis
Support in developing channel and account specific product presentations
Oversee onboarding new retail partners – account setups, item setups, and fulfillment needs
Manage daily broker and account requests relating to product, inventory, or sales analysis
Work in a highly collaborative manner with our broker and distribution partners to accelerate account and channel growth
Partner cross-functionally with the Operations team to consistently deliver excellence against in-stock goals
Partner cross-functionally with the Marketing team to ensure alignment in brand objectives across an omnichannel market
Who you are:
2+ years classic CPG sales experience; preferably in beauty, fem care, food, baby, or personal care categories
Ability to manage projects and work in a fast-paced deadline-driven environment
A creative problem solver with the ability to collaborate across functions
Independent, self-motivated, and able to manage priorities while also pivoting when needed, all while remaining calm under pressure
Exhibiting strong project management skills; ability to lead and communicate effectively
Excel in data analysis
Proficient in Microsoft Office and Google Workspace
Experience with 1WorldSync and WERCS a plus!
Why you'll love LOLA
LOLA is the first lifelong brand for reproductive health. Founded and led by women, we're dedicated to providing an ever-expanding portfolio of trusted products and candid information, so you can make deliberate decisions about your reproductive health.
In 2016, we launched LOLA Gives Back, as part of our ongoing commitment to raise awareness about menstrual inequality. With help from our nonprofit distribution partners, we've donated millions of period products to low-income, underserved women across the U.S.
At LOLA, we celebrate diversity and are committed to creating an inclusive environment for all employees. To that end, we do not discriminate based upon race, religion, color, national origin, gender (including pregnancy, childbirth, or related medical conditions), sexual orientation, gender identity, gender expression, age, Veterans status, or disabilities.