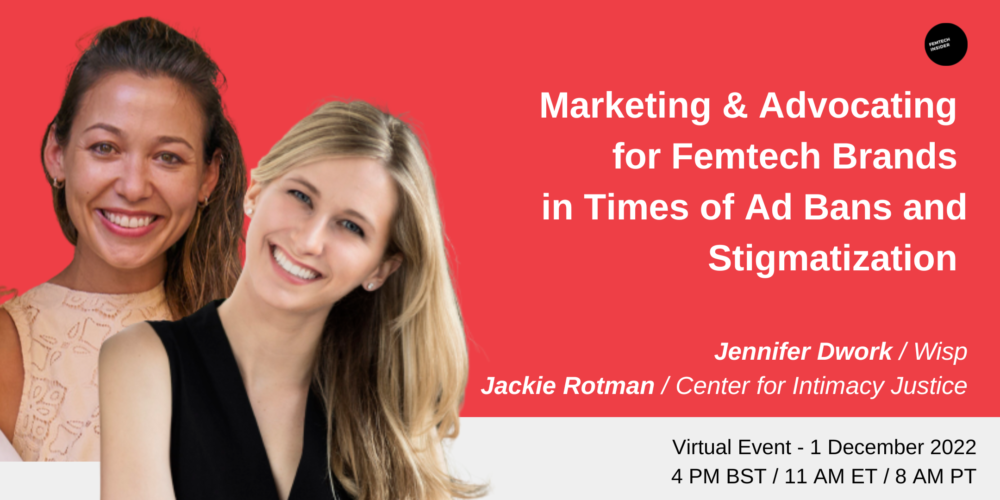 Marketing & Advocating for Femtech Brands in Times of Ad Bans and Stigmatization
208
208 people viewed this event.
About a year ago the femtech world was in uproar as the New York Times article "Why did Facebook reject those ads?" brought attention to the difficulties around advertising faced by many companies in the women's and sexual health space. The discussion was triggered by a report released by the Center for Intimacy Justice (CIJ), a nonprofit and social change organization committed to equity and wellbeing in people's intimate lives, that investigated the curious case of blocked ads on Facebook, Instagram & Co.
The report titled "Facebook's Censorship of Health Ads for Women and People of Diverse Genders" surveyed 60 health businesses that attempted to advertise on Facebook and found that 100% of respondents had experienced Facebook rejecting an advertisement, and 50% of respondents had their advertising accounts suspended at some point. Most commonly Facebook classified the rejected ads as "Adult Products & Services".
The report quantified what many founders in the our space have anecdotally shared in posts and on panels over the past couple of years. In this webinar we want to come together to talk about what happened since the report first got published last year, whether there was progress and what practical steps femtech and sextech companies are taking to successfully build brands and facilitate growth despite advertising limitations.
Agenda
6:00 – Webinar starts
6:00 – 6:05 – Welcome & Introduction
6:05 – 6:45 – Presentation & Q&A
6:45 Webinar finishes
Our Guests
Jackie Rotman, Founder & CEO of the Center for Intimacy Justice
Jackie Rotman is the Founder and CEO of Center for Intimacy Justice (CIJ), an organization currently working to create tech ad policies that allow health ads for women and people of diverse genders – to propel innovation that benefits health.
During her MBA, Jackie worked in women's health investing with Rhia Ventures (then called Reproductive Health Investors Alliance) and Tara Health Foundation, and for a Silicon Valley venture capital fund — where she drove financial, market and competitive analysis for investments in contraception technology and in sex education.
Jackie holds an MBA from Stanford Graduate School of Business, MPA from Harvard Kennedy School, and BA with University Distinction in Public Policy from Stanford.
Jennifer Dwork, VP, Brand Marketing at Wisp
Jennifer Dwork is the Vice President of Brand Marketing at rapidly-growing sexual and reproductive telehealth service Wisp. With a passion for women's health and digital innovation, she oversees the company's brand channels, driving profitable growth at scale to deliver upon Wisp's mission to create greater access to inclusive, cost-effective care for all.
Previously, Jennifer served as VP of eCommerce and Marketing at Aerosoles shoes, where she led the company's transition from a brick-and-mortar retailer to a D2C destination, overseeing the Aerosoles.com business. Prior to that, she acted as VP of Content & Partnerships at Book of the Month, an eCommerce subscription company. During her tenure at the company, she grew the brand's Instagram presence to become one of the most-followed 'bookstagram' accounts and was named to Ad Age's '40 under 40' list. Jennifer also worked in Corporate Development and Strategy at TripAdvisor and was a cable news television producer at CNBC and Bloomberg.
She graduated from Columbia Business School with Dean's Honors and studied Marketing and Management at Georgetown University.
The discussion will be led by Kathrin Folkendt, Founder & CEO of Femtech Insider.
About Femtech Insider
Femtech Insider is the globally leading platform for all things femtech and women's health innovation connecting stakeholders across the industry through information, education, analysis, and events.
Subscribe to our free newsletter for weekly femtech news & insights or become a Femtech Insider Inner Circle Member for premium access.