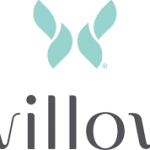 Website Willow
Pumping, Reimagined
Willow is a platform for products that help improve the lives and health of women. We are a mission-driven team of experienced inventors, mothers, and fathers dedicated to making a difference in women's lives. The Willow Wearable Breast Pump is the first solution in our platform, but we have more to come. Willow is a complete re-imagining of the breast pump – it is the first all-in-one breast pump that fits in a bra. Willow is mobile, discreet and gives moms their hands back. Willow cuts the cords and banishes dangling baby bottles so busy multi-tasking moms can pump wherever the day takes them. Willow is a smart, connected device that tracks moms' milk volume in real time and delivers all of her past pumping sessions to the palm of her hand. Willow is a whole new pumping experience, and it is changing the lives of women everywhere.
Selected as one of TIME's 25 Best Inventions in 2017, the Willow Wearable Breast Pump was also distinguished with the 2018 CES Innovation Award for Wearable Technologies.
Job Overview:
Willow is looking for a Quality engineer who will be responsible for supporting the implementation of the quality systems, this position works and collaborates with multiple teams across the organization.  This role includes ownership of the complaint program and will support activities related to commercial products.  This position will ensure compliance with the quality system that includes adherence with applicable regulations and international standards.
What you'll do:
Main Role:
Oversee the complaint handling program by managing day-to-day activities and interfacing with the Customer Care, R&D, and Operations Departments
Conduct complaint investigation, perform data analysis, and update complaint metrics
Support sustaining engineering activities which includes initiation and/or review of ECOs, deviations, non-conformance reports, and supplier change notifications
Support Other Quality System Elements:
CAPA and NC
Calibration and preventive maintenance
Receiving inspection
Product release
ECO reviews
Quality metrics
Training program
Regulatory agency and notified body audits
Internal audits
Supplier audits, supplier evaluations, and ASL
What you'll bring:
5+ years of combined QA/QE experience in medical device industry
Bachelor's degree, Mechanical Engineering preferred. In lieu of a degree, additional relevant work experience is acceptable
Experience working in a medical device start-up environment is a plus
Working knowledge of FDA QSR, MDSAP, and ISO 13485 requirements
Experience in internal and external audits
Knowledgeable of design control requirements
Detail-oriented, good organizational skills, and ability to multitask
Ability to work effectively and independently under minimal supervision
Effective communication and interpersonal skills as well as ability to work collaboratively with cross functional team members
Local candidates only