WEBINAR – How to get a grant for your business
369
369 people viewed this event.
Join us for an online webinar where we will discuss opportunities for getting a grant for your business!
About this Event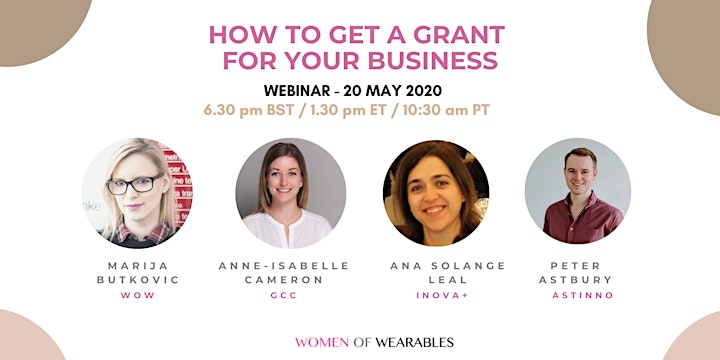 If your startup or small business is looking for funding, one option is to apply for a business grant. However, there is usually a strict eligibility criteria and fierce competition for getting funds, so what are some key things you need to to consider before applying?
During this webinar, we will be discussing:
1) What is a grant and can your business get one;
2) Where can you find out about startup and small business grants, as well as what grant opportunities are available through EU funding (Horizon 2020), Innovate UK, government grants and more;
3) How to apply for startup and small business grants + hear from startup founders who have received one;
4) Other sources of startup or small business funding.
Join us virtually and make sure to prepare your questions for our panelists! Those who have registered for the webinar will receive a link for a video call two days prior to the event.
Agenda
6:30 – Webinar starts
6.30 – 6.35 – Women of Wearables – 5 minute presentation
6.35 – 8.00 – Panel discussion + Q&A
8.00 – Webinar finishes
MEET OUR SPEAKERS
Anne-Isabelle Cameron, Grand Challenges Canada (GCC)
Anne-Isabelle (Annie) Cameron is a Program Associate with Grand Challenges Canada (GCC). Backed by the Government of Canada, private investors, family foundations and multilateral organizations, GCC has made over 1,200 global health impact investments across 90+ countries over the last decade. At GCC, Annie works at multiple investment stages including seed ($100K-$250K CAD) and transition-to-scale (up to $1M CAD) levels. Annie has been integral to the launch and success of GCC's Options for Pregnancy Termination Innovation Initiative (OPTions Initiative), leads investment negotiations, and conducts due diligence on commercial and non-commercial investments for the Transition-to-Scale portfolio with a specific focus on sexual and reproductive health and rights. Annie has a background in international development and economics, field experience in East Africa, and a passion for gender equality and the empowerment of women and girls globally.
Ana Solange Leal, INOVA+
Ana Solange Leal is an Area Manager and Senior Project Manager at the International Unit at INOVA+ , which specialises in initiatives of international dimension, usually implemented with external funding. Before joining INOVA+, she collaborated as a consultant and project manager with various organisations. For more than 12 years, she is being coordinating and participating in international funded projects in different fields, contributing to build communities and boosting cooperation across countries and sectors. In parallel, she has experience in procedures related to the technical, financial and administrative aspects required for the preparation and submission of applications to EU funding programmes, including H2020. In this area, she supports several type of organisations in the elaboration of proposals, ensuring the alignment with programme requisites. She holds a degree in Human Resources from the College of Industrial Studies and Management, Polytechnic Institute of Porto and a Specialization Course in Human Resources Management and Development from the same Institute.
Peter Astbury, Director of Astinno
Astinno is working to change global perceptions of stigmatised health conditions, paving the way for health-tech designed to be seen. Their first product, called Grace, is an automated wearable designed to detect and counter menopausal hot flushes using localised cooling. Currently in development, Grace has already been recognised at innovation competitions including the James Dyson Award, AXA Health Tech & You Awards & D&AD Impact Awards. Founder Peter Astbury (26) designed the first concept for Grace at Loughborough University where he studied Industrial Design & Technology. He specialises in User Experience having worked at companies such as Babylon Healthcare and the Telegraph Media Group.
Moderated by Marija Butkovic, Women of Wearables (WoW)
Marija Butkovic is a founder and CEO of Women of Wearables. She is a digital marketing and business consultant who has worked across a range of projects in different industry sectors, including legal, journalism, tech, IoT, wearable tech and fashion tech. Marija has been featured in major tech and business publications such as Forbes, TechCrunch, The Next Web, Huffington Post and many more, and regularly appears as a public speaker and panelist on conferences, meetups and corporate events. In 2017, 2018 and 2019, Marija was selected as one of the Most Influential Women in UK tech by Computer Weekly. She has also been included in the Top 100 Influencers on Gender Equality and Diversity and Top STEM Entrepreneurs by Onalytica.